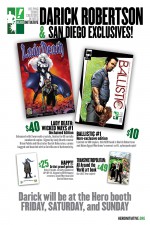 Press Release
The Hero Initiative, the charitable organization dedicated to helping veteran comic creators in medical or financial need, is travelling into Comic-Con International in San Diego July 17th-21st at the San Diego Convention center. We have exclusives, parties and special guests throughout the weekend that you will not want to miss! Booth #5003 is the place to be!
Hero is proud to release our exclusive limited edition of The Overstreet Comic Book Price Guide #43. Now in its fifth decade, the Guide is the preeminent source for comic book pricing information, and SDCC is where to get it first! The cover, featuring Francine and Katchoo from Strangers in Paradise dressed as Wonder Woman and Zatanna is by famed SiP creator Terry Moore and colored by Brian Miller. This Hero-exclusive edition is limited to 500 copies in hardcover only at $35.
In addition, Hero has an exclusive Lady Death: Wicked Ways #1 with a new cover by Darick Robertson enhanced with Swarovski crystals and signed by Lady Death creator Brian Pulido. Only 99 copies have been made! This treasure comes bagged and boarded with certificate of Authenticity for $40.
And the brand-new Ballistic #1 makes its world premiere at the Hero booth! Ballistic is Darick Robertson and Adam Egypt Mortimer's madcap, psychedelic, utterly wacko buddy adventure about Butch and his best friend Gun, a genetically modified, foul-mouthed firearm. Ballistic marks Darick Robertson's return to the hard sci-fi world-building of his classic Transmetropolitan. This Hero Initiative variant features EXCLUSIVE cover art and is limited to only 500 copies at $10!
All three exclusives can be purchased at booth #5003 while supplies last!
And you gotta eat—even in San Diego! Five lucky winners will get the once-in-a-lifetime opportunity to have lunch and get a sketch from famed Watchmen artist Dave Gibbons! Bid NOW in Hero's eBay auctions!
Partygoers will have a great time with Hero, starting Wednesday, July 17 at 5 p.m. for Hop-Con! Star Trek's Wil Wheaton and Fark.com's Drew Curtis debut their new w00tstout beer at Stone Brewing's World Bistro! Proceeds benefit Hero, so get your tickets NOW!
If that was not enough, the good times continue to roll Thursday night! The Hero Initiative and comiXology are sponsoring THE BLANK PAGE PROJECT hosted by Jimmy Palmiotti and Amanda Conner. Come and enjoy food and drinks while our creators will draw on to a gigantic 12-by-8-foot comic book page that will be auctioned off at a later date to benefir Hero. Hang out with Mark Waid, Arthur Adams, Thomas Jane, Phil Jimenez, Tim Bradstreet, Chris Moreno, Bill Morrison, Jose Delbo, Dan Jurgens, Denny O'Neil, Tony Parker, Dave Gibbons. Darick Robertson and many more at the Hilton Bayfront Vela Restaurant just behind the Convention Center from 5-7 p.m. Don't miss out!
As always, Hero's booth will be stocked with comics' BEST talent, including your best chance to find George Pérez and Darick Robertson!
Hero Initiative booth schedule:
WED., JUL 17 (con hours 530-900)
600-900: Scott "Kaiser" Koblish
THUR., JUL 18 (con hours 900-700)
930-1130: George Pérez
1130-1230: Jon Bogdanove
130-330: George Pérez
330-430: Dan Jurgens
FRI., JUL 19 (con hours 900-700)
930-1130: George Pérez
1130-100: Darick Robertson
1200-130: Roy Thomas
300-430: Darick Robertson
430-630: George Pérez
SAT., JUL 20 (con hours 900-700)
930-1130: George Pérez
1130-100: Jerry Ordway
500-700: Darick Robertson
SUN., JUL 21 (con hours 900-500)
930-1130: George Pérez
1130-130: Darick Robertson