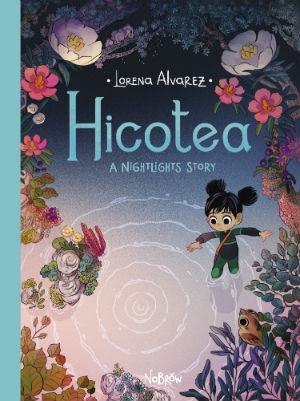 While Luke Pearson's Netflix success Hilda series may be getting all the immediate (and much deserved) crossover attention in the wider media at the moment there's another Nobrow all-ages album series that you may not be as familiar with that is just waiting to similarly break out into the wider public consciousness. Two years ago at Broken Frontier we reviewed Lorena Alvarez's Nightlights, a magical tale of childhood that we described as "a beautifully presented metaphor for the triumph of creativity and imagination overcoming darkness and despair." Indeed, Alvarez was also nominated as Best Artist in our 2016 Broken Frontier Awards.
With its likeable schoolgirl protagonist Sandy, the first Nightlights volume was an explosion of wonder and colour as our heroine encountered a mysterious new classmate who wasn't quite what she seemed. In this second book Hicotea: A Nightlights Story we return to Sandy's Catholic school life as a field trip to the local Wetlands takes a fantastic twist. After wandering off from her schoolfriends Sandy finds what appears to be an empty turtle shell. But when she peers inside it she finds herself sucked into its otherworldly environs.
There she meets the turtle Hicotea and discovers that the dimesnionally transcendental interiors of the shell are a huge museum of treasures depicting the natural world. But one picture is worryingly blank and Sandy soon finds herself on a vital mission on Hicotea's behalf to save the Wetlands from the malevolent mystical forces that threaten it…
Hicotea mixes supernatural adventure with an environmental message that is subtle and unobtrusive and yet quietly powerful at the same time. The great delight of Alvarez's storytelling is the multiple levels on which it works. A younger audience can appreciate it as a hybrid slice-of-life fantasy that sees the recognisable routine of the school day slowly merge with a realm of spellbinding enchantment. But they can also interact with it as a parable about our relationship with and responsibilities to nature.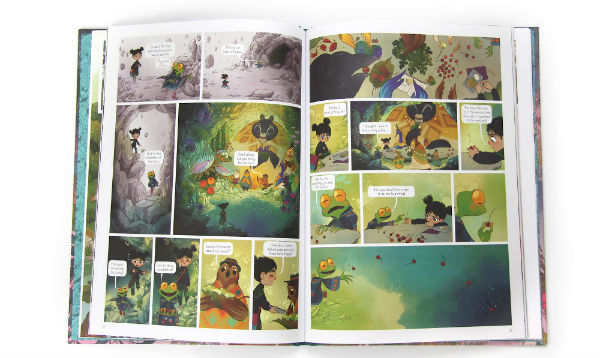 It's the visual storytelling of Hicotea, though, that will be the more immediate draw. To call Alvarez's art stunning in its execution is to employ the most unforgiveable of understatement. From the instantly empathetic visual characterisation of her cast (an early classroom scene depicting the reactions of the school kids to a vivisected frog says far more about their horror than any unnecessary accompanying narration ever could) to the animated flow of her panel-to-panel pacing, Hicotea is an artistic triumph throughout.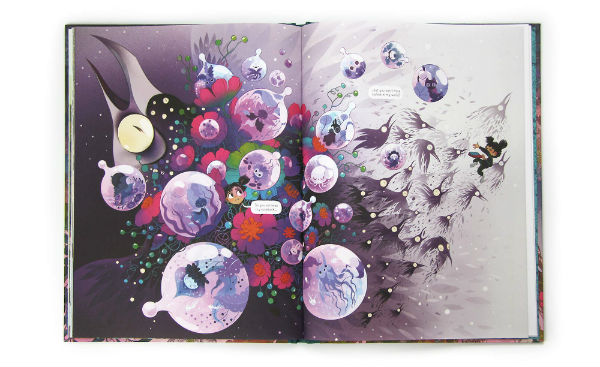 But it's in her manipulation of the possibilities inherent in the very structure of the comics page that Alvarez truly shines. Double-page spreads depict the characters moving sequentially through the same sprawling image, events within individual panels flow into and affect panels around them, and highly imaginative locations transfix the eye with their intricate details. There's also something almost Ditko-esque about the bizarre alternate dimensions we journey through with Sandy.
Lorena Alvarez deserves all the critical plaudits that will undoubtedly be coming her way for Hicotea. As captivating and utterly charming as its predecessor, Hicotea: A Nightlights Story underlines that Nobrow have something very special on their hands here; a series with huge popular appeal and the potential to take comics to a far, far wider younger audience.
Lorena Alvarez (W/A) •  Nobrow Press, £14.99/$18.95
Review by Andy Oliver