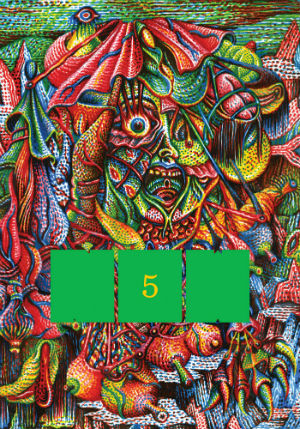 When we last reviewed an issue of Fantagraphics' bumper-sized anthology series Now at Broken Frontier we described it as "a vitally important piece of comics curation that deserves to be on every discerning comics reader's pull-list." Subtitled 'The New Comics Anthology' the Eisner-nominated comics collection reached its fifth issue this month with work from a whole host of boundary-pushing indie talent. Once again it includes the draw of both established names and artists who will perhaps be reaching wider readerships here. That, of course, is the joy of a book like Now – the sense of discovery that permeates its pages and the opportunity it provides to experience the practice of perhaps unfamiliar names for the first time.
What also continues to mark Now out as being such a vitally important presence on the shelves is its place as a celebration of the endless possibilities of the form. Now seeks to underline the distinctive language of comics, to demonstrate that the medium tells stories in ways in which no other can, and to remind us how complex and unique sequential art is in terms of both its properties and its communicative power. Furthermore, it showcases the particular interactive qualities between reader and page that are such a vital part of the interpretive aspects of the comics reading experience.
That's very much in evidence for example in #5 in D.W.'s 'Paper Collar' (below left) wherein animal life moves through mosaics of colour, inviting the reader to extract the narrative from the abstract. Or in Ana Galvañ's 'Selection Process' (below right) where colour and vectors have an essential part in accentuating theme and mood as they cross panels with inter-related symbolism. This surreal story also teasingly plays with comics' relationship with the passage of time and brings home the multiple ways in which we allow ourselves to become commodities rather than individuals in the job interview procedure.
Other standouts in this issue include 'The Daemon Lover' from Maggie Umber (below left) whose Sound of Snow Falling was a favourite at BF in 2017; a haunting snapshot of a relationship that juxtaposes moody reality with a merging, melting otherness as the former begins to merge into the latter. Eroyn Franklin's seeming slice-of-lifer 'The Cabin' (below right) creates a sense of place and environment in its study of a young woman who has retreated to an isolated domicile, with its parallel takes on the same narrative working in carefully paced union to build into a powerful and dramatically paced final reveal.
Immersing us in a sense of place and time is also an intrinsic part of Roman Muradov's atmospheric 'Raincheck' (below left) which depicts a routine police check with a Hitchcockian sense of tension and uses a moody, expressionistic monochrome that ensures the engulfing precipitation of the story is almost an additional character in itself. A more vibrant sense of colour inhabits the panels of Walt Holcombe's 'The Asshole with the Hat' (below right) which combines personal commentary on the aesthetics and motivations surrounding the wearing of hats with asides on the history of headwear. It's not often that one can describe work as jauntily self-deprecating but it seems most appropriate for Holcombe's amiable yet sometimes acerbic millinery monologue, engagingly cartooned throughout.
From the skewed, distorted choreography of Keren Katz's meditation on memory in 'The Inspection of Shopping Carts' to Darin Shuler's meta gag strip, Now #5 impresses with its kaleidoscopic comics craft. We know it's an oft-repeated fallback of comics commentary – admittedly often to the point of tedium – that anthologies are usually "hit-and-miss" affairs. There's a level, however, on which that statement seems to miss something quite fundamental about the reasons for their existence. Arguably anthologies should present us with work that confronts our preconceptions about the form or takes us out of our comfort zones. In that regard Now inspires and challenges as much as it entertains and, in doing so, it continues to play a vital role in showcasing what a sophisticated method of communication sequential art truly is.
Theo Ellsworth, DRT, DW, Ana Galvañ, Maggie Umber, Eroyn Franklin. Roman Muradov, Jose Quintanar, Walt Holcombe, Walker Tate, Keren Katz, Darin Shuler, Jesse Reklaw, and Nick Thorburn (W/A),  Stéphane Blanquet (CA) • Fantagraphics Books, $9.99
Review by Andy Oliver