Dean Haspiel (Beef with Tomato, The Fox) recently turned heads in the comics community with his keynote speech at this year's Harvey Awards. In many ways, the acclaimed creator's latest project at WebToons personifies his fervent belief in the artist's role in the community as not only storyteller but soothsayer.
Dean Haspiel loves Brooklyn – this is something pretty much everybody whose ever met him or read his comics knows without question. Which is why it must have been unbearably painful to psychologically and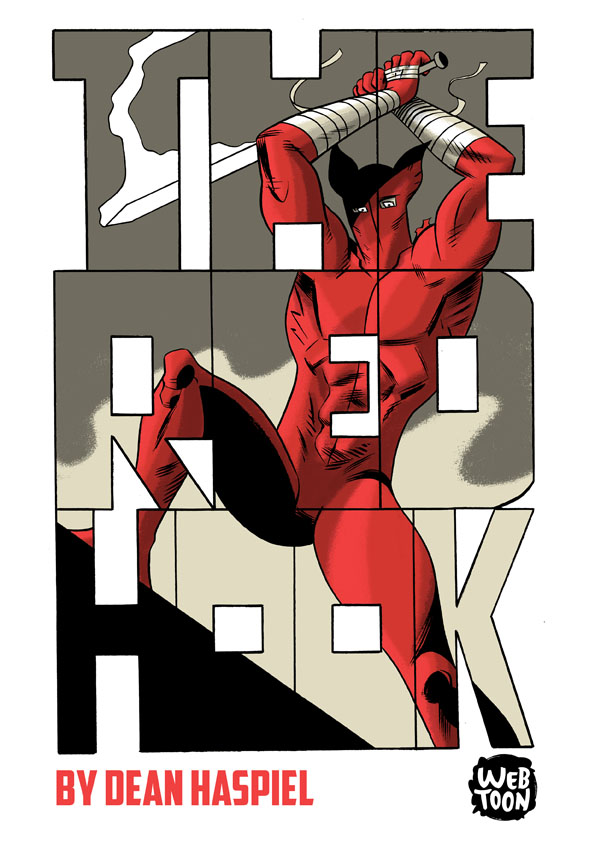 physically break his home borough, in his new online comic from WebToons, The Red Hook.
Set in a world where Brooklyn achieves sentience and literally separates itself from the rest of New York City, the Red Hook navigates the shady underworld of the new republic, first as its resident super-thief, and then as its most powerful protector. Haspiel first conceived of New Brooklyn with his former studio mate, the late Seth Kushner, who contributed his own hero to the project, the Brooklynite.
Haspiel took some time away from the drawing board and the busy con season to chat via email with us about The Red Hook, New Brooklyn, and the coming of Aquaria, the borough's newest hero.
BROKEN FRONTIER: Let's start off with the setting of New Brooklyn. What can you tell us about this dangerous and intriguing new chapter in the borough's life?
DEAN HASPIEL: Brooklyn has awakened. It's sentient and its heart has been broken by an indifferent and apathetic and, dare I say, entitled society. So it physically and literally secedes from NYC, ergo America, and becomes a New Brooklyn by returning to simpler times when people socialized more and traded services and life was less technologically dependent, and NuBK [New Brooklyn] becomes self-sustaining.
The upside and downside to this new republic is that the "great secession" launched an epidemic of new superheroes and supervillains. And, that's where the Red Hook enters as a super-thief who is forced against his will to become a superhero or he will die.
New Brooklyn also serves as a shared universe for yourself and several other talented creators. Was opening the streets of New Brooklyn up to other artists and writers always a part of the plan?
I concocted the initial concept for New Brooklyn a couple of years after my former studio mate, the late Seth Kushner and I toyed with the idea of producing a two-man anthology that would feature my character the Red Hook and his character, the Brooklynite.
I always felt the book needed a conceptual hook and it didn't click until 2014 when a couple of German artists pulled a prank by replacing the American flags with White flags. It looked to me like Brooklyn surrendered. Gave up. And I thought about that for a little while and mashed it up with John Carpenter's Escape From New York, where Manhattan is quarantined as a prison. Only, Brooklyn quarantines itself.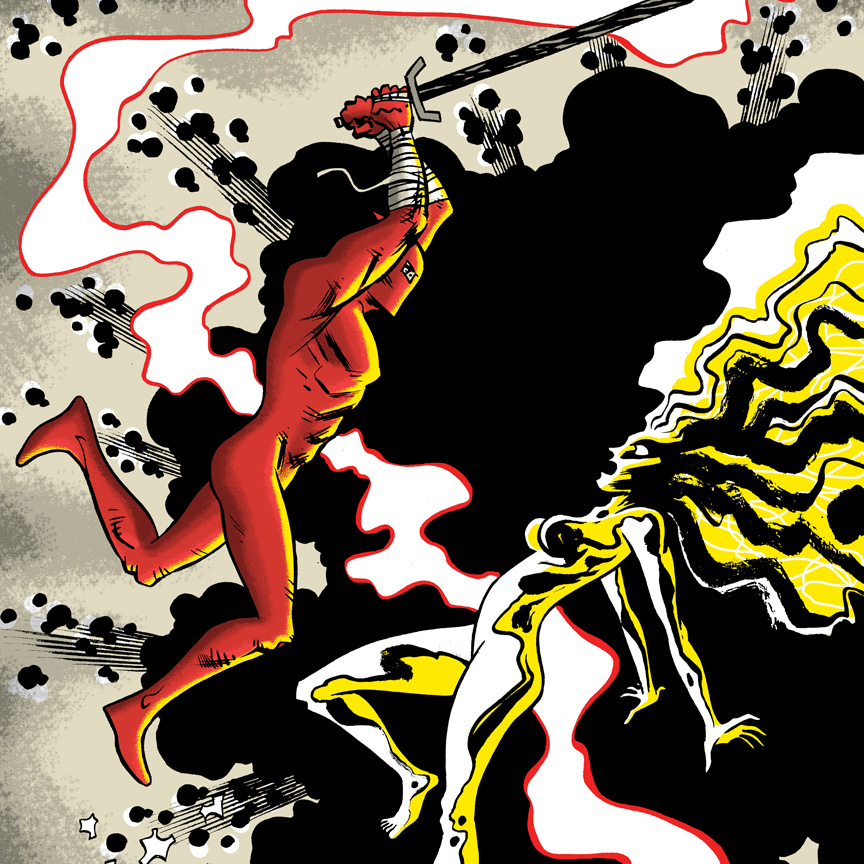 When Tom Akel at LINE Webtoons approached me about pitching an original series, The Red Hook was the idea he liked best and I told him about my desire to expand The Red Hook to include Seth Kushner and Shamus Beyale's the Brooklynite, and another character I started developing with Vito Delsante called the Purple Heart, who would serve as Brooklyn's cosmic guardian. Vito and I got Portuguese artist Ricardo Venancio to visually realize the Purple Heart, and all three series were sold under the New Brooklyn Universe umbrella.
The Red Hook would launch the universe and The Purple Heart would get into the nitty gritty of what happened to Brooklyn. The Brooklynite will soon enter and expand on those ideas, while honoring Seth Kushner's posthumous superhero as co-written and drawn by Shamus Beyale and Jason Goungor.
I've helped develop other heroes loosely associated with NuBKU [New Brooklyn Universe], including Adam McGovern and Paolo Leandri's Aquaria, recently seen in the back pages of Erik Larsen's Savage Dragon.
Did you have a list of creators in mind, when you approached the folks at WebToons? How do their contributions dovetail with your own story?
As mentioned above, Webtoons approached me and I kind of act as show-runner for the New Brooklyn Universe. But, there are some great comix on the App that employ the vertical scroll well while furnishing a damned fine story. Check out Heroine Chic [We did!], and Dents. I'm looking forward to Warren Ellis and Colleen Doran's recently announced Finality.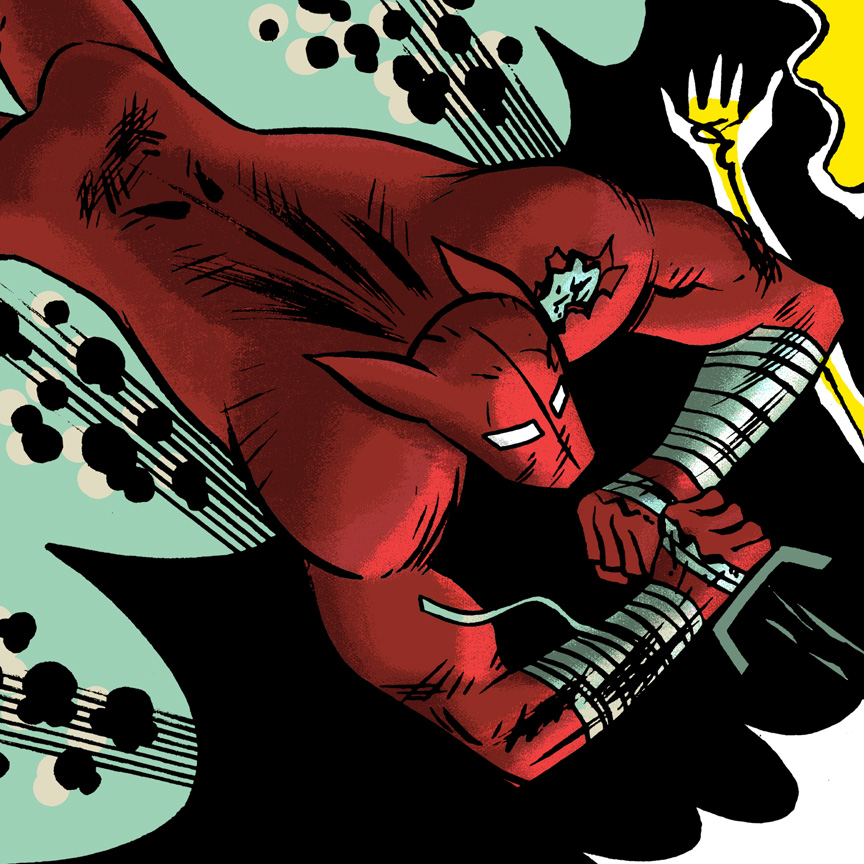 The Red Hook has a somewhat checkered past for a superhero. What will be his biggest challenge as New Brooklyn's staunchest defender?
I wouldn't classify the Red Hook as Brooklyn's "staunchest defender." He's an unapologetic, albeit, reluctant superhero because, in his heart, he's been very hurt by his past and a massacre that destroyed his family, which led him down a criminal road. Stuff he'll need to confront as he's forced to put his life in danger and save strangers thanks to the Omni-Fist of Altruism and a dying supergod called the Green Point.
There's an interesting caveat that comes with the Red Hook's newfound power. Would he still protect the innocent if he had all that power and no threat of death hanging over his head?
Good question! I think it depends on the situation. The Red Hook is looking out for his own concerns but he's not a total jerk. Now that he's experienced what it's like to put his life in harm's way for other people, I have a feeling he would do it again for the right reasons. I think about cops and the fact that they're paid to risk their lives every time they go to work and that freaks me out. I thought a lot about that when I plotted and drew The Fox for Archie Comics, and it's a recurring theme in my work.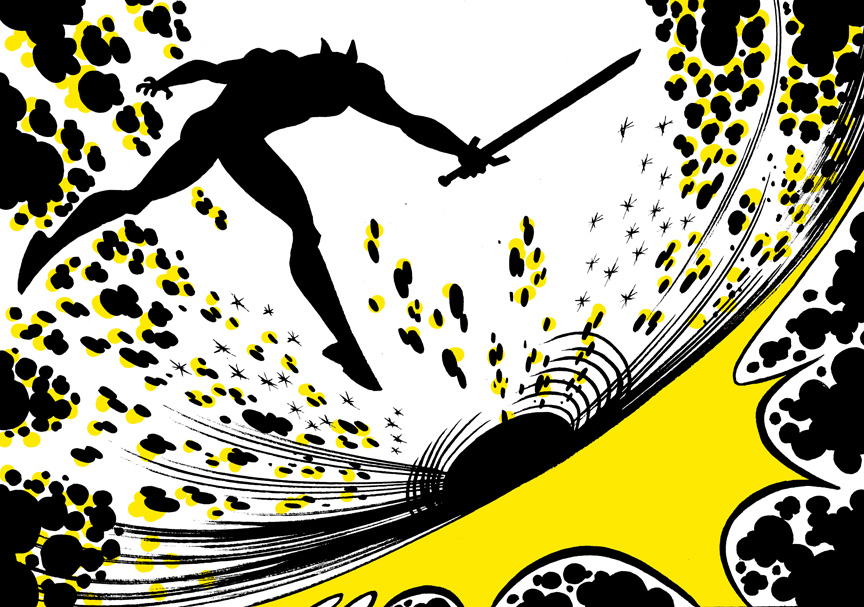 You suggest that works of art will become a lucrative new currency in New Brooklyn. Could you elaborate a little on this idea of art as currency?
It's a total fantasy. In a sense, art has become New Brooklyn's oil where a doodle can buy you a drink and a landscape can buy you a house. There are so many artists in Brooklyn, many of them struggling (including myself), that I wanted to project this good will idea in hopes that it may transcend from my comix and come true.
You pay tribute to Jack Kirby and the Silver Age of comics throughout the strip. How has the King's influence on your work evolved over the course of your career?
Jack Kirby designed great ideas and drew powerful stories that forever impacted me. He practically reinvented the superhero genre, several times! Comix can do anything but one of the things they excel at is superhero stories, which is really just a combination of science fiction, crime and romance, with a sprinkle of horror.
Originally, I created The Red Hook as an artist's residency palette cleanser at Yaddo in Saratoga Springs, NY in 2012. Because I was going there to write for a month, I wanted to shrug off my comix leanings and The Red Hook was my attempt to create a character done in the spirit of "What if Jack Kirby, Alex Toth and Will Eisner collaborated on a superhero together?"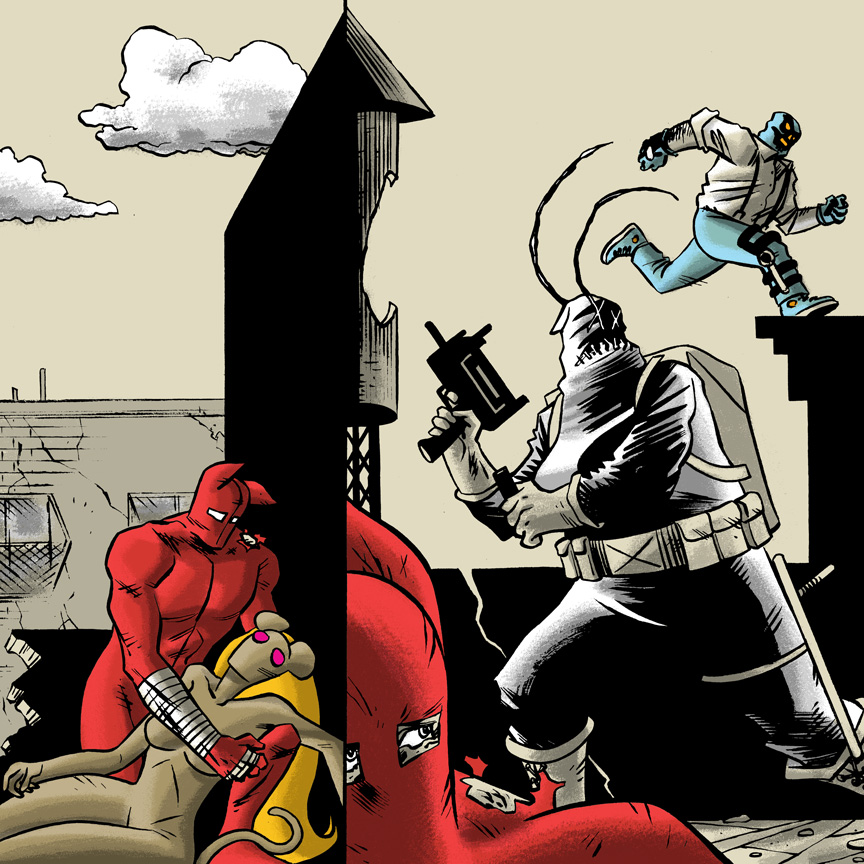 The WebToons format is very different than traditional print comics and even other online graphic narratives. What new avenues of expression did the format open up for you? How did your creative process change?
It was challenging to maximize the vertical scroll experience. I had to abandon my beloved inset panels and figures jumping into ascending panels. Also, the portrait dimensions of the smart phone meant that landscape panels and certain vistas would be compromised. It became obvious that tall and thin panels revealing narrative were choice and, I've recently come to realize that the soap opera nature of talking heads staggers drama quite well on a phone. I still managed to prepare two versions of The Red Hook, one for digital and one for eventual print.
The last time I checked, you had reached Chapter 20. How many installments do you have planned? Do you have plans to publish The Red Hook in print?
There are 26 chapters of The Red Hook. Because I took so long to answer your questions (please forgive me), I believe chapter 24 goes up this Wednesday and it's a sad one. I have written the plot for another season of The Red Hook that I hope to do and I aim to print the first season of The Red Hook sometime in fall 2017. Meanwhile, keeps your eyes peeled for the back of Savage Dragon #217, and look out for Dark Horse Presents come winter.
Check out the latest chapter of The Red Hook every Wednesday on WebToons!