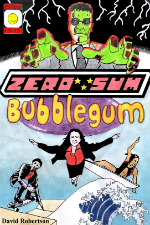 In 'Covers Album' each Wednesday we ask comics creators, publishers and commentators to pick three of their favourite comic covers …but with a small twist. One must be chosen for aesthetic reasons, one for inspirational reasons and one for pure nostalgia!
This week we're joined by small presser David Robertson whose work has appeared in a multitude of popular UK small press anthologies including Dirty Rotten Comics, Dead Singers Society, A Bit of Undigested Potato, Treehouse and Sneaky Business, among many, many others.
David has also self-published a number of his own books like David Robertson's Dump, Berserkotron and Zero Sum Bubblegum. You may also be familiar with his comics blogging at Fred Egg Comics.
Aesthetic Choice: Aim to Dazzle (2003) by Dean Haspiel (Alternative Comics)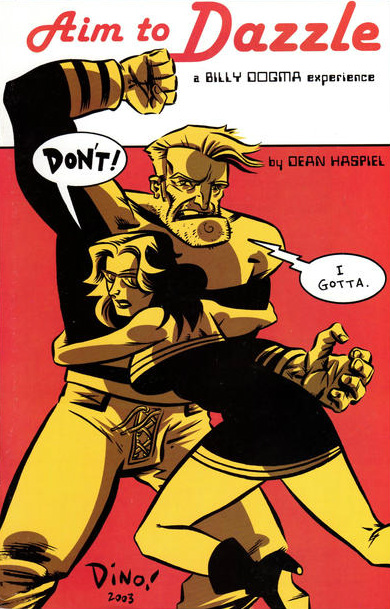 I like this cover's simplicity – limited colours, just the two figures, no background (apart from the red rage felt by Billy Dogma). It all works to tell a story and introduce the characters. The dialogue;  Jane crying out, "Don't!" and Billy's retort, "I gotta" (no explanation mark there, giving it an interesting tone), made me immediately feel a connection to these vital, action-packed, sexy and romantic characters. As soon as I saw the cover I knew I wanted to read about these people. There's a strong Kirby feel. The cover acts like the best comics – hinting at so much more about the situation and people we can see than is there in the three words of dialogue
Inspirational Choice: Hate #5 (1991) by Peter Bagge (Fantagraphics Books)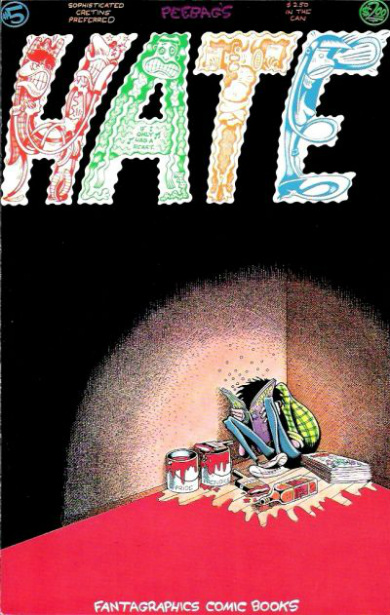 I can't think of anyone who's inspired me more in terms of comics than Peter Bagge. When I discovered his comics, I was pulled in by the subject matter, art style, compelling dialogue, the tone of the comics, the effortless and masterful storytelling. And by God, he's funny. I don't think I've ever read a comic by Bagge without getting at least one belly laugh. This is my favourite cover from his Hate series. Buddy Bradley has literally painted himself into a corner. Stubborn, confused and reading comics. No idea why I related to this.
Nostalgic Choice: Justice League America #35 (1990) by Adam Hughes and Bob LeRose (DC Comics)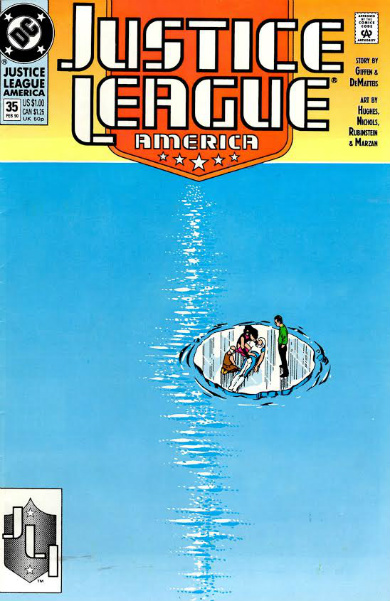 I grew up reading American superhero comics. As I got older, they moved into the Alan Moore/Frank Miller phase which I also enjoyed. In the midst of that though, DC took their big group comic and gave it to Keith Giffen and J. M. DeMatteis to write. They created an ongoing comic that was smart, funny and irreverent. The stories progressed along in an organic fashion – you could feel the writers bashing ideas off each other and growing new plots out of what had come before. This cover by Adam Hughes (I assume, as there is no credit given) is very moody, using an interesting effect on the water ripples and leaving lots of space around the figures to get across the feeling of being stranded. Some similarities to the Hate cover, actually!
Honourable mention to Captain America #213 (1977) by Jack Kirby and John Verpoorten (Marvel Comics)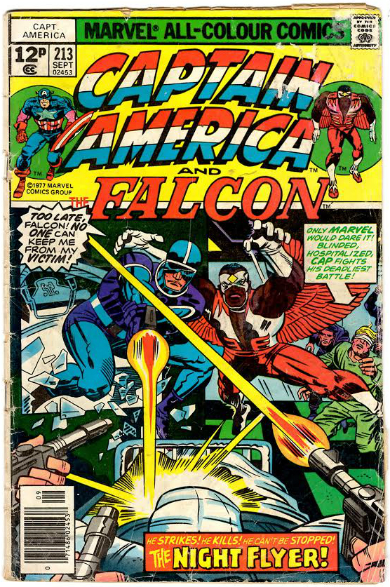 A cheeky fourth cover to commemorate 2017 as the 100th anniversary of Jack Kirby's birth! This is probably the first Kirby comic I read, as least as far as I can remember. It's all been said about Kirby, and yet somehow it hasn't. His art works on some level words cannot explain. And yes, this image is my beat-up childhood copy!
For more on David Robertson visit his blog here and buy his comics from his online store here. You can also follow him on Twitter here.