We have an exclusive House of Slay preview today at Broken Frontier from 'Nephrite Horrors', the upcoming final story in the second season of the webcomic. House of Slay represents the AAPI fashion collective formed by prominent fashion world figures Prabal Gurung, Phillip Lim, Laura Kim, Tina Leung, and Ezra Williams, and created in partnership with XRM Media and EEP Universe. The series "follows superpowered versions of the fashion icons as they combat the fear of "other" and build a community of love, hope, and solidarity." It can be read on both the Tapas platform and on Webtoons.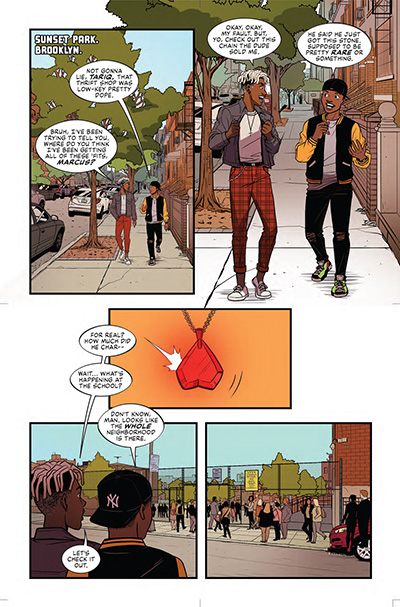 The upcoming 'Nephrite Horrors' storyline that we're previewing today is written by Deron Bennett and illustrated by Lynne Yoshii. The story synopsis is as follows: "Tariq and Marcus are friends – or at least they thought they were before Marcus finds a mysterious magical stone, one with ties to a dark chapter in House of Slay's recent past. When they discover a LGBTQ pride mural in their Brooklyn neighborhood, Marcus is taken over by the power of hate, and with no superheroes in sight, Tariq will have to find the spirit of the team inside him and step up to set things right!"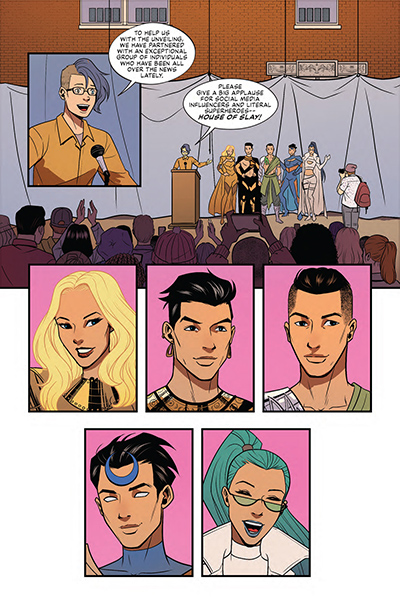 Comics initiatives with a diverse and socially conscious ethos are, of course, very important to our coverage philosophy here at BF (you can read more about our mission in that regard in our team statement here). So we're delighted to be able to run this advance sneak peek of the final story of season 2 of House of Slay today. With its focus on the Asian American and Pacific Islander experience, all-Asian primary creative team, prominent presence of LGBTQIA characters, and accessible storytelling, it's using the super-hero genre in both inclusive and relevant ways.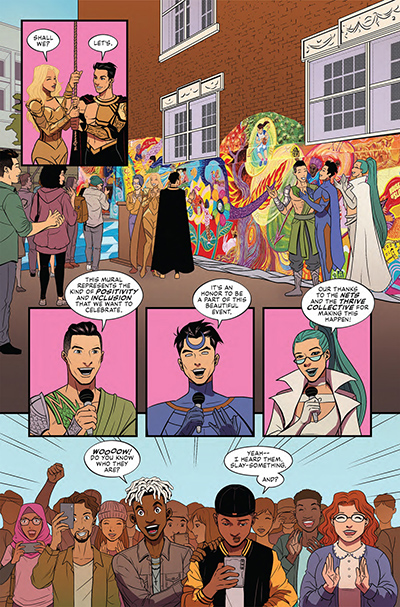 Here's what some of the team have to say about 'Nephrite Horrors':
House of Slay Co-Founder Phillip Lim
"When we first conceived of House of Slay, we wanted an exciting, forward-looking action comic that reflected our world that we live in every day, where we could see ourselves in the kinds of stories we grew up reading. But I wasn't prepared for how profound of an impact it would make when I saw the first comics pages rolling in from Season 1. It was the true realization of a dream, and somehow Season 2 surpassed even that. This time, the team is in their groove, with growing mastery of their powers, and more settled into their new station in life fighting against the forces of hate in a truly inspiring way, while welcoming new heroes to the fold."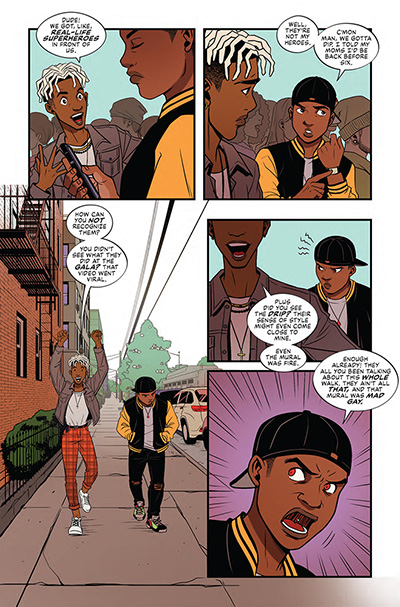 House of Slay Co-Founder Prabal Gurung
"It's so perfect that the final story of this season features a hero in Tariq who saves the day without any powers, just his immense heart. Sometimes the forces we oppose are much bigger than us, and in this case, more powered up, but we're never powerless, and the story by Deron and Lynne shows us one way. Anyone who wants to join Tariq and right the smaller wrongs we face every day is part of the House of Slay!"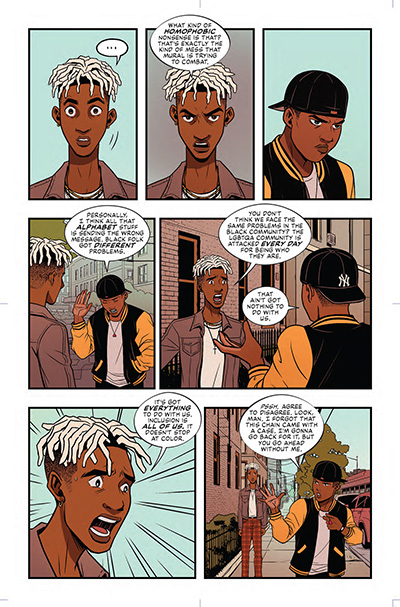 Writer Deron Bennett
"HOUSE OF SLAY is a fantastic model for how comics can be inclusive and socially relevant, with imaginative world-building from talented creators. I wanted to tell a story in keeping with that mission from a black perspective. What's incredible is that I never felt like I was shoehorning black characters or culture into the House of Slay universe. It was built with diversity in mind and that makes it a welcoming sandbox to play in and come up with cool ideas."
"I was absolutely blown away by Lynne's designs for Marcus and Tariq. We had a brief discussion about the look I had in my head for the two characters and she nailed it. Hip hop culture has long been a leading contributor to fashion and it was important to me that we get the look right. I could not have been more pleased when I opened my inbox. Lynne is such a gem."