For fans of Alejandro Jodorowsky and Mœbius's seminal comics epic there's exciting news today about the upcoming The Incal Universe graphic novels coming this year from Humanoids. The press release runs below.
Humanoids To Publish All New Graphic Novels in THE INCAL UNIVERSE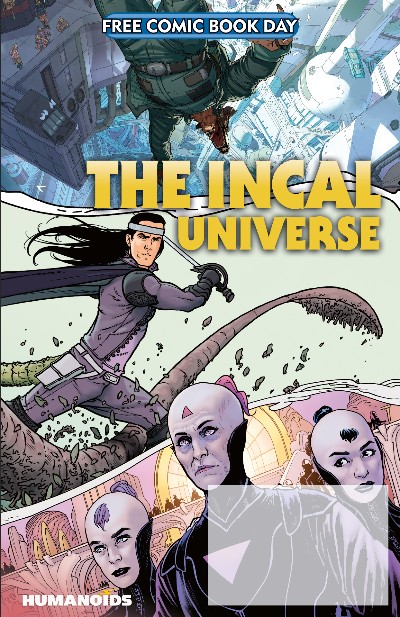 THE INCAL by legendary writer Alejandro Jodorowsky and internationally acclaimed artist Mœbius was a shot across the bow of graphic storytelling, an epic explosion of staggering art, mind-blowing worldbuilding, and ambitious plotting that combined to make one of the most influential comics of all time. Now, 42 years after its initial publication—and with a major movie adaptation in the works from award-winning filmmaker Taika Waititi—Humanoids will publish all-new original graphic novels in THE INCAL UNIVERSE, building on the original, seminal graphic novel. Next May Humanoids will publish the FREE COMIC BOOK DAY: THE INCAL UNIVERSE SPECIAL, which previews three new titles: PSYCHOVERSE by Mark Russell and Yanick Paquette; DYING STAR by Dan Watters and Jon Davis-Hunt; and KILL WOLFHEAD by Brandon Thomas and Pete Woods.
"Four decades after its publication, the world of THE INCAL remains a shock to the system and a transcendent work," said Humanoids CEO, Fabrice Giger. "This new INCAL UNIVERSE project, to which Alejandro Jodorowsky has given his blessing, will open the door for a new generation of readers to discover all new adventures featuring John Difool, the Metabaron, Kill Wolfhead, and the Incal."
"The world of the Incal, the Matterverse, is full of strange technology, astonishing worlds, and extraordinary creations," said Humanoids Publisher Mark Waid. "The titles are designed to drop readers into this universe, just like John Difool was once, in the opening pages of THE INCAL."
THE INCAL is widely regarded as one of the great achievements of the comics medium, and is the highest-selling science fiction graphic novel of all time.