Famed director and comics scribe Alexandro Jodorowsky steps up to the short story challenge with Screaming Planet featuring an all-star roster of artists like JH Williams III, Ladrönn, Adi Granov etc.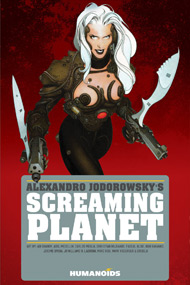 Screaming Planet collects all of Jodorowsky's short stories produced in 2002-2004 and published in the Heavy Metal magazine. Mostly known for more long form projects like The Metabarons, Bouncer, The Inkal etc., Jodorowsky's move to short stories is a smooth one.
All that remains of a prosperous, warm planet destroyed by the madness of its inhabitants many years ago… A living piece of metal, adrift in the cosmos, howling in its infinite sorrow… Sometimes, crossing the sky of one of the countless inhabited planets, it shares its sorrow with a conscious being…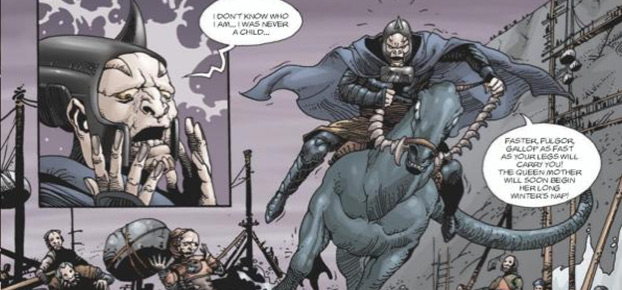 And as a 'cryptkeeper' sort of narrator, it works splendidly. Tailoring each story specifically for each artist, drawing upon their strengths as storyteller, Jodorowsky manages to bring out the best in each of them. For example, Jodorowsky invents a flat stone world populated by manic priests for Jerome Opena because he's a good character artist but not so great on backgrounds; for JH Williams III he writes a vampire story, recognizing Williams' tendency toward a gothic atmosphere combined with ornamental panel decorations, and Medellin gets a world populated by robots because he excels at drawing technology.

All stories feature Jodorowsky sinking his teeth in one particular idea whether this is immortality, morality, politics or religion. I'm not going to go over all the stories one by one but the good far outweighs the average since there isn't one tale in the bunch I would actually call bad. Standouts are The Invasion with Igor Baranko, a tale drowned in myth and destiny foreclosed with a particular nasty way of invading your enemy, featuring grotesque and detailed imagery by Baranko. The Guild with Christian Hojgaard is a philosophical trip into slavery and how to escape from the confines of others with lush alien brushwork and excellent character acting. Eucharist Sun is a promising vampire tale with great gothic artwork by JH Williams III and disappoints only by its ending. Adi Granov illustrates Masters Of Destiny and is a solid action adventure sci-fi tale with a twist about the path destiny can take. The Debt than with Carlos Meglia is a steadfast throwback to the old EC tales of yore but delivers an extra visual punch by Meglia's expressive cartoony artwork.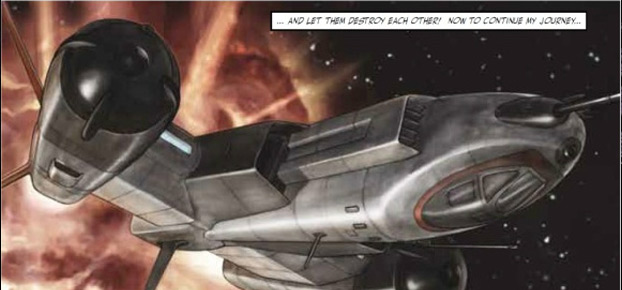 Just calling this a regular anthology would be unfair. Screaming Planet puts together one of Europe's visionary writers with a regular who's who of artistic talent. Jodorowsky seamlessly steps out of his long term serial comfort zone and delivers some distinctive short stories playing to the strengths of his artists who all get their moment in the sun. Just watch your head for chunks of screaming rocks!
Screaming Planet by Jodorowsky and drawn by Travis Charest (cover), Pascual Alixe, Igor Baranko, Adi Granov, Christian Hojgaard, Ladrönn, Axel Medellin Machain, JH Williams III, Carlos Meglia, Jerome Opeña, Marc Riou and Mark Vigouroux is published by Humanoids. It is a full colour hardcover counting 124 pages and retails for $24.95.