It's almost Wednesday, and you know what that means: a fresh load of comics and graphic novels! With so many publications hitting your local comics store or digital storefront, the BF staff is here to lead you through the woods with our weekly staff picks. Satisfaction guaranteed.
Comic of the Week
Memetic #1
Still basking in the critical success of The Woods, comics scribe James Tynion IV teams up with newcomer Erik Donovan (The House in the Wall) for an examination of the power of ideas in the digital age in this new event comic from BOOM! Studios.
Revolving around the concept of internet memes, Tynion and Donovan explore a world brought to its knees by the viral spread of a deceptively innocuous idea. Chronicling the last three days before the end of the world as we know it, each 48-page issue of the trilogy is presented in an oversized format to ensure audience experiences the full scope of this unique take on the apocalypse.
Timely, relevant, and original, this latest project should cement Tynion's status as a creator to watch as he continues to explore familiar themes and concepts from new and unexpected angles.
James Tynion IV (W), Eryk Donovan (A) • BOOM! Studios, $4.99

– Jason Wilkins
Grey Area: From the City to the Sea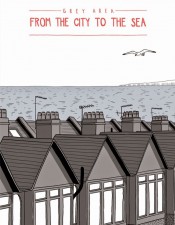 Tim Bird's Grey Area series has seen two entries to date with his psychogeographical comics meanderings taking us on a tour of London at night in the first issue subtitled 'While the City Sleeps' and on an almost mystical journey around the motorways of the country in the second offering 'The Old Straight Track'. This third edition of the series takes us on a trip from London outwards towards the North Sea with a promise of more of Bird's lyrical, pensive observations on locale and memory along the way.
It's been a busy year for the artist with his visuals bringing to life two of the four strips in Avery Hill's anthology Reads and his art book Infrastructure also released by the micropublisher. But those who have been following his burgeoning body of work to date will, no doubt, be anticipating new Grey Area the most eagerly.
If you're a fan of the work of acclaimed small pressers like Oliver East and Simon Moreton then Tim Bird's poetical musings on landscape and environment are a must-read experience.
Tim Bird (W/A) • Avery Hill Publishing, £6.00
– Andy Oliver
Colder: The Bad Seed #1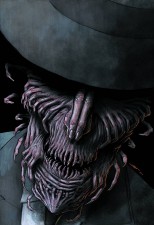 Back when the first Colder miniseries launched, everyone was talking about the cover of the first issue. That's because Juan Ferreyra, who co-created the book with Paul Tobin, interpreted his publisher's tagline at the time – 'Dark Horse gets under your skin' – quite literally. No one has looked at fingers the same way since.
With an Eisner nomination in their pockets, Tobin and Ferreyra are back with The Bad Seed, which continues where the original mini left off. And again, they do some creepy finger stuff on the cover (and on pages 6 and 7 as well, but you may want to skip those if you like ice cream).
In its first issue, The Bad Seed immediately shows why this series one of the best in its genre, with a unique twist on what thrills… and chills. It's Colder, remember?
Paul Tobin (W), Juan Ferreyra (A) • Dark Horse Comics, $3.99
– Frederik Hautain
Shamanism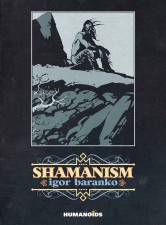 Who doesn't love a bit of alternative history, eh? (Apart from professional historians, that is.) Comics creators certainly do: the creative imagination is always asking "what if…?", and it's always worth a quick daydream to wonder how different the world might have been if a few historic moments had gone another way.
Ukrainian writer-artist Igor Baranko gives that notion a supernatural twist in Shamanism, which posits that a Native American tribe, the Paiutes, managed to "dance time backwards" and prevent the invasion of their country by European colonists. However, when a young warrior begs the tribe to change history again to prevent the death of his lover, the act has cosmic repercussions.
Published by Euro-heavyweights Humanoids Inc, this is sure to be a hardback volume of the highest quality.
Igor Baranko (W/A) • Humanoids Inc, $24.95
– Tom Murphy
Arkham Manor #1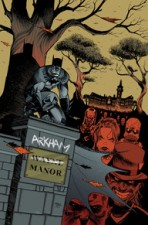 When Arkham Asylum is destroyed, all of Gotham's most unstable denizens relocate to stately Wayne Manor. Following introductory events in Batman #34, writer Gerry Duggan (Deadpool, Nova) and artist Shawn Crystal (Wolverine, Deadpool, X-Men) present a scary new series sure to upend your definition of mental health.
Writer Gerry Duggan recently spoke with Comic Book Resources about his bold creation of a Wayne Manor that extends from the Batman work Brian K. Vaughan did that dealt with mental health and the role Thomas Wayne had in Gotham as a healer of those afflicted with mental health problems. "…If Batman is willing to give up his life for Gotham, what else might he be willing to do? Events are not necessarily inside of his control but in the end, he's Batman, and for the greater good, Arkham Asylum changes into Arkham Manor."
Duggan revealed that Dr. Jeremiah Arkham will still be the head of the asylum and many of the same inmates will be featured. The Joker will not appear, but his lack of presence can be an excellent vehicle for making any character cringe.
It sounds like Arkham Manor will take readers on a turn to the uncomfortable side of the darkness that drives behavior and the oh-so-thin line that separates those institutionalized for their mental health status from those still roaming the streets of Gotham.
While I doubt it will reach for the level of overt horror expressed in American Horror or The Walking Dead, you can expect Duggan to receive a lot of help from artist Shawn Crystal in making this DC's most unsettling title by virtue of everything not on the pages that they leave to your mind to manufacture.
Gerry Duggan (W), Shawn Crystal (A) • DC Comics, $2.99
– Karen O'Brien
Quantum and Woody Classic Omnibus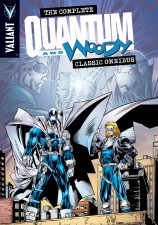 The original Quantum & Woody series that gained a cult following back in the late 90s is being collected in its entirety for the first time in this 600-plus page hardcover with more than 50 pages of bonus material.
Once inseparable, childhood friends Eric Henderson and Woody Van Chelton haven't seen each other in years. Reunited by the mysterious deaths of their research scientist fathers, the unlikely duo find themselves stuck together all over again when a catastrophic lab accident transforms their bodies into pure energy – energy that will completely dissipate if they don't 'klang!' their control bands together every 24 hours! Now, armed with an array of high tech gadgets and two horribly mismatched personalities and a goat for a sidekick, this pair of misfits has decided to set the world straight as the world's worst superhero team, Quantum and Woody… if they can manage to quit fighting each other first.
For those who always wanted to read the classic series this collection comes out at the perfect time as Valiant Entertainment is about to launch their new series, Q2, which revisits the classic characters 20 years later, brought to you by the same creative team from the original series.
Christopher Priest & Brian Augustyn (W), M.D. Bright (A) • Valiant Entertainment, $99.99
– Tyler Chin-Tanner