Celebrating Pride Month! Despite social awkwardness being at the heart of each instalment, Okura's I Think Our Son is Gay is a truly delightful collection of short strips that sits somewhere in the "coming out story" subgenre of queer comics. Ironic, perhaps, given that the entire premise of the series in these first two volumes is based on a central character who does just the opposite. Set around the interactions of a family unit of four, I Think Our Son is Gay is mostly presented from the perspective of Tomoko Aoyama who suspects her eldest son Hiroki is gay but is unable for the moment to admit this to those around him.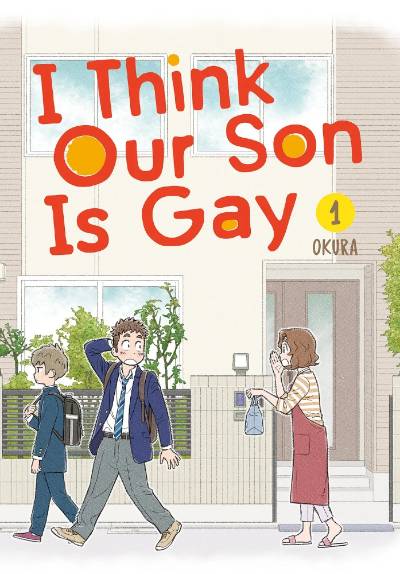 Making up the rest of the regular cast are Hiroki's younger brother Yuri who seems more accepting of Hiroki's sexuality than he is, and father Akiyoshi who has a less enlightened attitude to homosexuality than his wife and often accidentally makes comments that make his eldest son uncomfortable. Added to this mix are Hiroki's schoolfriend and unannounced object of affection Daigo, and long-time childhood friend Asumi who has feelings for Hiroki, though she is unaware of where his attentions lie.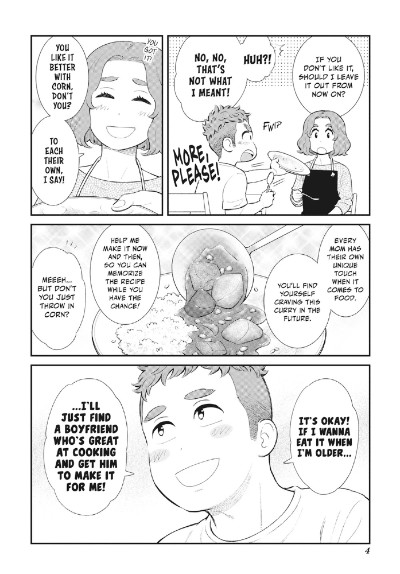 As the strips were originally presented in a method of delivery that was keyed to online publishing the stories in the first volume initially have a very familiar rhythm and structure. Tomoko will note something that indicates Hiroki is really gay – a verbal slip-up when he says "boyfriend" instead of "girlfriend", an illustrated male bodybuilding book in his bedroom, his apparent infatuation with Daigo and the like – resulting in him becoming flustered while she will either fret in a caring, motherly way about him or find his behaviour sweet and endearing.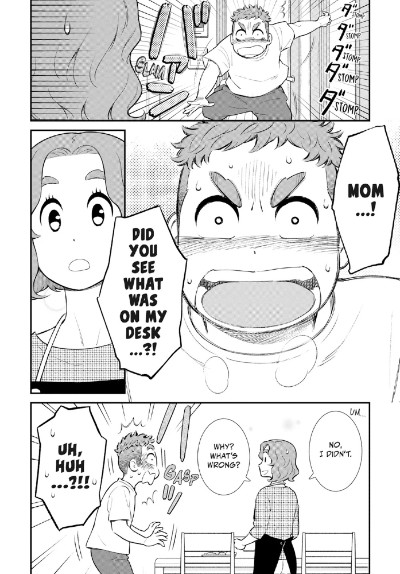 As these shorts build up though they become less formulaic and subplots begin to form with a wider focus on the cast. While much here is obviously played for comedic value Okura handles the topics explored with sensitivity and care, from Hiroki's insecurities to his father's unintentionally hurtful projection of a certain type of toxic masculinity within the home.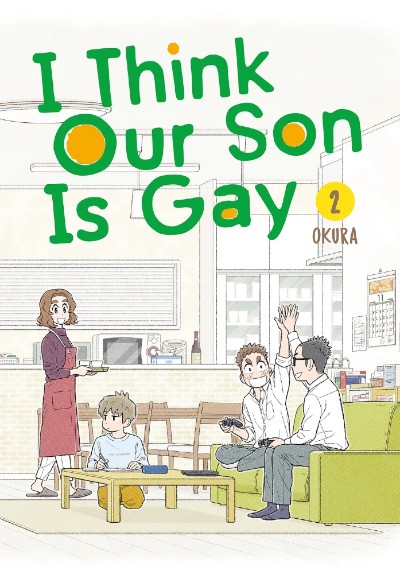 Meanwhile there are a growing number of questions the reader is asking that we may see answered in the next two, as-yet-unpublished volumes of I Think Our Son is Gay. Will Hiroki finally come out? How will his father handle the guilt he will eventually feel when he knows the truth? Does Daigo reciprocate Hiroki's feelings? And what about poor besotted Asumi?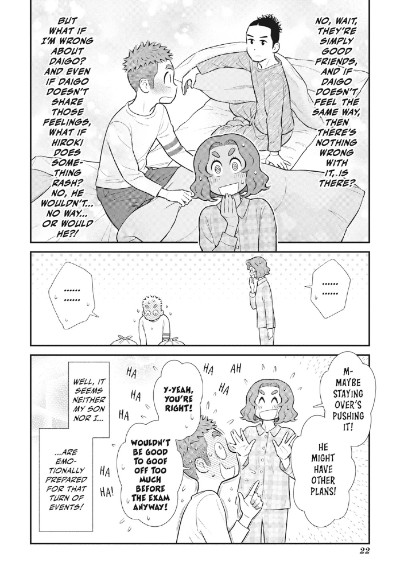 Okura's pacing in terms of both comedic timing and dramatic structure is strong throughout, with the use of Tomoko as a conduit into Hiroki's world ensuring we are always just that one step away from inferring for certain the reality of his feelings. The stripped back art allows for visual characterisation to do much of the work in communicating characters' emotional states and Hiroki's frequent transformations into extremes of embarrassment, frustration and worry are simultaneously humorous and deeply poignant. Lettering here is also used to great effect to convey emotional range.
I Think Our Son is Gay is a manga series that is immediately captivating and a coming-of-age tale with a character all its own. Definitely something to check out if you're looking for LGBTQ+ comics material this Pride Month.
Okura (W/A), Leo McDonagh (Translation) • Square Enix, $12.99
Review by Andy Oliver