Image Comics has provided BF with previews for their titles, in stores May 22, 2013.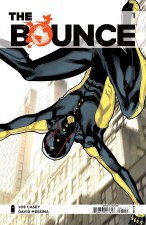 The Bounce #1
Story by: Joe Casey
Art By: David Messina
Price: $2.99
FIRST ISSUE SPECTACULAR!
Meet the ultimate slacker superhero for the 21st Century! Jasper Jenkins is a super-head AND a super-hero! He's relatable AND reliable and he's embarking on the adventure of a lifetime! The sensational debut of the new feel-good hero of the decade! You can't afford to miss it!
Sex #3
Story by: Joe Casey
Art By: Piotr Kowalski
Price: $2.99
There are a million stories in Saturn City, and Simon Cooke's is just one of them! His future may be wide open, but the past is hot on his tail!
The Old Man can still get it up! No two ways about it — this is the perfect time to pay for SEX!
It's even better than you think!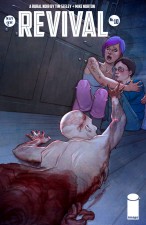 Revival #10
Story by: Tim Seeley
Art By: Mike Norton
Cover By: Jenny Frison
Price: $2.99
Ibrahaim's first door-to-door inspection goes badly when he's sent to the Holt farm. The Check brothers have Cooper hostage, and unfortunately for them, it's Em Cypress to the rescue.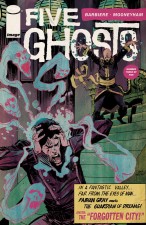 Five Ghosts: The Haunting of Fabian Gray #3 (of 5)
Story by: Frank J. Barbiere
Art By: Chris Mooneyham
Price:$2.99
"ENTER: THE FORGOTTEN CITY!"
In a fantastic valley…far from the eyes of man…Fabian Gray meets THE GUARDIAN OF DREAMS!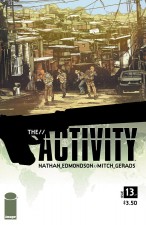 The Activity #13
Story by:Nathan Edmondson
Art By:Mitch Gerads
Price: $3.50
"SOLIDAO"
THE ACTIVITY continues into Volume III! After the stunning events in Minneapolis, the team is on stand-down pending an investigation. A call from one of Switchfoot's friends in the Israeli Defense Force, however, turns into an unsanctioned mission with dire consequences. Meanwhile, there is trouble at Fort Belvoir.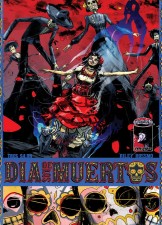 Dia De Los Muertos #3 (of 3)
Story by: Alexander Grecian, Kurtis J Wiebe, Joe Keatinge
Art By: Riley Rossmo
Price: $4.99
Inspired by the Mexican Day of the Dead, artist extraordinaire, RILEY ROSSMO, interprets stories from three of today's top writers. From KURTIS WIEBE (PETER PANZERFAUST) comes a heartbreaking love story–in this world or the next. JOE KEATINGE (GLORY, HELL YEAH) offers up Day of the Dead 3000. As Ultra Muertos falls at the hands of Mother Slaughter, his grandson takes over the mantle with a death wish for all-out apocalypse! And New York Times bestselling author ALEXANDER GRECIAN (PROOF) tells a tale of ghost children.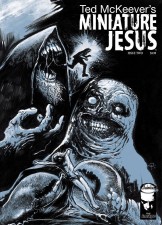 Miniature Jesus #2 (of 5)
By: Ted McKeever
Price:  $3.99
Critically acclaimed writer/artist TED McKEEVER returns to the theater of the bizarre, as a small-town Pastor thinks the eight-inch Jesus that descended from a cross on the church's wall is the devil's work. Meanwhile, a recovering alcoholic's fractured reality battling his own demons is becoming all too literal.