Thursday saw the opening of the Rian Hughes and Jason Atomic co-curated 'Image Duplicator' exhibition at London's Orbital Comics. An intriguing counterpoint to the Lichtenstein retrospective, currently coming to the end of its run at the Tate, its origins can be traced back to February when Hughes posted the following thoughts on Facebook:
"I suggest a counter-attack. Every interested comic artist should "appropriate" a Lichtenstein and rework it – use some of their unfashionable 'commercial art' drawing skills to comment on this annexation of so-called "low" art by "high" art, warp and twist it into something interesting and original. You'd actually be going back to the source and reappropriating Coletta, Novick, Kirby et al, so niftily bypassing any copyright the Lichtenstein estate may think they have. Take Back the Art!"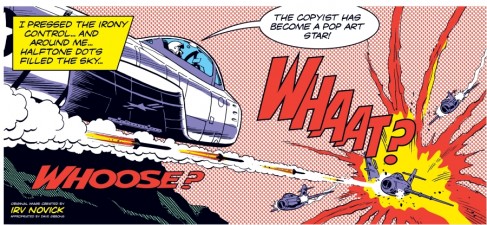 Dave Gibbons (after Irv Novick)
This shout-out quickly caught the imagination of the comics community and beyond, resulting in the collection of work currently on show in the gallery space at Orbital; these responses to the great Lichtenstein "appropriation" debate coming not just from comics artists but other commercial artists too. The philosophy behind the exercise is to revisit the original sources of Lichtenstein's "inspiration" to make observations on his particular brand of artistic requisition. It's an aim that the creators involved have embraced with gusto and admirable invention.
Visitors to the exhibition will be able to pick their particular favourites but the stand-outs for me were also indicative of the diversity of approaches and styles on offer. FuFu Frauenwahl's re-creation (after Tony Abruzzo), for example, of one of those gloriously melodramatic splash pages of comics of yesteryear strikes a nostalgic chord with an added stinging retort, as does Rian Hughes's gallery of hybridised cover logos. Conversely, Mark Blamire's minimalist methodology (after Jerry Grandenetti) is a more subtle but no less effective piece.
Jason Atomic (after Carl Barks) and Carl Flint (after Jack Overgard)
Carl Flint (after Jack Overgard) makes cheeky use of the Benday dots providing one of the drollest works on show and Jason Atomic's Donald Duck (after Carl Barks) is the sublime embodiment of the exhibition's central theme of pop cultural appropriation and exploitation. Of course, Dave Gibbons's re-imagining of probably Lichtenstein's most (in)famous piece 'Whaam!' as 'Whaat?' will be seen by many as the centrepiece of the event. But with work from the likes of Steve Cook, Shaky Kane, Mark Stafford, Howard Chaykin, Garry Leach, Michelle Amir and many more also to be consumed you're guaranteed a plethora of distinctive perspectives on Rian Hughes's original mission statement.
FuFu Frauenwahl (after Tony Abruzzo) and Rian Hughes's cover logo mash-up
It's up to the individual, of course, as to whether they perceive 'Image Duplicator' as something that complements or directly confronts the work displayed at the Tate show but, whatever your views on Lichtenstein, this measured and intelligent rejoinder to the ethical questions raised by his art represents an essential and unmissable opportunity to examine and consider the issues surrounding the artist and elements of the Pop Art movement. Though it may have been borne from antipathy 'Image Duplicator' is both a celebration of those creators "sampled" by Lichtenstein and proof positive that the swashbuckling thrust of a rapier wit will always be a far more effective weapon than the blunt tool of righteous indignation.
'Image Duplicator' is on show at Orbital Comics until 31st May. You can also like the Image Duplicator Facebook group and for more on the history of Lichtenstein and his relationship with the comics world do check out the article by Paul Gravett here.
All images (c) their respective creators.