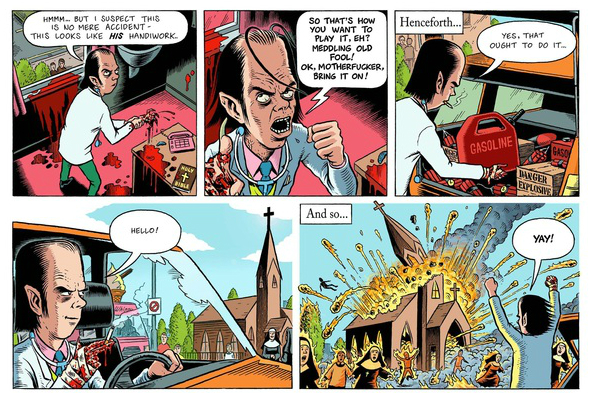 He may be one of the most genial gents in comics that you could meet in the flesh but the artist known to the public as Krent Able (aka Steve Martin) is also a creator with a distinctly devious side when it comes to his on-page antics. Able's work exploded onto the scene like a festering ruptured boil a few years back when his pop cultural parodies started appearing in the pages of The Stool Pigeon and were later collected as Krent Able's Big Book of Mischief in 2012 by Knockabout.
His work includes savagely witty send-ups of Nick Cave, Morrissey, Kanye West, the Banana Splits, Goldfrapp and so many more. Able was a guest artist at our Gosh! Comics/Broken Frontier Drink and Draw earlier this year when I took the opportunity to talk about the Big Book of Mischief here at BF, describing it as "replete with near-to-the-knuckle running gags and depravity so delicious you can almost taste it".
Now a new documentary film by Matt Harlock and Halflife Films (trailer above) looks at the strange divide between the artist Steve Martin and that odd malevolent presence known as Krent Able who bursts forth from his physical shell to spew his invective across the comics page. I saw Harlock's short this week at a press screening in London and was captivated by its tongue-in-cheek approach to its subject. It's one that plays up the Jekyll and Hyde conceit at its heart to bleakly comedic effect while still proving informative and enlightening about Able's creative process. With contributions from the likes of Paul Gravett, Julian Hanshaw and Shaky Kane the film is also an examination of his journey into the comics world to date.
London comics fans have the chance to see for themselves at a screening at London's Gosh! Comics as part of the monthly Process events hosted by Steve Walsh this Wednesday December 7th. You can book a place here. It's also due to play at the London Short Film Festival in January.
For more on Krent Able's work visit his site here.