"When I first got into comics, it was definitely seen as something mainly for boys. Characters like Tank Girl were what pulled me in, but even this purportedly strong female role model was created by blokes, and has become increasingly an object for the male gaze. So it's brilliant to see women's comic work being given a platform, along with the general upswell in their voice and creativity across the comics world: to see women represent characters and political thoughts or just their general world for themselves. I have to say that the small comics world has become one of the most egalitarian communities I know, and that's fantastic." – Myfanwy Tristram
'The Inking Woman' – spotlighting 250 years of British women cartoonists – recently opened at London's Cartoon Museum to great acclaim. From household names to enthusiastic self-publishers through to historical figures from the medium's rich past, the exhibition has a truly celebratory zeal to it. It runs until July 23rd and you can get full details on admission, opening times and directions from the museum site here.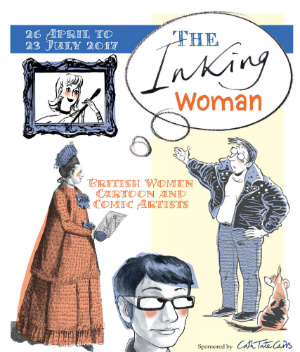 With so many of the exhibition's contemporary artists having been featured extensively here at Broken Frontier (and a number of them getting their very first coverage on this site) it seems only fitting that we support 'The Inking Woman' with a series of BF blog posts linking back to some of our key coverage of individual featured creators – with images selected by the artists themselves!
Our latest spotlighted creator is Myfanwy Tristram whose comics have been seen in anthologies like The Salon of Rejects and Two Birds, the latter a showcase for both her work and that of fellow Brighton-based artist Zara Slattery. Tristram's sequential art often concerns itself with slice-of-life and autobio material – family life, travel and parenthood are popular recurring themes. Her use of colour is a particular distinguishing mark of her work with a vibrancy that accentuates mood to stunning effect.
She was also the driving force earlier this year behind the remarkable Draw the Line project that saw around 100 creators coming together to present positive political actions in both comic strip and illustration form that anyone can take to effect change. The truly amazing line-up of contributors included Karrie Fransman, Dave McKean, Steven Appleby, Hannah Berry, Danny Noble, Wallis Eates, Sean Azzopardi, Joe Decie, Hunt Emerson, Fumio Obata and Broken Frontier's very own EdieOP among many others. You can find out more about the project here.
Myfanwy's piece in the exhibition can be seen above in the top banner image (it's also her Draw the Line contribution entitled GO CROSS-COUNTRY: Taking fewer flights can be a reward in itself, if you take time to enjoy the journey as well as the destination). There's more of her comics below plus some links to key Broken Frontier articles.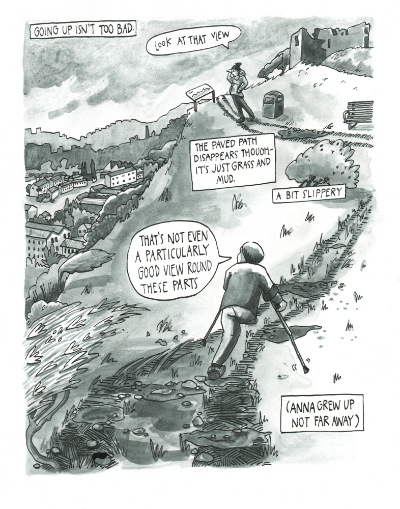 New autobio work Ladies of the Lake which should be on sale at LICAF later this year
Key Broken Frontier Reviews and Features
Two Birds (2016) – "Framing much of her material around the familial, Tristram kicks off the proceedings with two pages of 'Snippets of Conversation' between parents and offspring on the walk to school. It's a signifier from the outset of her ability to bring the smaller moments of life to the page in all their keenly observed splendour, inviting the reader to build entire narratives around the merest of throwaway lines."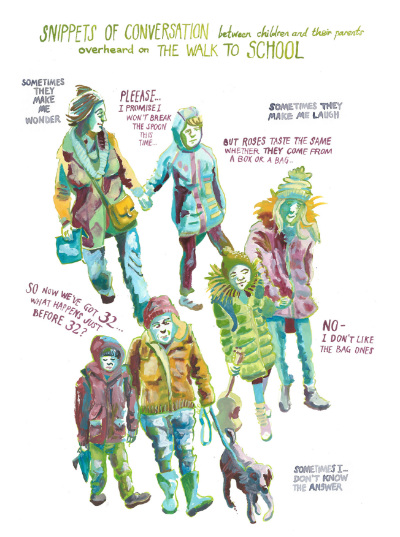 'School Run' from the Two Birds collection
Draw the Line – 100 Artists Including Dave McKean, Karrie Fransman, Roger Langridge, Danny Noble and Wallis Eates Unite to Change the World with Positive Political Action (2017) – "One of the great pleasures of being involved in comics commentary is that you can be aware of exciting projects going on in the background long before they're announced to the wider world. Draw the Line is one such enterprise: a collaborative group effort designed to emphasise positive political action through individual comics and cartoons as a response to the sobering and worrying global events of 2016. It's been steadily growing steam over the last few months but the final results on the Draw the Line site here are even more impressive than I was expecting. And I was expecting a lot given the amazing list of talent involved!"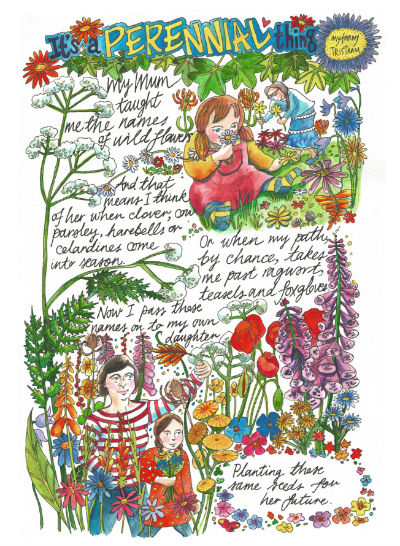 'Perennial' – another offering from the Two Birds book
Interview with Myfanwy Tristram on 'Draw the Line' (2017) – "If, as an artist, you can put people's words on the page, show the conditions they're living in – in my view, there really is no more direct route to the heart. More and more I feel like documentary comic-making is such a strong force and really important work."
For more on 'The Inking Woman' visit the Cartoon Museum site here and follow them on Twitter here. 
For more on Myfanwy Tristram visit her site here and follow her on Twitter here.
Read all our Inking Woman profiles here!