"The Inking Woman was such an exciting and amazing exhibition to be a part of, it was an honour to have my work exhibited alongside such talented women in comics and illustration. The Cartoon Museum team did a fabulous job of curating it and it's well worth getting down to see the exhibition in person!" – EdieOP
'The Inking Woman' – spotlighting 250 years of British women cartoonists – opened at London's Cartoon Museum in April to great acclaim. From household names to enthusiastic self-publishers through to historical figures from the medium's rich past, the exhibition has a truly celebratory zeal to it. It finishes its run this Sunday July 23rd so there's still time to catch it! You can get full details on admission, opening times and directions from the museum site here.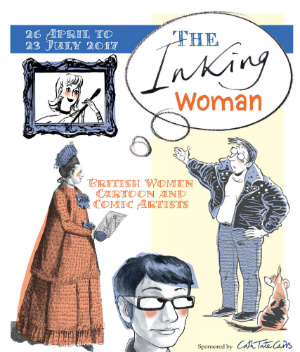 With so many of the exhibition's contemporary artists having been featured extensively here at Broken Frontier (and a number of them getting their very first coverage on this site) it seems only fitting that we supported 'The Inking Woman' with a series of BF blog posts linking back to some of our key coverage of individual featured creators – with images selected by the artists themselves!
For our final spotlight we look at the work of our very own newly appointed Operations Editor at Broken Frontier – the unique talent that is EdieOP!
Edie's comics were first reviewed here at Broken Frontier way back in 2013 when she was self-publishing short-form comics like Jonah and Seven Blows to the Head. Her mix of appealing and vibrant visuals with much darker subject matter was an instant draw and so embodied the tagline she has adopted for her work, describing it as "the sunny side of sinister".
On the basis of our early coverage of her Edie was picked up by much acclaimed UK micropublisher Avery Hill Publishing. As AHP's co-publisher Ricky Miller said in this article at BF last year: "One of the first creators we found at Avery Hill Publishing through [Broken Frontier] articles was EdieOP. It was the 2013 'Ten UK Small Press Comics You Need to Own!' column (which has a list of creators as relevant today as they were then) coupled with a write-up of Dangerfun that sold me on "The Mistress of Mirth".  Edie's hilarious books contained deceptively simple art that acted as the child-sized velvet glove to the sinister iron fist of Edie's sense of humour. The drawings both undercut the horror and somehow made it even more… horrifying.  We were sold enough to get Edie to do what was our biggest project up to that point; her first graphic novel, Maleficium and to be a key part of our anthology, Reads."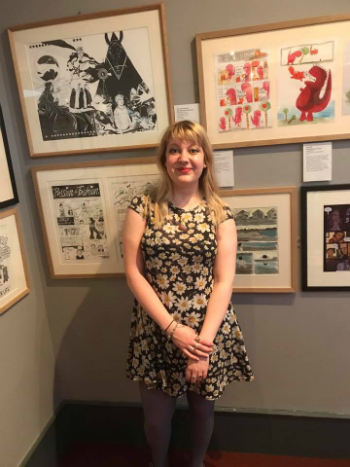 Edie with her art (top right) at the The Inking Woman exhibition
Edie's debut all-ages graphic novel Maleficium – the story of would-be boy wizard Huxley Leighton-Lomax defending his family from the malevolent darkness that haunts their home – was nominated for a British Comics Award in 2015. Edie's morbidly witty work has been seen in many anthologies including Off Life, ink + PAPER, A Bit of Undigested Potato, Identity, Reads, the Broken Frontier Anthology and both editions of the Broken Frontier Small Press Yearbook. She has also continued to self-publish comics like Making Friends with Smiley and will be spinning off her recent Broken Frontier Small Press Yearbook story into a new webcomic.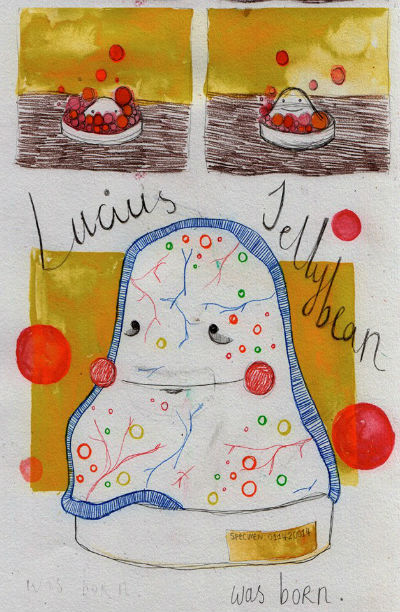 The loveable anthropomorphic bacterial infection known as Lucius Jellybean from the pages of Avery Hill's anthology Reads
You can find out more about Edie's comics in the links below.
Key Broken Frontier Reviews
Jonah (2013) – "A nefarious imagination is only one part of the recipe for success for EdieOP's tangled tales though. What really brings them to melancholic life is the ingeniously beguiling and childlike artwork that lures you into her narratives with an inoffensive charm, only to spring its grotesque visual trap on you when you are wholly incapable of escaping its clutches."
Dangerfun (2014) – "This is an environment where consequences are considered solely after the fact and where slapstick is only ever a single step away from GBH. If you remember those unsupervised play dates where activities like adventuring on walls, fighting with household implements, or variations on games like "Chicken" were part and parcel of your day then be prepared for some moments of cringe-inducing nostalgia."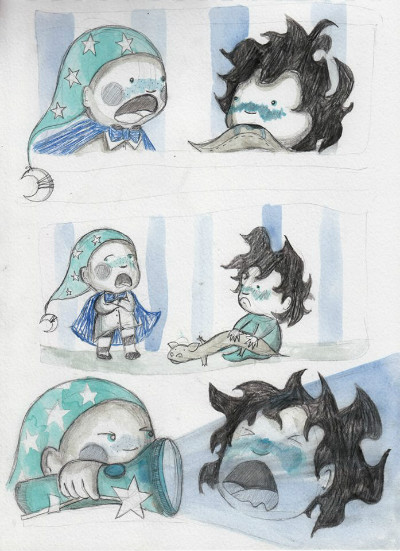 Sample page from the British Comic Award-nominated Maleficium
Maleficium (2014) – "In Maleficium the Mistress of Mischief has proved that her ability to captivate and beguile her audience is just as pronounced in a long-form narrative as it was in her shorter style work. An outstanding graphic novel debut from a creator I have no doubt will be reaching an ever greater readership in years to come. Just remember… you saw her here last year on Broken Frontier first!"
Making Friends with Smiley (2016) – "There's that same macabre wit that is such a staple of EdieOP's mini-narratives at work here as we take another trip to her fictional reality where children are always the knowing protagonists and adults often clueless as to the true nature of the darkness around them. This is a child's eye view of the world with the vivid colouring both accentuating that storybook feel and a gaudy atmosphere of impending doom."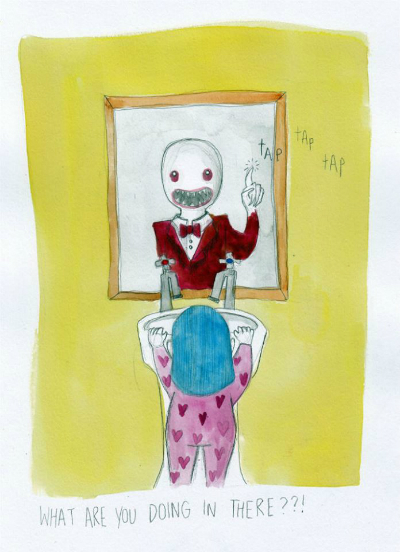 Art from Edie's most recent self-published comic Making Friends with Smiley
Key Broken Frontier Features
Interview with EdieOP (2014) – "I use colour and a softer, more bouncy drawing style to offset some pretty extreme uses of cartoon violence/gore. I don't want my work to cross the line where the gruesome becomes too much or off-putting and I think appropriate use of colour helps keep that balance."
Interview with EdieOP (2015) – "It all goes a bit wrong and twisted when I start to create a story because I have a very dark sense of humour and watch a huge amount of horror films!"
Interview with EdieOP (2017) – "I love books and I love artwork. For me comics is getting the best of both, it's like jelly and ice cream!"
For more on 'The Inking Woman' visit the Cartoon Museum site here and follow them on Twitter here. The exhibition finishes this Sunday July 23rd. 
For more on the work of EdieOP visit her site here. You can order Maleficium and Reads online from Avery Hill Publishing here.