Press Release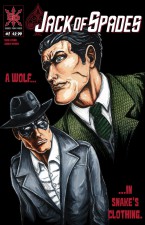 Following the success of Jack of Spades #0 last may, independent publisher Source Point Press announced that they will be releasing the long awaited #1 issue of the series in January.
Issue #1 reunites the creative team of Trico Lutkins writing the story and Joshua Werner providing pencils inks and lettering.  "I couldn't be happier to be working with Josh on another issue of JoS," says Lutkins.  "He really understands the concept and was instrumental in creating the unique feel of the book."
"This issue really kicks the story into high gear," says Jack of Spades artist Joshua Werner. "I was excited to bring Trico's script to life, there's so many opportunities for fantastic visuals. You'll really see this issue get dark and gritty, so the inking has taken on more contrast and heavy shadows to fit the mood. It has a neat pulp look and feel, but should appeal to fans of both noir and modern action and superhero comics."
Jack of Spades takes the unique approach of bringing super-humans (or "parmies" as they're called in the series) into the world of an old noir detective story.  The Jack of Spades operates as a bounty hunter/private detective with a knack for finding and apprehending superpowered beings. "This issue really fleshes out the Jack of Spades' world to the readers.  We get to see his friends, his love interests and learn more about his enemies," says Trico Lutkins.
            "Source Point Press is truly the ideal publisher for this comic series," says Werner. "Their lineup of titles really unites an old-school pulp feel with fresh, out-of-the-box thinking. The raw talent and ingenuity of the writers is remarkably stunning, and Trico's certainly no exception. You're going to love this story."
Fans have been very excited about the release of issue #1.  "After we released #0 at the Motor City Comic Con in May, we received so many emails asking about when issue #1 was coming out that Source Point Press set up an option on their website where fans could pre-order it," says Lutkins.
Jack of Spades #1 will be available on the Source Point Press website, various comic book websites and local comic book shops.
More information can be found at www.SourcePointPress.com and www.facebook.com/SourcePointPress