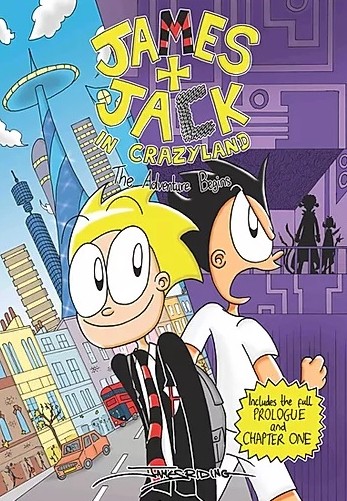 James Riding's James + Jack in Crazyland is a diffficut book to define in obvious genre terms. This all-ages serial is packed to the rafters with ideas and character concepts. It contains elements of science fiction, fantasy and that kid lit school soap fallback that will certainly resonate with Riding's intended readership.
Using a filmic The Wizard of Oz-style opening device, we are initially introduced to the sterile black and white surroundings of Jack. An isolated and lonely boy, Jack has been brought up on an orbiting space station by the nefarious Dr. Tyburn, alongside sometimes nemesis and sometimes ally Hannah,. Tyburn, a standard mad scientist type, has been experimenting on his junior test subjects in an effort to develop a "seventh sense" in them that will endow them with great powers.
Escaping his tormentor, Jack flees to the planet below and ends up in Albion City, part of Crazyland, where he meets new friend James and attaches himself to his school class. In Crazyland those who come of age are assigned "orbs" as companions. These strange, globular, floating creatures were discovered on a remote island by explorer Watkin Weston and for generations have acted as guardians to their charges. As Jack begins to acclimate himself with this strange new world we are slowly introduced to its customs and inhabitants alongside him.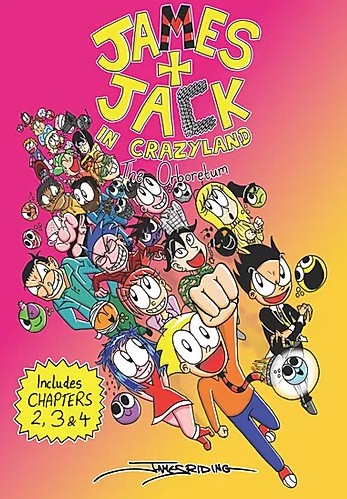 Questions abound in the two opening issues. Can the naive Jack adapt to this new world? What can he expect from Albion City's upcoming Grand Festival? Why does the mysterious school teacher Mis Warper have it in for the duo? Who is the lurking and sinister Trick Master? And how long until the evil Dr. Tyburn makes his move?
Riding has obviously gone to great lengths in his world-building efforts with James + Jack in Crazyland. There's a complex history to Crazyland being revealed in increments, with its geography and wider environs – as represented in a global map and a street level one of Albion City – hinting at more stories to come. It's a clear labour of love for the writer/artist and the fantastical elements that the target all-age audience can lose themselves in seem boundless.
Admittedly, a rawness to Riding's cartooning is apparent but there are also flashes of greater inspiration in terms of some of the more inventive page compositions that punctuate these two issues. The interiors are steeped in an undeniable sense of vigour and enthusiasm, with appealing characters we immediately want to invest in. Riding barely stops throwing ideas into the conceptual mix in these first two issues and, while that can be a little overwhelming at times in keeping track of the disparate and sometimes patchwork elements of James + Jack in Crazyland, it certainly sets up plenty of mysteries to be explored and explained down the line.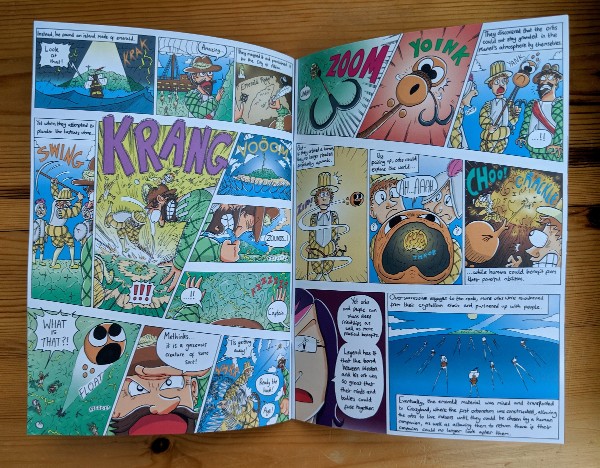 Perhaps the most immediate naivety in terms of visual storytelling, though, is Riding's propensity for cramming so many panels onto his pages that his tale has very little room to breathe. As a result some of those interesting panel-to-panel tricks he uses are somewhat lost in the bustle. A less frenetic approach to page structure would certainly benefit the flow of James + Jack in Crazyland and allow his craft to have a greater impact on his audience.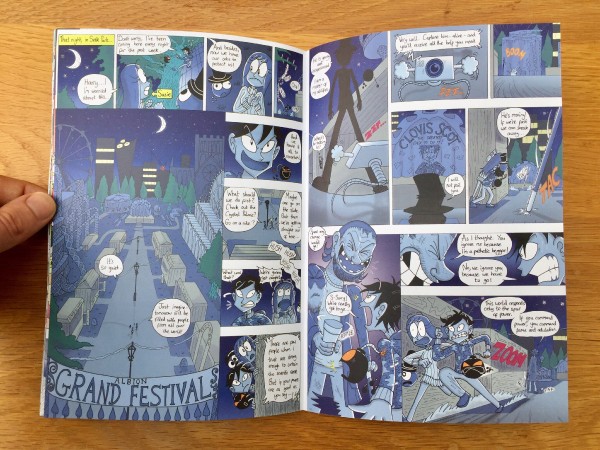 That said, there is a marked artistic progression between the first two books with a noticeable growth in confidence, and his vibrant use of colour is a treat as we investigate Crazyland alongside Jack. As we sometimes say at BF there are obvious signs of an artist exploring the form and finding their voice here but there's such a sense of joy and energy to these issues that the technical weaknesses are easily overlooked. As with all serial storytelling it remains to be seen whether Riding can pull together all the varied plotlines he's setting up into a coherent whole but for the younger readers he's aiming to reach there's much here to capture their imaginations and keep them absorbed for a good hour or two. A third issue debuts this month.
Visit James Riding's site and online store here. Follow James on Twitter here and on Instagram here.
Review by Andy Oliver