Last year Jamie Smart and a team of 40 talented artists created the madcap, meta children's anthology Moose Kid Comics as a response to the demise of the venerable British weekly The Dandy. As Smart said, when I interviewed him about Moose Kid Comics here in 2014, the project was "a statement of intent wrapped up inside a love letter to the art form. We're basically saying "Look, we have the artists, we have the characters, we can build the audience, we can make This Thing. All we need you to do is help This Thing sail."
Available to read for free online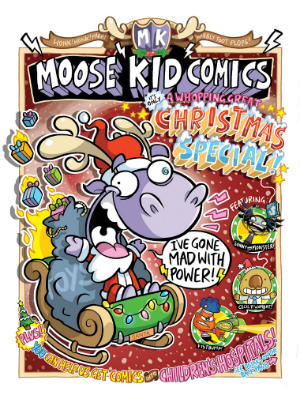 , MKC boasted the likes of Mark Stafford, Rachael Smith, Gary Northfield, Alan C. Martin, Warwick Johnson Cadwell, Sarah McIntyre, Viviane Schwarz and Roger Langridge in that inaugural issue, with a second edition following this past summer. I described Moose Kid Comics #1 as "a rapid fire volley of gags and crazy concepts" when I reviewed it here in my BF 'Small Pressganged' column.
As we come into the festive season Smart has announced the release of a special online Christmas MKC featuring the impressive line-up of Tom Plant, Andreas Schuster, Jess Bradley, Mark Stafford, Gary Northfield, Aaron Alexovich, James Downing, Hamish Steele, Chris Garbutt, Dan Gaynor, Rick Eades, Viviane Schwarz, Warwick Johnson-Cadwell, Stephen Waller, Alan Ryan, Rachael Smith, Matt Baxter, Andrew Waugh, Joe List, Rikke Asbjorn, Jonathan Edwards, Feltmistress, Alexander Matthews, Rianne Rowlands, James Lawrence, Craig Knowles and Smart himself.
But that's not all! With suitable seasonal cheer there's also a JustGiving crowdfunding campaign (donate here) to facilitate the printing of the first two issues so that they can be given away free to children in hospitals. It's a wonderful cause and a great project that self-evidently deserves your support!
The full press release can be read below alongside sample strips from Dan Gaynor, Craig Knowles & Jez Hall, and Warwick Johnson Cadwell.
Moose Kid Comics, the free online children's comic, is releasing a special festive mini-issue! Twenty-seven of the best comic artists working today have contributed to this one-off, and it's all free to read on the website www.moosekidcomics.com.
The 16-page, full-colour special features idiotic elves, tormented Santas, snowball fights and furious food, not to mention yetis, unicorns, spaceships and culinary kittens. In other words, all the Christmas traditions!
Alongside this, Moose Kid Comics have started a fundraising campaign to help get comics into children's hospitals, hostels, wherever they can help raise a smile. Teaming up with the charity Readathon, Moose Kid Comics hope to raise at least £2,000, which will fund the printing and distribution of Moose Kid issues 1 and 2 to children's wards around the UK.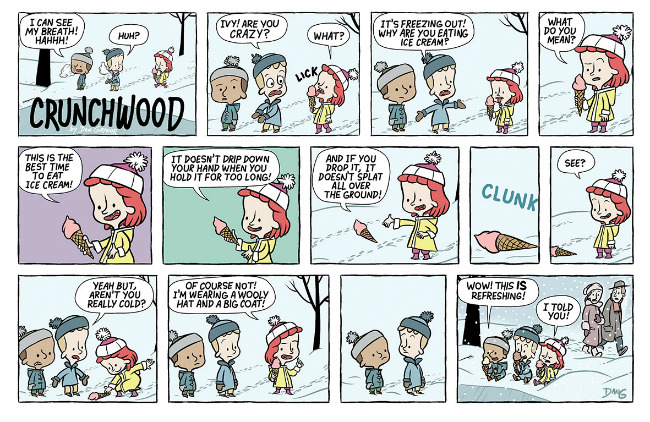 "One of the very first reasons we started Moose Kid Comics was to get comics to children in hospital," says Jamie Smart, the online anthology's editor. "It seems the most obvious plan, sharing big, wonderful, colourful comics with children who would really appreciate the entertainment."
"My co-editor Chris suggested we do a Christmas mini-issue," Jamie explains. "Around the same time I was wondering how we could set up a fundraiser. The two ideas just merged together, we could share the Christmas special to help promote the fundraiser.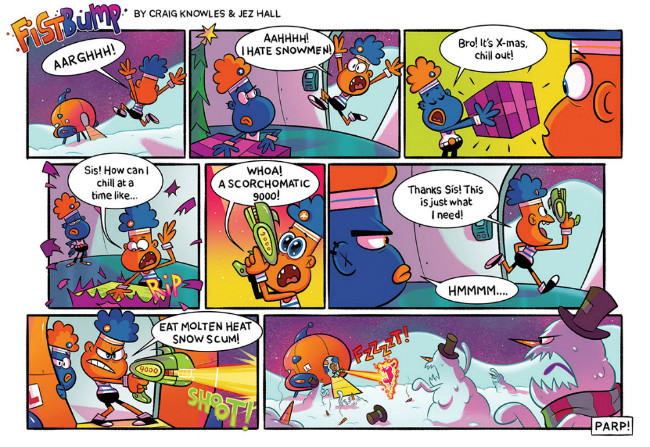 "I approached Readathon, who are an amazing charity putting children's books into hospitals, and they were excited about the idea of sending out comics too."
"In this country we've almost lost children's comics from the public consciousness, so this is a good place to start changing that. Sharing comics with children who might be in real need of amusement seems the best use of our craft. I'm hopeful we can reach our target, and perhaps even beat it. The more we can raise, the more good we can do with comics."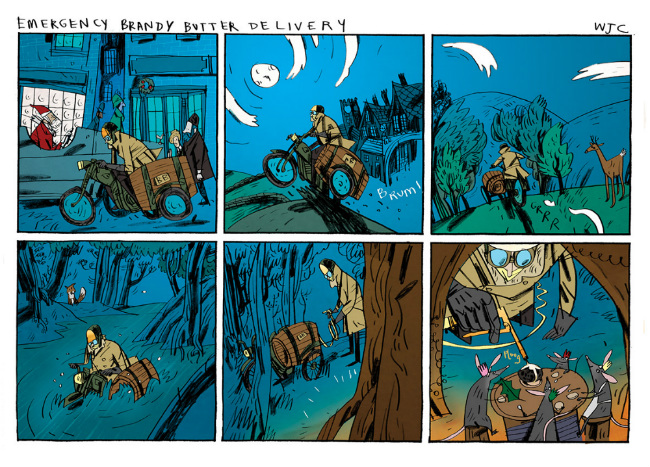 Moose Kid Comics is an annual release, aiming to showcase the talent working in comics today, as well as showing how impressive children's comics can be. Issues 1 and 2 are both full-colour, 36-pages long and completely free to read or download from the website www.moosekidcomics.com
"Our Christmas special features a lot of the great names from our regular issues," Jamie says. "Including Gary Northfield, Rachael Smith, and Jess Bradley to name but a tiny few. What I love about putting Moose Kid together is how different the strips are from each other – we have comics teaching you how to bake cookies, we have photo comics, we have spoof adverts and comics about every aspect of Christmas and the festive season you could imagine!"
"We'll be back to release issue 3 in the summer. But for now, we're all about Christmas, and trying to do some real good with comics."