Something of a curio and a sidestep in the annals of Jim Woodring's Unifactor stories And Now, Sir — Is THIS Your Missing Gonad? takes his signature anthropomorphic Frank character and gives us a different perspective on Frank's world, shifting it from silent sequential graphic narrative to a collection of surreal one-panel cartoons.
The previously unpublished work presented in this volume was created for Woodring's own entertainment over the past decade or so and includes accompanying captions and text from "the mysterious Walter Foxglove, The Smartest Artist™". It's replete with the recognisable cast from the Frank books including the titular protagonist, Pupshaw, Pushpaw, Whim and company, but it's framed more through the lens of the fleeting and the fragmentary.
Frank's realm is always a visually alluring one and here the mix of innocuous retro-style characters from a long gone age of early animation with unspeakable eldritch horrors retains its discordant delightfulness. The temptation is to say that And Now, Sir — Is THIS Your Missing Gonad? Is a book for the committed fans but strangely its detached, standalone nature makes it oddly accessible to the uninitiated despite the rather esoteric nature of its contents.
It's important going into And Now, Sir — Is THIS Your Missing Gonad? to be prepared to embrace the incongruity not just of Frank's eerily eccentric environment but also in the relationship of text and imagery in each single cartoon. Each caption is linked to the events it describes but simultaneously it often feels just one step removed from it as well. Wider artistic references are there to tease out if the reader so desires but this is a project that is more about the immediate response every page provokes rather than a dissection of theme or message. Indeed, while the cartoons feel designed to elicit a reaction in their audience one feels that it's not necessarily meant to be the same reaction for each individual viewer; authorial intent subsumed into the specific personal interactivity of reader interpretation.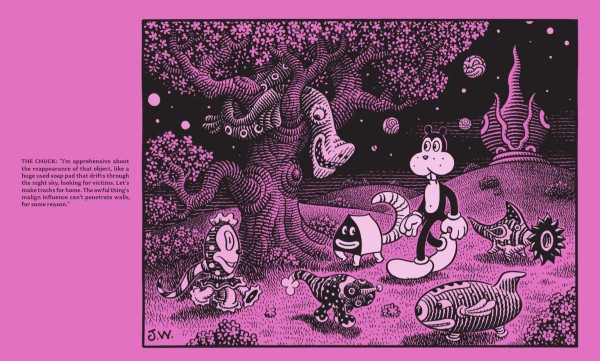 Herein, then, the bizarre routine of everyday life in Frank's world continues with its own distinctively dreamlike tempo. Sentient vehicles resent their riders; the dire secrets of the afterlife are hinted at with casual indifference; the social etiquette of monstrous apparitions is explored; and cacophonous meteorological conditions shower down from above.
Sometimes there's something to be grasped directly from the page; sometimes there's a fragment of truth or meaning to be gleaned from an otherwise imperceptible whole, and sometimes the non sequitur is the entire point. Isolated windows of time peer into wider unseen narratives while monologues take on the most twisted weirdness by their bizarre juxtaposition with the accompanying off-centre imagery. An ever changing colour scheme adds an extra layer to the reading experience for those engaging with the book in its physical, tactile incarnation.
And Now, Sir — Is THIS Your Missing Gonad? is off-putting yet enchanting, familiar but alien, unsettling and still hypnotic. The irony here is, perhaps, that it is completely atypical to Woodring's other Frank work and yet despite that it provides the perfect entry point to his world for those wishing to investigate further. For Woodring aficionados, though, it establishes a whole new and essential take on the Unifactor and its inhabitants.
Jim Woodring (W/A) • Fantagraphics Books, $21.99
Review by Andy Oliver