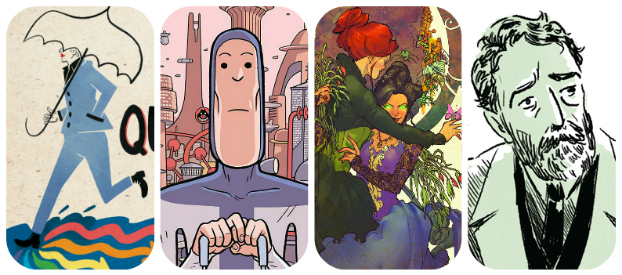 It's nearly Wednesday, and you know what that means: a fresh load of comics and graphic novels! With so many publications hitting your local comics store or digital storefront, the BF staff is here to lead you through the woods with our weekly staff picks. Satisfaction guaranteed!
Comic of the Week
Queer: A Graphic History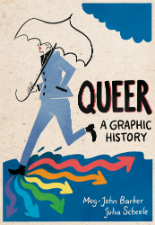 Launching at London's Gosh! Comics on September 1st this week, Queer: A Graphic History examines the history of queer thought and activism. It's written by academic and psychotherapist Meg-John Barker and illustrated by One Beat Zines co-founder Julia Scheele (Metroland, I Don't Like My Hair Neat, I Wished I Was Married to the Sea), a much featured creator in our 'Small Pressganged' column over the years.
Using the communicative strengths of the graphic narrative to explore questions of sexual identity, Queer: A Graphic History investigates and challenges fixed notions of binaries and gender. Ranging from studies of academic theory to pop culture through to activism, this looks set to be one of the most vital and accessible uses of the medium to be published in 2016.
Meg-John Barker (W), Julia Scheele (A) • Icon Books, £11.99
– Andy Oliver
The Longest Day of the Future

Argentinian cartoonist and graphic designer Lucas Varela (The Signal) crafts a sci-fi fable decrying the rampant consumerism infecting our society in this "wordless thriller" from Fantagraphics. In a future dominated by a pair of warring mega-corps, it is the individual who must pay the price demanded by rabid capitalism.
When an alien vessel crash lands in the middle of their interminable conflict, the incident threatens to take the hostilities to a whole new level – or does it? What will the arrival of new technologies mean to the established status quo? Can the powers-that-be sustain their destructive behaviour in light of such far-reaching global change?
To find out, you'll have to take the plunge into this well-crafted tale of sci-fi social commentary!
Lucas Varela (W/A) • Fantagraphics, $24.99 
– Jason Wilkins
The Trial of Roger Casement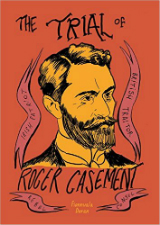 Fionnuala Doran's first full-length graphic novel will be an eagerly awaited offering for anyone who has been following her progress in the world of comics over the last couple of years. In 2014 she won the Comics Unmasked competition – announced on the same evening as the Myriad First Graphic Novel Competition at the British Library – and she was also a finalist in the Observer/Cape/Comica Short Story Prize that year.
The Trial of Roger Casement is part of SelfMadeHero's ever expanding and much respected line of graphic biographies, looking at the life and death of the early 20th century humanitarian and the injustice behind his dramatic fall from grace. A sobering lesson from history brought to us by one of the most exciting new talents of recent years.
Fionnuala Doran (W/A) • SelfMadeHero, £12.99
– Andy Oliver
ReincarNATE #1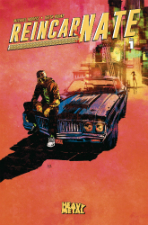 In a recent blog post, writer Michael Moreci (Indoctrination, Roche Limit, Burning Fields, Hoax Hunters) refers to ReincarNATE as "the little comic that could", explaining that it wasn't easy getting the 4-issue series from concept to reality. When he and artist Keith Burns (Johnny Red) originally pitched the project several years ago it was universally rejected by every publisher they went to. Refusing to give up, they decided in 2012 to go the DIY route, running a successful Kickstarter campaign that ultimately brought the book to life. Thankfully so, because it caught the attention of an entertainment company, was optioned for TV, and is allegedly in development for production under the auspices of screenwriter David Hayter (X-Men, Watchmen).
This week Heavy Metal will begin re-releasing the original four issues, then continue the series with new story arcs starting with issue #5. This unique take on classic crime noir follows P.I. Nate McCoy who, after suffering a gunshot wound to the head, discovers that he can interact with his "past lives". Embracing this phenomenon in order to solve a mysterious disappearance case, Nate (and a duo of his past lives) goes deep into the criminal underworld and uncovers a larger sinister plot that he'll have to undermine before it's too late.
With electrifying art and a twisty-turny plot, this series will surely appeal to those who like comics with excitement, grit, and supernatural surprises. ReincarNATE has gotten a new lease on life, and now's the time to get in on the ground floor of this wild ride.
Michael Moreci (W), Keith Burns (A), Chris Beckett (C) • Heavy Metal, $3.50
– Matthew Box
Insexts Volume 1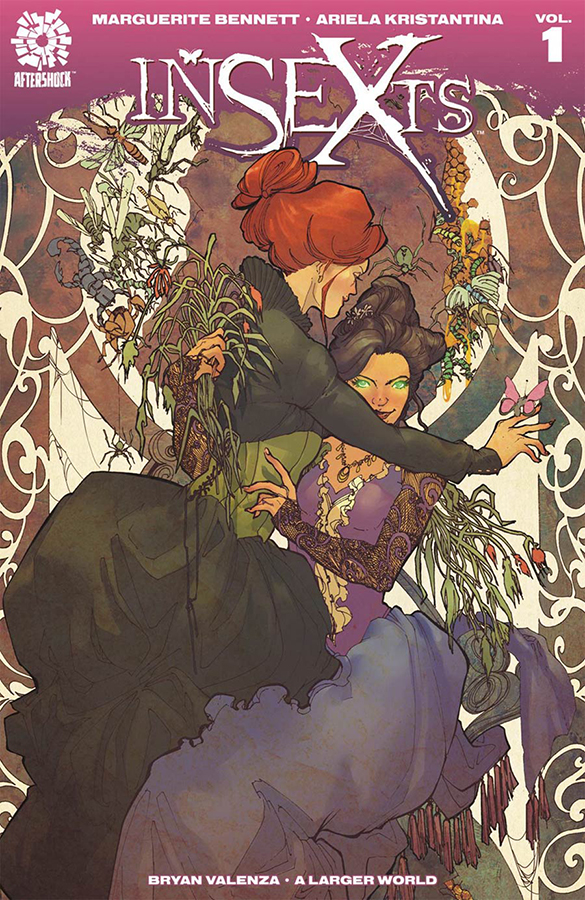 Cultural and sexual liberation comes in many forms. For two women in love during the Victorian period in London, their emancipation arrives in the form of a mysterious metamorphosis; a change that makes them more than human, more beautiful and strange.
Confident in their evolved forms, Lady and Mariah descend into the dark underworld of the occult with new senses and new sensuality, to forge a life for themselves and the child of their love.
This edition collects the first 7-issue story arc of this new erotic horror series and is unlike anything else you'll find on the shelves.
Marguerite Bennett (W), Ariel Kristantina (A) Bryan Valenza (C) A Larger World (L) • AfterShock Comics, $19.99
– Tyler Chin-Tanner

Suicide Squad: War Crimes Special #1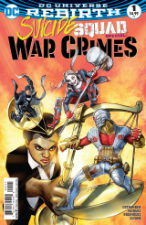 Around a decade or so since he last wrote a Suicide Squad comic for DC, the great John Ostrander returns to the version of the team he made his own with this special tale of political secrets and intrigue. When a prominent US public figure is taken to the Hague to be tried for war crimes it's up to the Squad to do whatever it takes to resolve the problem with their usual brand of plausible deniability…
While it's not set in the classic continuity that long-term Squad fans will perhaps yearn for, the opportunity to enjoy Ostrander writing the interactions between characters he co-created like Amanda Waller and those he redefined – like Deadshot and Captain Boomerang – will surely be too good to miss. Come on DC… get the man on an ongoing monthly series quick smart!
John Ostrander (W), Gus Vasquez, Carlos Rodriguez (A) Gabe Eltaeb (C) • DC Comics, $4.99
– Andy Oliver