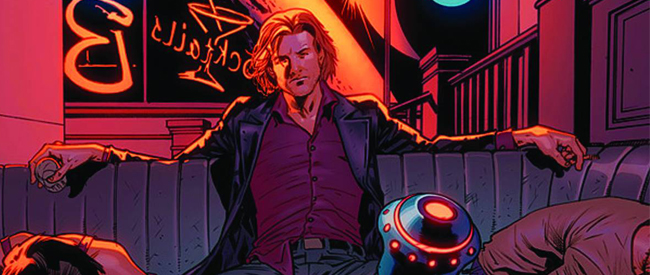 Millar and Quitely's legacy marred by a whole lot of nothing new under the sun.
I can't understate how much I've been craving a really good superhero book lately. Unfortunately, despite their popularity and unchallenged shelf presence (two entirely different things, believe it or not), really good superhero books are hard to come by. When I first learned of Millar and Quitely's latest collaboration, I had high hopes it would live up to the hype as an unflinching, modern exploration of the superhero archetype.
When the first issue failed to live up to expectations, I wasn't too surprised. Let it be said though, Jupiter's Legacy isn't a bad comic. It simply lacks the punchy, pissed off originality I've come to expect from Millar and while I've never considered myself a member of the Frank Quitely fan club, I was surprised to discover the strongest quality present in Jupiter's Legacy #1 was his clean, dynamic visual storytelling and superlative character designs. At the end of the day, who knew what issue #2 would bring? After all, most of the rest of the Internet loved the hell out of the debut.
This second installment, while it definitely furthers the plot, is devoid of any real emotional climax. The final scene intended as a dramatic reveal – warranting a full-page splash – was so heavily foreshadowed in the previous issue and the opening pages of this chapter, it feels clumsy and diluted. Even as we learn of the new wrinkles inconveniencing the Utopian's spoiled, enabled offspring and his brother's less-than-oblique machinations within the family and without, we find ourselves asking why we should care. If their trials and tribulations are supposed to mirror the same pitfalls threatening modern celebrities, then it's the lack of redeeming qualities in the face of such challenges in any of the major players that strips Jupiter's Legacy of any resonance with the audience. More akin to the reality TV stars you hate to hate than those we all love to despise, the so-called heroes of the Utopian's pantheon tend to annoy more than they attract.
Another distraction this time around is Quitely's artwork. Although his visual storytelling remains as solid as ever, this in spite of a few missed opportunities introducing supporting cast members as anything  more than garbled outlines, Quitely's linework in this issue is shaky and watered-down. When coupled with such a threadbare script, his wavy outlines only serve to underscore the overall rushed feeling permeating this issue. With no defining moment such as the instant masterpiece last issue, in which he used the very mechanics of graphic storytelling to actually tell the story, Quitely's artistic flaws take center stage. His unique line weight, once a hallmark of his style, feels insubstantial and flat.
Having said all of that, I really was dying to love this title. Maybe a part of me still is. Like I said at the beginning of this little ramble, I'm dying for a really good superhero book. Is Jupiter's Legacy that book and will I give it another chance with a third issue? No and not likely but that isn't to say for a while there – at least for an issue or more – Jupiter's Legacy didn't have me hoping.
Mark Millar (W), Frank Quitely (A), Peter Doherty (C) • Image Comics, $2.99, June 26, 2013.