Image Comics, in collaboration with Anomaly Productions and Shadowline, launches us into the Jules Verne story The Lighthouse at the End of the World––with a science-fiction twist. Located at a central position in the universe where countless wormholes converge, a lone lighthouse sits on an asteroid upholding its primary objective: like its terrestrial counterpart, it guides ships safely through the tumultuous stormfront. When a spacecraft overrun with pirates and posing as a vessel in distress commandeers the lighthouse for its own nefarious purposes, it falls on Maria Vasquez and her robot companion Moses to find a way to save the lighthouse and what remains of her crew mates, but only if she can battle a trauma deep inside her that's triggered by the events currently unfolding before her very eyes.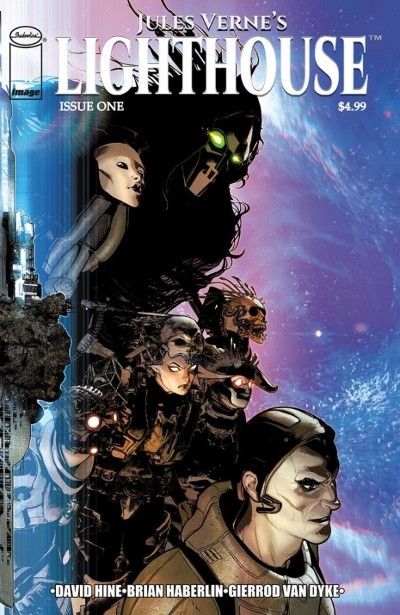 Now, one might think that adapting a novel from 1905 into a science-fiction story fit for 2021 would be a simple enough task, as it has been done countless times since the Silver and Bronze Ages of comics. Unfortunately, writer David Hine and artist Brian Haberlin miss the beacon calling them toward a potential safe passage into the annals of interstellar adventure stories in part due to their own snafus with the storytelling but hindered also by the subject matter of the source material, which doesn't entirely lend itself easily to adaptation for a modern audience.
While the pacing is exceptional, the paneling––much of which revolves around Vasquez and her steel companion––becomes quite mundane and uninspired after about the fifth time we see yet another panel featuring the two of them. On top of this, Haberlin's artwork feels too digital, with all of the images looking very similar, which adds to the ennui I felt while paging through this story. Granted at 48 pages this is a much longer first issue than most, but the differentiation in many of the panels featuring these same characters are so subtle, exhibiting very little in terms of more dynamic angles.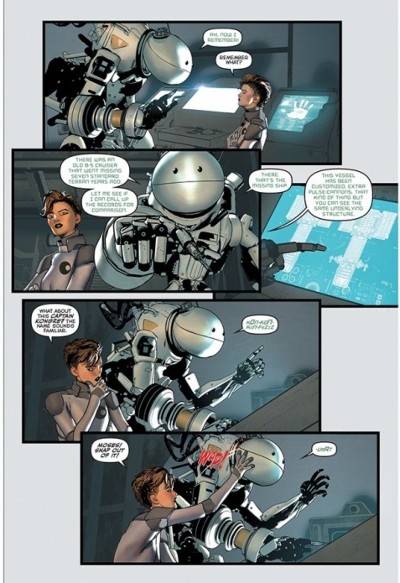 As far as the writing goes, as an adaptation of a story by Jules Verne, it's… okay. There is a lot of exposition and character development in our main protagonist, Maria Vasquez. But while there's plenty of references to her sordid past and a pivotal event that happened on another planet, we actually discover very little about her, even for a first issue. She's apparently dealing with some form of trauma, but do I care enough about Vasquez by the end of the issue to want to discover what that trauma is and how she's going to (hopefully) overcome it? Not really. She's a two-dimensional character by the close of issue #1.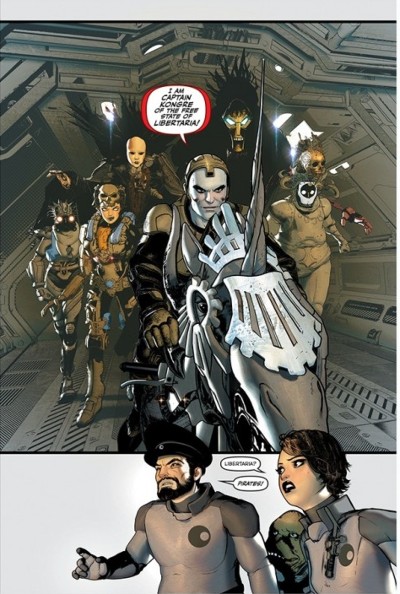 As with many stories, the villains are typically a high point of the story, and this is where Jules Verne's Lighthouse excels. First of all, they're space pirates, and their captain enters riding a strange unicorn, which is already extremely badass. However, Captain Kongre is second in awesomeness to his devilish, skull-capped second mate, Carcante, who's quick with a blade and within only a few pages has already added to her body count. This does, however, overshadow the Captain himself. Perhaps there'll be some mutiny on the horizon in subsequent issues.
Overall, Jules Verne's Lighthouse leaves a lot to be desired. At first, the concept of turning a more historical novel by Jules Verne and giving it a coat of stars and space sounds like a no-brainer, but it takes the right team to pull it off, one that can further develop the bones of what a master like Verne had laid down over a century ago, even if it wasn't his most revered work. In a market awash in original sci-fi stories, particularly from Image Comics, I'd recommend sitting this one out until the storm passes, especially since it comes with a $4.99 price tag. The story, writing, and art is simply not up to the caliber of sci-fi stories from the publisher that put out Saga, Descender, and many other exceptional tales of suspense and wonder set in outer space.
David Hine & Brian Haberlin (W), Brian Haberlin (A), Geirrod Van Dyke (C), Francis Takenaga (L) • Image Comics/Shadowline, $4.99
Review by John T. Trigonis