With Legion of Super-Heroes now a title of the past, DC Comics is looking to keep interest in the heroes of the 31st century alive. Unfortunately, Justice League 3000 isn't up to the job just yet.
The Legion is dead. Long live… the Justice League? Well, not exactly. The titular team happens to be made up of clones of Superman, Batman, Wonder Woman, Green Lantern Hal Jordan, and the Flash (Barry Allen, to be specific). Created by the Project Cadmus of the 31st century, this version of the Justice League is less than perfectly heroic.
Although seasoned writers Keith Giffen and J. M. DeMatteis handle the story, the script comes across as surprisingly flat after the first few pages. Once the novelty of seeing a 31st century version of the League wears off (and it does so quickly), we quickly become the audience of a team that seems to focus more on arguing with each other than on taking down villains (in this case a hive-mind entity by the name of the Convert). If this were the Justice League, of course, that might be interesting, but this team is, of course, not exactly the Justice League, as they are quick to admit. With a one-dimensional team dynamic, this debut issue quickly gets bogged down, and for a debut issue, that's not a good thing.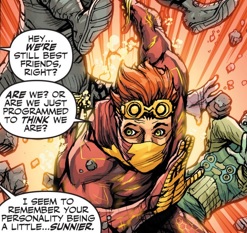 The question of where exactly in DC's multiverse the Legion fits in is still unclear, and that seems to be the case with this new title as well. Questions of continuity aside, the world of Justice League 3000 has several interesting features. Notably, the team is overseen by a version of the Wonder Twins, Cadmus scientists (and siblings) Terry and Teri.
The start of this series also marks a return of sorts for Howard Porter, the artist who kicked off Grant Morrison's well-received run on JLA in 1996, and it doesn't look like his skills have suffered in the meantime. Though this League is portrayed as genetic duplicates of the legendary superhero team of years gone by, even their facial features seem to be designed to look nothing like past portrayals of those characters. It's hard to tell whether that may have been a conscious decision on Porter's part, intended to throw us off thinking of these as the same heroes, or if it may later become relevant to the story.
Though the art is solid and the book's take on the future of the DC universe occasionally somewhat intriguing, it's hard to see this first issue of Justice League 3000 as anything other than tedious. If this series lasts, it may be worth giving another look in six months or so, but for now, the bickering futuristic doppelgangers of DC's best-known heroes offer little in the way of a meaningful replacement for the moribund Legion.
Keith Giffen, J. M. DeMatteis (W), Howard Porter (A) • DC Comics, $2.99, December 11, 2013