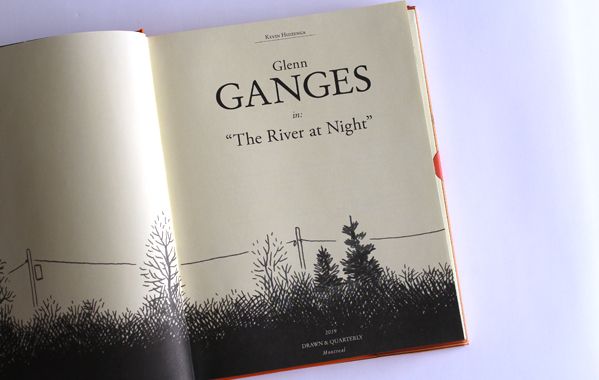 That space between lucidity and sleep has always been an elusive one, especially for writers and artists who have long tried to pin it down. Kevin Huizenga has made a career out of exploring that particular domain, with a little help from his insomniac character Glenn Ganges. Apparently, the name incorporates two states that appear on the same interstate sign, which is interesting because it spells out his method of taking the utterly mundane and imbuing it with substance.
The River at Night is the latest in a long list of books starring Ganges, but the beauty of Huizenga's work is that it allows a reader to step into that stream at any point without drowning. The art has a lot to do with this, making tangible the jumble of thoughts that go through Ganges' head while taking into account the weird manner in which all our minds function. It is a wise style that replicates the elastic nature of time while simultaneously maintaining a thread that propels the narrative forward. In the hands of a lesser artist, this house of cards would fall.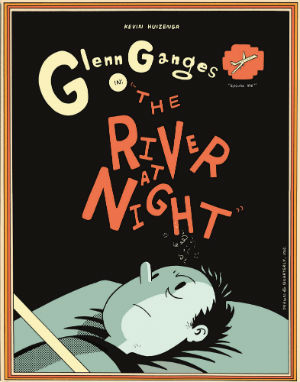 It starts off simply enough, with Glenn and his wife Wendy Ganges having a conversation about nothing in particular before bed. She is exhausted, he has just consumed a pot of coffee, and sleep is nowhere on the horizon. As Wendy sleeps, Glenn starts to think about anything and everything, Huizenga's art accurately reflecting how ephemeral this process really is.
There are flashbacks to his past in an early dotcom venture called Requestra, complete with satirical takedowns of management gurus who continue to plague offices to this day. From there, Glenn remembers his colleagues, slowly moving into deeper ground like sadness and betrayal. It is in keeping with many of the early Ganges stories, where even something like a walk turns into a complex meditation on time and space.
There are a number of things that lend The River at Night a kind of pathos, starting with the illustrations that manage to combine the surreal (a head popping off shoulders) with the quotidian, at unusual moments. There is the writing which, like the seemingly effortless work of Adrian Tomine, manages to infuse powerful emotions into short word balloons. And there is the style, a stream of consciousness narrative that sometimes seems as if Huizenga has a window into our heads. Together, it leaves one with a feeling of sadness coupled with unease. It makes for a powerful combination.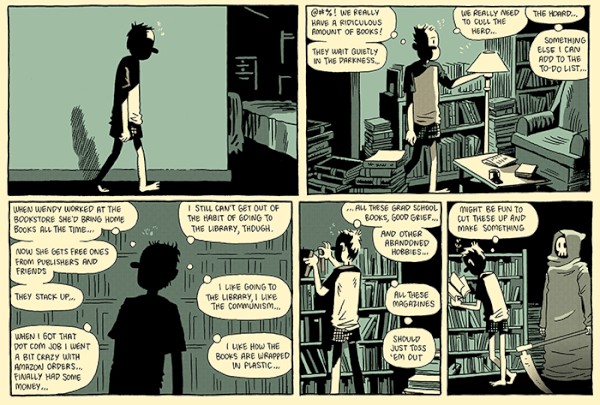 This is a mature work by a writer who has long plumbed the depths of what it means to be human in a world that often seems indifferent. There is humour here, and empathy, and a startling grasp of the nature of consciousness. It deserves multiple readings not simply because it is a great book, but because these readings all unearth something new. Glenn Ganges can't fall asleep, and reflects on his life. What he gives us, in the process, is a treatise on the art of survival and the enduring power of love.
Kevin Huizenga (W/A) • Drawn & Quarterly, $34.95
Review by Lindsay Pereira