Every fortnight-(ish) we sift through all the dozens of crowdfunding communications we receive here at BF every week to bring you a handful of the more intriguing, exciting, experimental and daring uses of the form that we spot, along with some interesting campaigns we've found ourselves. These are comics that both fit the Broken Frontier coverage ethos and that we think deserve your support and backing!
A Dark Forest #5 by Kate-mia White
The who and what: The fifth issue of Kate-mia White's dark fantasy tale of two young sisters set in the rural 19th century town of Blackwood. Sibling suspicions, nocturnal rituals, feral transformations and talking crows have all added to the suspense in this slowly building and elaborately illustrated tale.
What's on offer: Apart from the latest chapter of White's brooding supernatural mystery there's also an opportunity to catch up with every issue to date as one of the reward tiers plus the usual offers of additional prints and illustrations.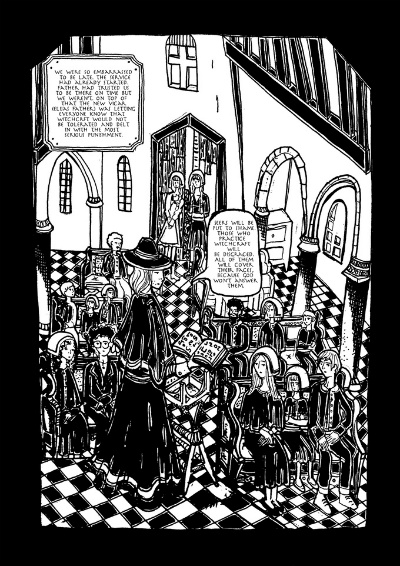 Why you should back it: Kate-mia White is one of our 2017 'Six Small Press Creators to Watch' so that's a strong place to start in terms of recommendations and A Dark Forest has also been reviewed twice on the site in the past (#1 here and #2-4 here). In my most recent BF review I said of the book that "in terms of pure, intricate craft it is absolutely mesmerising in its gothic detail. Its taut, unsettling imagery on those deep black backgrounds adding to the bleakly ominous atmosphere that permeates every panel of the book." With the best part of three weeks to go White's latest Kickstarter campaign is already nearly three times its initial target. That in itself speaks volumes.
– Andy Oliver
Bi the Way
The who and what: Team Girl Comic contributor MJ Wallace's autobiographical account of how, in her mid-twenties, she realised she was bisexual and how her life changed thereafter.
What's on offer: There are various bundles that include sticker sets and copies of Wallace's previous autobiographical comic Rollerskates and Breakfast Dates (reviewed here at BF). There's also an upper tier offer of a digital portrait for use as an avatar.
Why you should back it: MJ Wallace has been published in both Team Girl Comic and in Avery Hill Publishing's first volume of anthology series Reads. Her work has a vitally honest yet accessible quality to it with a gentle and good-natured humorous edge. Bi the Way looks set to be the most personal project to date from a true stalwart of the UK small press scene.
Back the Indiegogo campaign here! 
– Andy Oliver
As the Crow Flies
The who and what: A collection of Melanie Gillman's webcomic following a queer black 13-year-old as she experiences life at a Christian summer camp for (otherwise all-white) teenage girls and quickly begins to question the religious dogma and traditions that surround her.
What's on offer: There are the standard mix of e-book and bookplate editions as well as original art. But the top end of the pledging scale there's the chance to have Gillman lead a workshop or speak at a location of your choice.
Why you should back it: On an obvious level you get the first volume of an Eisner and Ignatz Award-nominated comic in a handsome print edition. But, as the campaign video notes, from a wider perspective you're supporting the publication and distribution of the book in libraries, stores and schools and giving the young people who will relate to the story's protagonists an opportunity to read about characters that truly speak to them. That's more than enough reason alone to give this one your backing.
– Andy Oliver
Kilgore Books Spring 2017 Line
The who and what: The latest collection from the US micropublisher including Glynnis Fawkes's observations on parenting in Reign of Crumbs; Lauren Barnett's humorous Unicorns of Planet Earth; Noah Van Sciver's sketchbook comic Slow Graffiti #3; the latest Kilgore Quarterly anthology featuring Summer Pierre, Tim Lane, Joseph Remnant, Leslie Stein and Sam Spina; and reprints of Noah Van Sciver's My Hot Date and Blammo #9.
What's on offer: There are all manner of combinations of the various titles involved for those who want to pick and mix plus extras like shirts, original art and small print-run collectables.
Why you should back it: Some great names from the indie and alt scenes converge from a micropublisher with a recognised rep for championing top small press talent! Outfits like Kilgore provide the most vital support for creative voices who could otherwise get lost in the shuffle. Help them to keep helping grassroots practitioners make the next step up.
– Andy Oliver