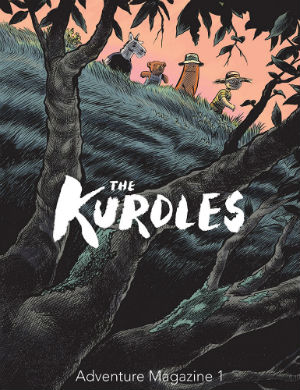 Back in 2015, Robert Goodin's The Kurdles proved to be an eerie delight of a graphic novel from Fantagraphics Books. It told the story of Sally, a teddy bear separated in a fit of petulance from the human family she was part of after being thrown from a car window and becoming lost alone in a sprawling forest. It followed the stuffed toy's adventures after meeting the odd residents of Kurdleton, a strange dwelling wuthin the woodland confines.
The Kurdles was both charming and slightly unsettling in its oddness but there was no denying the appeal of the cast – the anthropomorphic unicorn Hank, the scarecrow-like Phineas, the cephalopod Pentapus and Dog – and how much the book's central theme of the bonds of friendship resonated.
Goodin's follow-up retains the oddbal charm of the original but is a very different proposition in terms of format and presentation. The Kurdles Adventure Magazine is a kid-friendly offering that combines strips of varying lengths with non-comics pieces like a knitting pattern for a Pentapus toy and colouring pages. While The Kurdles crew are the main focus of proceedings there are a number of guest creators presenting their own comics shorts also involved in the anthology.
The Kurdles Adventure Magazine is one of those genuinely all-ages offerings that we like to point to here at Broken Frontier. For kids it's full of eccentric characters and informative storytelling. For adults it works on alternative levels, employing a style of humour that has its own existential undertones that is all the more bleakly amusing for the unlikely characters it is communicated through. It works on parallel tiers of appreciation, then, with varying age ranges engaging with its interiors in different ways.
The magazine begins and ends with two Kurdles strips that explore colour as a theme. In Goodin's opening tale 'Pentapus the Pentachromat', Sally discovers that Pentapus can see a colour spectrum in the billions. The younger audience will find something educational in its pages while older readers may look for a meaning that is more allegorical. 'The Nature of Things' has distinctly meta leanings as Sally and Pentapus become aware of the structure of their oft changing reality and close to perceiving that their entire environment is a printed page.
Sandwiched between, 'Forbidden to Love Him' reworks a 1950s Bill Draut Harvey Comics story casting Pentapus in the position of romantic lead and squeezing unlikely humour out of the juxtaposition of the retro and the surreal. Of the shorter strips 'The Perfect Dive' is a masterful use of the language of comics; a one-pager that presents a single image of Kurdletown across ten panels with Pentapus moving through them. It's an adept use of comics' special relationship with time and its between-the-panels interpretive nature.
Additional strips by Cathy Malkasian and Cesar Spinoza
The additional strips are fun but to a degree seem like something of a distraction from the main attraction. Andrew Brandou's 'Tall Tale Breakfast' with his cowboy character Howdy Pardner meeting Paul Bunyan will no doubt have a spirited appeal for kids while Cesar Spinoza's Pacho Clokey – a cartoon elf-type who roams through photographic backgrounds as if he's making sense of the world around him for the very first time – has a certain epistemological draw for an older audience.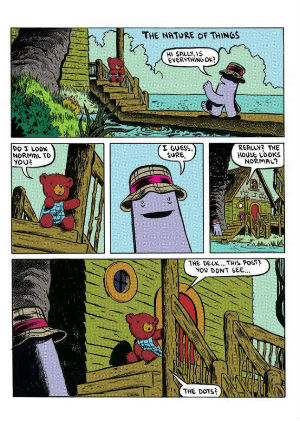 It's Cathy Malkasian's 'No-body Loves Greta Grump' that is the triumph of the guest material though. Her expressive characters have an emotional range that positively seeps out of the page. This account of a seemingly spiteful little girl and her all-knowing pet tortoise evolves into something far more touching and fragile, with a final twist that is quite beautiful in resolution.
Where The Kurdles Adventure Magazine does feel slightly disconnected is that its accessibility to new readers who haven't read the graphic novel may be more limited. The existing context to the characters will sadly be lost to those coming in fresh. There is the promise of a longer-form serialised story beginning in the second issue which is a positive as these characters deserve something longer-form that is more substantial than shorts building up to punchlines. However, in its multiple explorations of identity, belonging, purpose and friendship there's much to enjoy in The Kurdles Adventure Magazine. and a lot to admire about such a delightful venture that really does seek to provide something for readers of all ages.
Robert Goodin, Cathy Malkasian, Andrew Brandou, Cesar Spinoza (W/A) • Fantagraphics Books, $10.00
Available to buy online here
Review by Andy Oliver