Years before Itchy and Scratchy were satirising the cartoon violence of Tom and Jerry on The Simpsons Italian artist Massimo Mattioli was providing far more brutal parodies of the animated conflicts between cat and mouse in the pages of Squeak the Mouse. Back in print courtesy of Fantagraphics Books, Squeak the Mouse collects all the material in one oversized volume of extreme slapstick anarchy.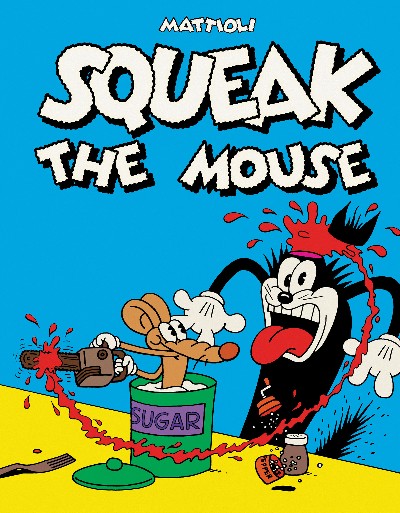 Working within an often cyclical narrative framework the three issues reprinted here introduce us Squeak and his feline nemesis who are immediately embroiled in a senseless but perhaps eternal battle of wits. Whereas the carnage of Itchy and Scratchy would build up into a carefully choreographed denouement Mattioli's approach is far more direct. Death by stampings, chainsaws, decapitation and kitchen appliance abound, but Mattioli's satire works on different levels. Instead of immediate recovery from their injuries the cumulative ramifications of our cat and mouse antagonists' enmity often result in sidesteps into ghoulish body horror; the duo becoming zombie-like opponents as their wounds become more pronounced.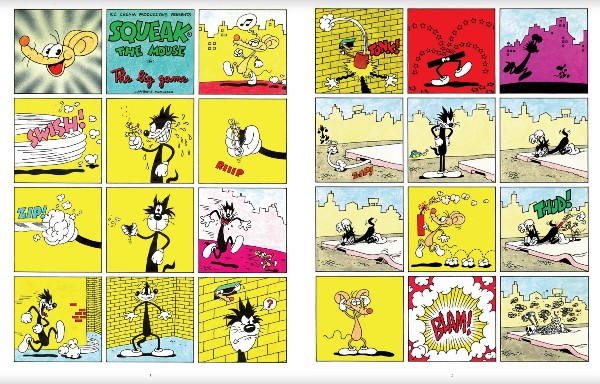 Mattioli works with a standard 12-panel grid on each page which assures a sense of rhythm and kinetic energy to each silent page. While the emphasis is on the crude and outrageous there are moments of meta brilliance (one sequence with Squeak being impaled on the sharp tail of a well-aimed speech balloon for example, or the eyes-on-stalks standard of short cartoons to denote lust being subverted as they take on an appropriately phallic appearance).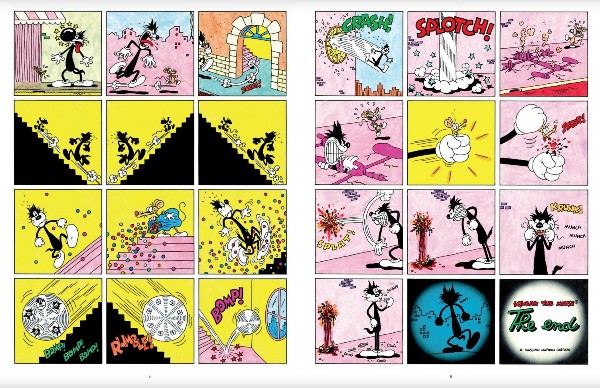 More "of its time" are the frequent forays into gratuitous cartoon pornography which perhaps gives the book an underground cachet but serves no narrative purpose. There's also one brief racially insensitive scene late on. That aside, though, Squeak the Mouse is a vibrantly coloured procession of rampantly over-the-top pandemonium that becomes impossible to take one's eyes away from. Another in a long-line of archive editions of seminal comics material from Fantagraphics.
Massimo Mattioli (W/A) • Fantagraphics Books, $29.99
Review by Andy Oliver