Press Release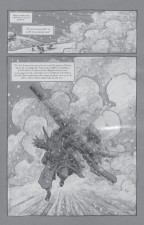 Marking the centenary of the outbreak of the First World War, Abbot Hall Art Gallery and the Lakes International Comic Art Festival are bringing together for the first time the work of three internationally- acclaimed artists who have shed new light on this conflict through the medium of comic art. This September the art of Joe Colquhoun, Charlie Adlard and Ivan Petrus will provide an alternative perspective on the reality of war.
Charley's War has been described as 'the greatest comic strip ever created' and from 1979 until 1987 formed a unique collaboration between pioneering writer Pat Mills and acclaimed war artist Joe Colquhoun. The comic strip rarely flinched from providing a frank portrayal of the horrors of war, with Colquhoun willing to subvert traditional techniques of comics' illustration by opting for heavy inks, messy backgrounds and stark facial expressions to depict an exceptionally dark atmosphere.
Set in the Alpine trench war of 1914-1918, White Death is a powerful story of c onflict at a simultaneously personal and national level. Charlie Adlard is best-known as the artist on the record-breaking series The Walking Dead. Yet this early collaboration with writer Robbie Morrison is arguably one of his finest works. Using just charcoal and chalk on gray paper, his drawings convey the fear, horror and desolation of war.
Ghosts of Passchendaele, launched in 2014, is the third book of a graphic novel trilogy by Ivan Petrus featuring Belgian, British and French soldiers and their true stories from the First World War. Painted in bold, dark,  muddy colours, his art powerfully invokes the iconic post-war Passchendaele landscape.
'Comic art provides the opportunity to understand a situation from a variety of perspectives as you are able to view the scene whilst reading the minds of the characters depicted. The comic artists in this exhibition offer a view of war which is informative, challenging and will capture the imagination and emotions of the viewer. I am thrilled that we are able to work in partnership with the enormously successful Comic Art Festival to bring such a unique and exciting art form to Abbot Hall Art Gallery.'
Beth Hughes, Lakeland Arts Curator
"The Lakes International Comic Art Festival aims to establish comic art as a medium in its own right and to reveal the unique way it tells and communicates a story through a combination of "fine" art and text. This exhibition showcases the work of some of its pioneers, both past and present, taking the poignant and often harrowing personal stories of the Great War and where better to do this than in one of the UK's foremost independent galleries. It is a real honour to be working with Abbot Hall Art Gallery as a partner and we hope to build on this as the festival develops in the future."
Julie Tait, Director of the Lakes International Comic Art Festival