In this most challenging of all years it's still reassuring to see some of our favourite indies getting new projects out there and onto the shelves. BHP Comics have announced two new titles today which range from the worlds of fantasy role-playing to the comics practice of former Comics Laureate and The Walking Dead artist Charlie Adlard. Full details in the press release below. Those wanting to discover more about BHP Comics should check out this interview with BHP's Sha Nazir last year at Broken Frontier here.
Dungeons on a Dime (DOAD) is designed to make roleplaying games accessible to first time players and game masters with short 2-3 hour campaigns. Inside this book are all the tools and tips you need to teach yourself how to run your first adventure! Each quest can be expanded on, planting seed for writing and storytelling in every reader.
Dungeons on A Dime – Quest 1 – In The Red by Brian Tyrrell
UK, US and Canadian release date 19 Nov 2020
Extent: 48pages, 280 x 210mm – ISBN: 9781910775240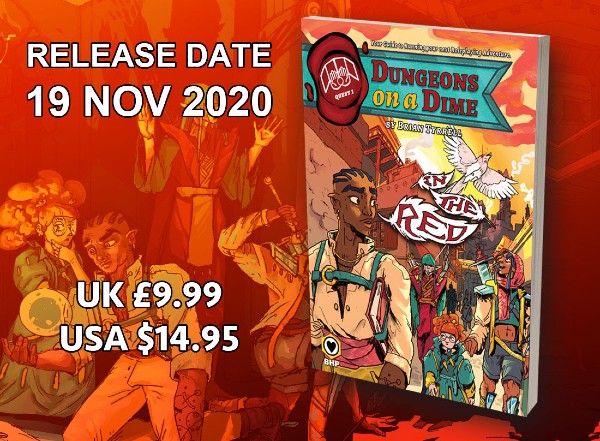 A Wizard craving recognition, a Thief in hot water, and Bandit lord with everything to prove. In the Red is an adventure where nothing is as it first seems. You will explore the tangled mess the theft of an enchanted gem can cause across a whole city in this first Quest from Dungeons on a Dime. With insights into three main characters, engaging encounters around a bustling city, a daring chase and dashing combat, In the Red is an exciting gateway into a creative, social and fulfilling hobby. Focusing on roleplay over rules, Dungeons on a Dime contains some references to Wizards of the Coast's extremely popular Dungeons and Dragons. This book is also compatible with other systems such as Pathfinder and Runequest.
Charlie Adlard still has many of his old sketchbooks, drawings, and notes from almost 30 years of creating comics. During the curation process of his Shrewsbury Museum and Art Gallery exhibition, Charlie's studio was scoured for materials, and decades of sketches, watercolours and treasures were uncovered.
Charlie Adlard Drawings + Sketches by Charlie Adlard and Tim Pilcher
UK Release date 3 Dec 2020
US/CAN Release date Spring 2021
Extent: 128 pages, 198 x 129mm ISBN: 9781910775264 (PB) ISBN: 9781910775271 (HB)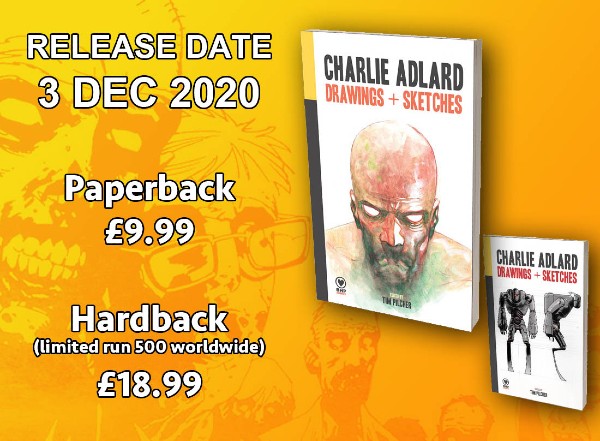 Drawings + Sketches is an opportunity for fans to delve through the pages of Charlie's private archives and see how his creative process develops. From rough sketches and thumbnails, through to pencils and the inking process, every stage of Charlie's comic creation is explored and revealed in depth for the first time. The book also showcases unique concept designs from his, and The Walking Dead collaborator Robert Kirkman's, unpublished Passenger graphic novel.
This selection includes behind-the-scenes moments from titles like The Walking Dead, Breath of the Wendigo, and Vampire State Building – as well as a handful of previously unseen music-related and miscellaneous works.
About Charlie Adlard
Charlie Adlard is a comic book artist based in Shrewsbury, England, who, over almost three decades, has been published around the world and contributed work to DC Comics, Marvel, Image, Soleil/Dargaud, 2000 AD and many more. His work includes fan favourites like The X-Files, Mars Attacks, Judge Dredd, Astronauts in Trouble, and, of course, The Walking Dead.
You can pre-order both books from BHP here.