Atmospheric art and careful world-building lay a solid foundation for Samuel Sattin and Chris Koehler's remarkable first issue, introducing a dystopian near-future ruled by our pets.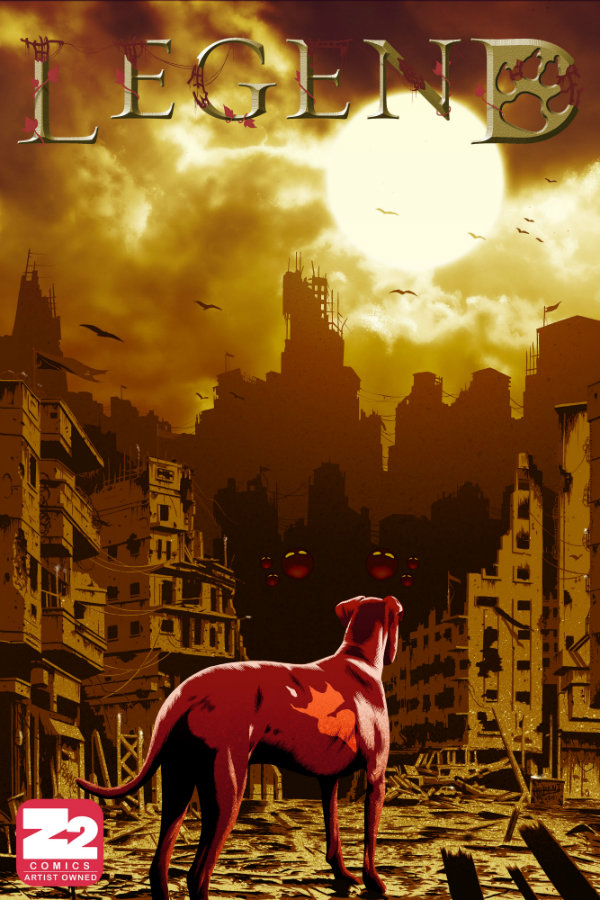 Month after month, American indie publisher Z2 Comics grows its reputation as a company to watch as it identifies and promotes exciting new comics talent. This month, the publisher follows up recent creator-owned debuts from Chris Hunt (Carver: A Paris Story) and Ian McGuinty (Welcome to Showside) with a new series from novelist and comics scholar Samuel Sattin (A Silent End) and his collaborator, acclaimed illustrator Chris Koehler.
Set in a post-apocalyptic near-future ruled by competing tribes of formerly domesticated cats and dogs, Legend is a wonderfully realised fantasy epic built on a solid foundation of thoughtful world-building. This is high-quality graphic storytelling, with writer and artist working in near-perfect tandem to produce an engrossing new fictional mythology using comics' unique tools.
The plot of the first issue unfolds over the course of a meeting between the leaders of the Dog Tribes. Their chief, a scarred, chewed-up old shepherd named Ransom, has fallen to a terrible new predator lurking in the wild. A new leader must be chosen to guide the canine clans through an impending doom called the Endark. As the title suggests, that new leader appears to be a valiant hound named Legend, chosen by fate and his peers.
The strength of this first issue lies in the creative team's dedication to constructing a believable possible future, in which our former pets rule over a wasteland wrought by a corrupt, ignorant humanity. Using a wonderfully layered, story-in-story structure, Sattin creates an instant sense of history for his fictional setting.
The titular hero is not the only "legend" of the series. In fact, his legend is in its infancy. Plucky little bulldog Fidget's recounting of Ransom's legend – the end of it, at any rate – allows the audience the same perspective on the tale as his canine comrades, urging them to make the same emotional investment.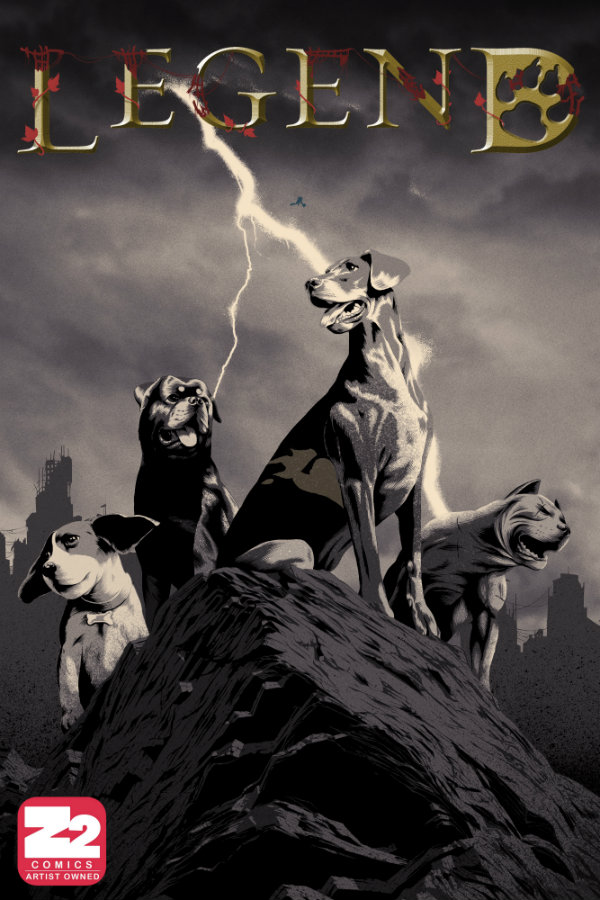 The concept of legends permeates the book. Even before Fidget tells the tale of Ransom's tragic death, his comrades argue the fallen chief's vague origins. Then there is the Endark itself, a Ragnarok of catastrophic proportion that roughly equates to the end of everything.
An extensive cast of tribal leaders helps to firm the setting in the reader's mind, each dog possessing a distinctive personality thanks to Sattin's sharp dialogue and Koehler's expressive rendering. Despite a decided lack of human facial muscles, each member of the cast feels alive thanks to this wonderful fusion of dialogue and expression.
Koehler's intelligent use of colour to distinguish time and place and to reinforce intense emotional beats lends an added layer of atmosphere and tension to the plot and setting. The somber present appears gray and washed-out, a place of shadows and sadness. Meanwhile, the past is a place of intense emotion and frantic battle, painted in lurid shades of yellow, red, and purple.
Thanks to remarkable world-building and a dynamic collaborative effort, Sattin and Koehler have crafted a fantastic adventure that stands ably beside works like Busiek and Dewey's masterful The Autumnlands. I can't wait to see what the cats drag in next issue…
Samuel Sattin (W), Chris Koehler (A) • Z2 Comics, $3.99