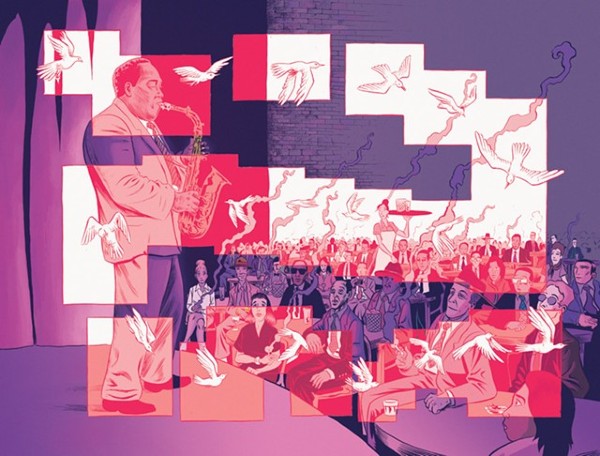 There really ought to be a law against people like Dave Chisholm. As well as being an acclaimed comics writer/artist (including the sci-fi series Canopus and the graphic novel Instrumental), he's a renowned trumpeter with a substantial body of work in a range of styles. And I bet he's really nice to animals and old people as well. Sheesh..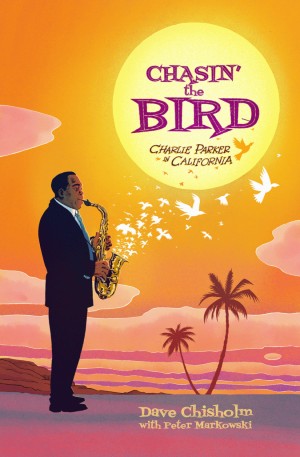 Anyway, with a doctorate in jazz trumpet from one of the US's top conservatoires, Chisholm seems a pretty solid choice for this graphic novel, commissioned by the estate of Charlie Parker to commemorate the centenary of the saxophonist, who died in 1955 at the age of just 34, his tragically brief life defined by incredible musical innovation and the grip of heroin addiction.
It focuses in particular on a turbulent two-year period that Parker spent in California in the mid-1940s. However, Chisholm takes a much more creative approach than the standard chronological biography, looking at the legends that sprang up around 'Bird', as well as the very human story of Charlie Parker.
He sets up his approach in the book's framing sequence, as the audience gathers at an LA jazz club for an eagerly awaited comeback gig by Parker. As wild rumours are exchanged about where Parker has been and what he's been doing during his lost months, Chisholm reminds us of the parable of the five blind men who each describe an elephant in a wildly different way, depending on the part of the animal they had been touching.
The main body of the book expands upon this theme. Each chapter focuses on an individual and their particular relationship with Parker to build up a wider picture of the man; as the pachyderm-botherers in the parable find out, "How can anyone describe the whole until every part is considered?"
So we hear the testimony of Dizzy Gillespie, virtuoso trumpeter and Parker's fellow bebop pioneer, who brought him out to LA in the first place for an ill-fated residency; Jirayr Zorthian, an artist and the lynchpin of a bohemian clique who invites Bird to play at one of his legendary parties; William 'Clax' Claxton, a young jazz photographer into whose family home Parker moves for a while; Julie MacDonald, a sculptor who has a brief, tempestuous relationship with the saxophonist; John Coltraine, who meets Parker at a jam session and has an epiphany that paves the way for his later achievements; and Ross Russell, the record shop owner who set up Dial Records to record Parker, and who pieces together the true circumstances of the musician's 'disappearance'.
And this is where Chisholm pulls another rabbit out of his hat: each of the chapters is executed in a radically different visual style, from a fine-lined, stipply suggestion of Mobius for the Zorthian chapter to a duo-tone retro-flavoured tribute to Darwyn Cooke for the climactic Russell section. Chisholm is backed up admirably by the vibrant colouring of Peter Markowski, which enhances each of the stylistic approaches. The pair even finds a new way to tackle the perennial problem of how to depict music on the comics page, using an abstract neon dazzle to represent the wild fluidity of Parker's playing (including a 'read-along' version of Parker's Relaxin' at Camarillo).
Chisholm's musical background also allows him to offer greater insight into the particular nature of Parker's genius. Along with his natural talent, Parker's innovations came from an encyclopaedic knowledge of the full canon of music. Like a chess savant who can recall moves from hundreds of games, he could dip into his mental filing cabinet and pull out a startling musical reference or quotation. And Chisholm's insights are never too technical or didactic; for example, he cleverly uses the revolutionary Batman work of Neal Adams to illustrate the effect that Parker had on jazz, changing everything and influencing everyone who came after him.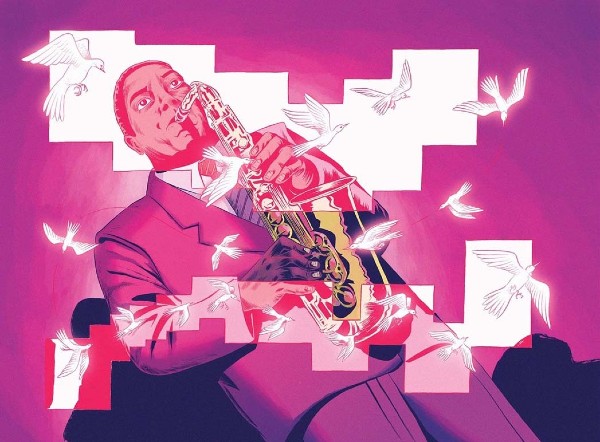 Z2 Comics bill themselves at the publisher "where comics and music collide", and Chasin' the Bird is a fine addition to their list. The slipcased deluxe edition includes three art prints and a vinyl 45 with two unreleased tracks. However, even if you're not a jazz aficionado, this engaging book is an intelligent, enlightening and very nicely executed look at creativity, addiction, race and the complexities of human nature.
Dave Chisholm (W/A), Peter Markowski (C) • Z2 Comics, $29.99
Review by Tom Murphy