One-time BF columnist and fan-favourite creator of The Sixth Gun Cullen Bunn stole some time from his busy schedule to discuss his latest creator-owned work, his first from indie publisher Z2 Comics.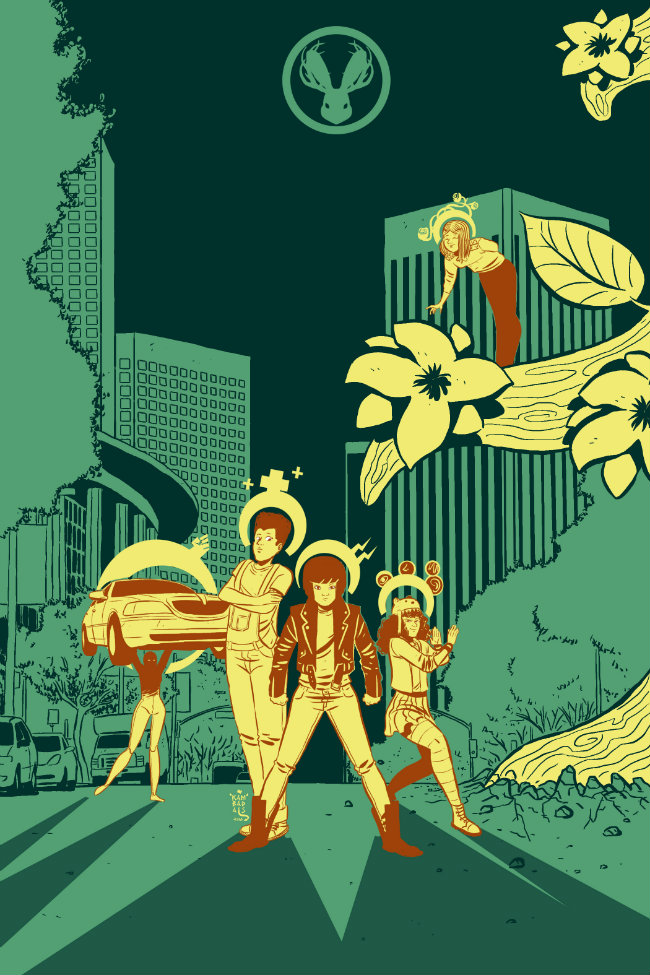 As one of the most popular and prolific creators in comics today, it seems pretty clear that Cullen Bunn likes to stay busy. The coming months will see an avalanche of new projects by the Broken Frontier Anthology contributor, including Marvel's Monsters Unleashed event, the continuation of his creator-owned series The Damned, and a new all-ages series with George Kambadais (The Double Life of Miranda Turner) called Grave Lilies. We're still not sure how he managed to make time for this interview.
Grave Lilies starts off with a literal bang, as five young women are released from what appears to be suspended animation by a massive explosion in downtown Los Angeles. With no memories of their lives prior to awakening except each other's names, the group embarks on a journey to reclaim their pasts, while evading pursuit from heavily armed soldiers.
We touched base with Bunn via email about the new series, its lighter tone, and what makes it stand out from the rest of his work.
BROKEN FRONTIER: Grave Lilies is a fantastic title for a comic book. Can you tell us a little about what it means in general and how it relates to the story you're telling?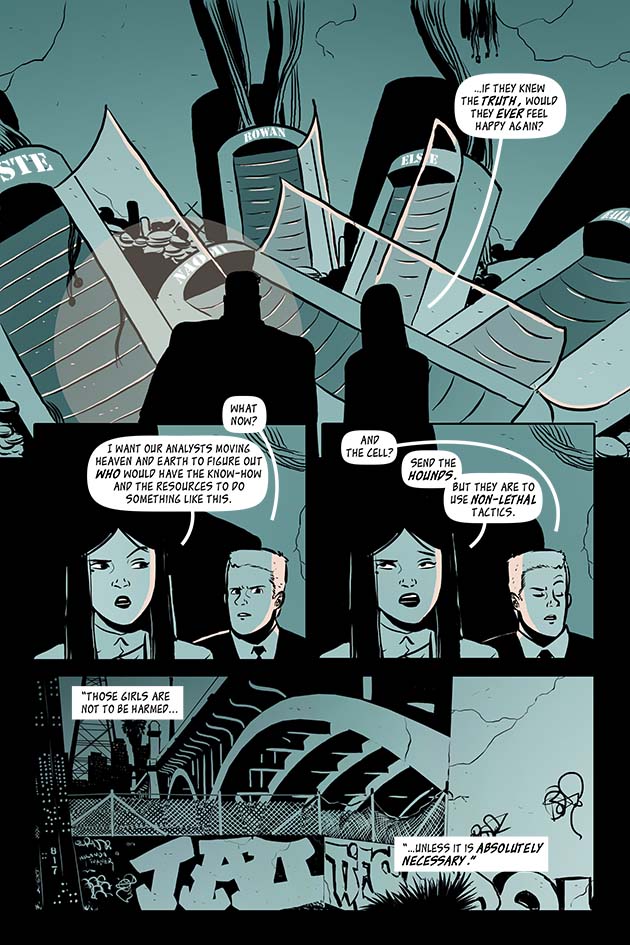 CULLEN BUNN: I'll admit, this is a case where I came up with the title for a series long before I knew what the series would be about. The name just popped into my head and I jotted it down in my notebook, unsure if I'd ever use it. In time, the idea about these five young women rising from casket-like stasis tubes at the site of a disaster came to me, and I thought the title might be right for the series. In this case, though, the title is heavily connected to where the story is headed.
You've created an engaging cast of dynamic young ladies in Grave Lilies. What can you tell us about them and the world they awake to?
These young women wake in a world that is both familiar and strange. They seem to know something about their surroundings. They know how the world works. But if they really try to "dig deep" they realize their memories fall apart really quickly. They set out to figure out who they are, but the world around them is stranger–and full of more intrigue–than they could possibly imagine.
Over the course of your career, you've had the opportunity to write a lot of villains, including Sinestro and Magneto. What can you tell us about the bad guys in Grave Lilies?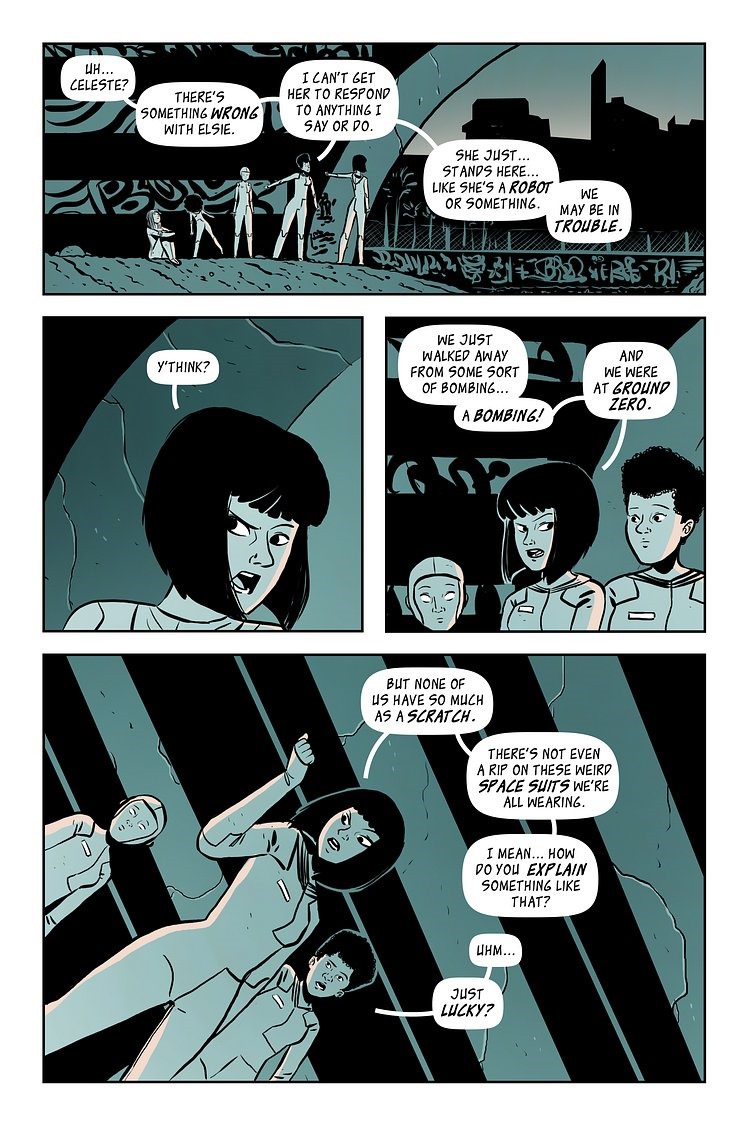 While I want Grave Lilies to be a fun series, the villains in the book (and there are a few) are no joke. In issue #2, we're introduced to a major threat that our heroes will have to face. This threat is connected to them in a big way, and it is very dangerous and very scary.
One of the qualities of your writing that stands out the most for readers and critics is your ability to create a distinctive narrative voice that helps drive each story. The Sixth Gun, Harrow County, and The Damned are all great examples of this. Grave Lilies is a little different in that it isn't narrated in the traditional sense. Was this a conscious decision going into the project or something that arose from the story more organically? Is creating a strong narrative voice something you consciously work on?
It all depends on the story, for me. In some cases, the narrative voice adds something to the series. In others, the narrative voice might bounce around from one character to another. In others, no narrative voice is needed. I felt that having that voice in Grave Lilies would only slow down the pace of the book. And when we're dealing with a situation where the characters are mysteries to themselves, I didn't want to inadvertently give anything away.
Your artistic collaborator on Grave Lilies, George Kambadais brings a unique visual tone to the book. What about his artwork made him such a great fit for this story?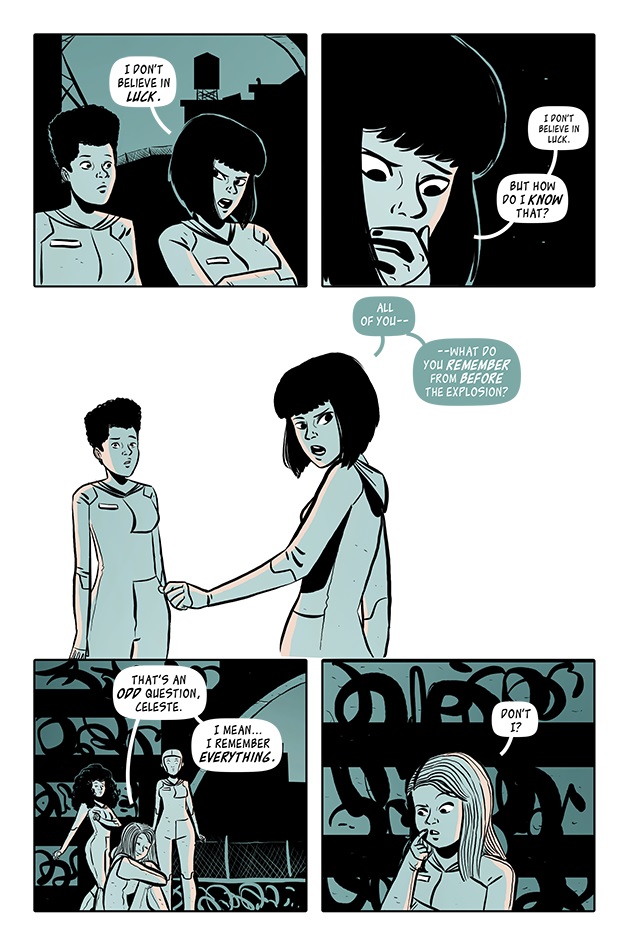 I love how George's work gives the series a pop, fun feel, which is exactly what I wanted for the book. He makes it seem so effortless and seamless, and he does some things with the colors in this book that are just amazing.
You've published books with numerous companies over the years including Oni Press, Dark Horse, Marvel, and DC. What made Z2 Comics the perfect home for Grave Lilies?
I really liked how excited the folks at Z2 got about the series. They immediately had a lot of ideas for marketing, and they quickly got behind some of the "different" visual things we wanted to do with the series.
As one of the busiest people in comics, you always seem to have a project (or five!) on the go at any given time, whether they are creator-owned or work-for-hire. How will Grave Lilies stand out for readers from the stack of other Cullen Bunn books this year? What made this particular project special for you?
I think I'm probably most known for darker runs on books. Grave Lilies is a little different. It's got some darkness and danger in it. There are some chilling revelations to come in the series. But I wanted it to be a fun book, one that would put a smile on your face as you go on adventures with these young women.
Grave Lilies debuts December 7, 2016 from Z2 Comics. For more on Cullen Bunn's work visit his site here and follow him on Twitter here.