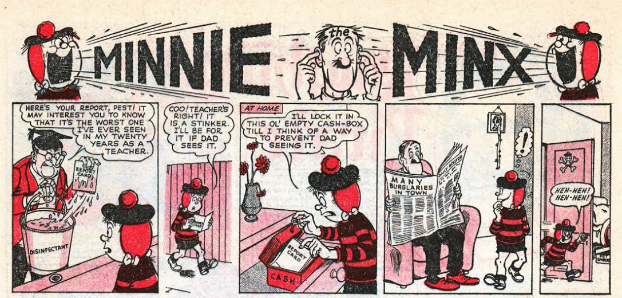 Leo Baxendale passed away in April, aged 86. Not a bad innings by anyone's standards. Many comics readesr these days won't be aware of that, or even aware of Leo, and yet without him the childhood of several generations of British kids would have been the poorer. Because Leo was one of the greatest of those usually unsung heroes whose feverish imaginations brought forth the madcap misadventures of some of the best loved characters in British comics: the stars of the juvenile humour titles! A whole world full of insane characters who delighted us all in the pages of weeklies now mostly long gone but never forgotten.
Leo Baxendale was born in Lancashire in 1930 and began working in comics when he was 22 for DC Thomson, publishers of The Beano, The Dandy and their various companion titles. He created Minnie the Minx, one of Thomson's most popular and enduring characters, for The Beano in 1953. He also created the now somewhat politically incorrect Little Plum ("your redskin chum") for the same title, and The Three Bears as well.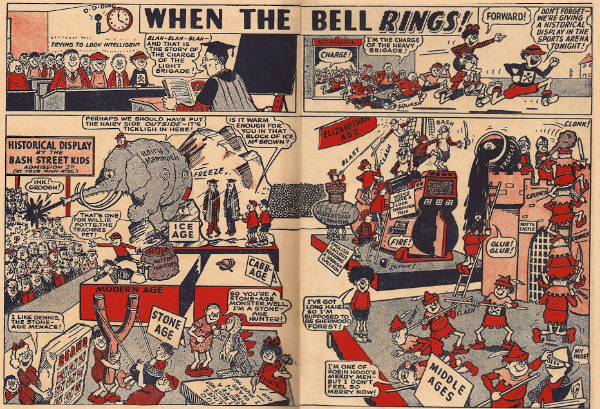 Oh, and also (under the title 'When the Bell Rings!') The Bash Street Kids, who along with Minnie, Dennis the Menace and Roger the Dodger, have been mainstays of the comic ever since and, again with those others, have even appeared in TV cartoons. He was, for some years, one of Thomson's most popular and most prized artists helping launch another of their more successful titles, The Beezer, in 1956. And then, in 1962, he parted company with them, mostly it seems due to overwork.
From Thomson's, he moved to Odhams in 1964, tempted by better pay and conditions and the promise of greater freedom in his work. For them, he created the new weekly Wham! and many of its most popular characters, including Georgie's Germs and Eagle Eye, Junior Spy. It was in the Eagle Eye strip that he first gave the world the sinister Grimly Feendish, who graduated to his own strip in sister title Smash! in 1966 (also the home of another Baxendale creation, Bad Penny).
And then, also in 1966, he moved to Fleetway, where he would create, amongst others, one of the most popular characters in their stable, the uncontrollable Sweeny Toddler, who first appeared in the pages of Shiver & Shake before moving into his best remembered home, Whoopee!. Most of Leo's characters would live on long after he abandoned them, with artists like Tom Paterson emulating Baxendale's style with varying degrees of success. Many of them would also cross the channel, Baxendale's work (and that of his imitators) being reprinted in French in various magazines.
The reason Baxendale's work was not easy to duplicate, and the reason he was so popular and sought after, was the sheer energy of his material. It wasn't just that his characters were unique and instantly recognizable (though they were) but that there was always so much going on in his strips… and not just in the foreground. Off in the background, away from the main focus of whatever Sweeny or Clever Dick were up to, there would be other little stories playing out. There would even sometimes be things happening in between the panel borders that had no bearing on the main story! Every page of Baxendale's work was its own strange, anarchic little world, with more content packed into one panel that you'd generally find in several pages of art by lesser creators. Every page brings something new to the eye on a second or third viewing.
In 1975, he left the world of mainstream comics, creating Willy the Kid, whose rather more edgy adventures appeared in albums, and in the late 1980s he created the adult comic THRRP! and founded his own publishing company, Reaper Books. By 1992 he had left comics behind him, but comics had not forgotten him; in 2013, he was inducted into the British Comic Awards Hall of Fame, an honour he, possibly more than anyone, well deserved.