In comics you know you're doing good work if you're an object of both right-wing tabloid newspaper scorn and the ire of a certain demographic of angry middle-aged white men who can't understand why a comic published in 2022 isn't still reflecting the world of 1973 and its values. Venerable British comics institution The Beano, 80-plus years old now and still counting, has annoyed all the right people over the last couple of years by simply embracing an inclusive and socially conscious approach to their characters and storytelling. From the Beano gang celebrating Pride in 2021 to the minor renaming of Bash Street Kids characters, the anthology weekly has found itself the focus of much performative outrage, something we explored here at Broken Frontier a few months ago.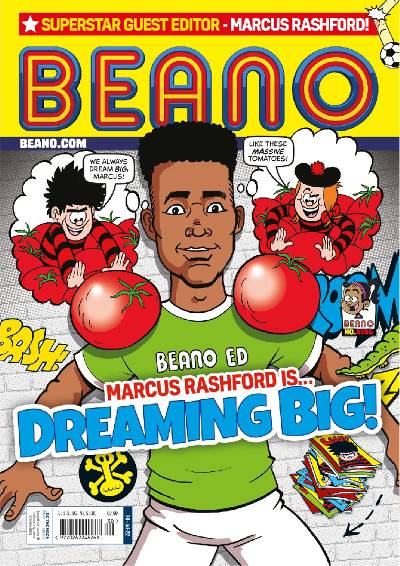 This month saw another such initiative in The Beano #4146, a special issue guest-edited by footballer and social activist Marcus Rashford. It's published in partnership with the Natwest Thrive programme that Rashford is involved with; one that is designed "to help address the lack of financial confidence and concerns that young people face today." Every issue sold on the Beano online store will also see 20p donated to the charity the Marcus Rashford Book Club. It also ties into the release of Rashford's new book You Can Do It.
Issue #4146 begins with an editorial from Rashford urging kids to "[celebrate] all the things that make each of us unique" and reminding us that "our voice is strong alone, but when our voices come together, we are powerful." The premise of the issue surrounds Rashford's visit to Beanotown for a book-signing in the local library where he meets some of the comic's favourite characters including Billy Whizz, Bananaman, the Bash Street Kids, and Calamity James, and acts as a source of inspiration to them.

The individual strips touch on themes that reflect Rashford's editorial. In the main two-part Dennis and Gnasher feature (above) written by Nigel Auchterlounie and Craig Graham, and illustrated with energy and a great eye for character moments by Nigel Parkinson, Dennis and his Beanotown friends explore the importance in the community of youth clubs, with the Bash Street Youth Club going up against Dennis's nemesis Walter's Beanotown Under-18s Modelling Club (the acronym becoming a running gag throughout) in a town competition.

.
In other strips topics such as random acts of kindness, the importance of self-belief, and fulfilling your dreams are held up as life lessons worth learning. In Bananaman (above), by writer Ned Hartley and artist Wayne Thompson, our hero passes on Rashford's advice to "Dream big" to super-villain Doctor Gloom. It's a story that ends on a cracking last panel punchline and is brimming with super-hero slapstick from Thompson. In The Bash Street Kids (below) the schoolkid tearaways listen to Rashford about the importance of reading in order to win their football match against the posh team from Beanotown Academy. Andy Fanton's story may have an important message but it is also wonderfully silly with David Sutherland bringing the visual gags to life with great aplomb.

The Beano is such an inclusive publication now; one that truly reflects the diversity of the world around it and in so doing continues to provide kids with a wide range of characters to identify with, whether that be the South Asian family of Har Har's Joke Shop, Black characters like Dangerous Dan and Angel Face Investigates, or the disabled stars of JJ and Rubi's Screwtop Science. Even The Bash Street Kids, in my childhood an entirely white class of pupils, now comprise a far more representative cast of characters.
As the last great survivor of the Golden Age of British humour comics The Beano's willingness to adapt with the times with a progressive philosophy has surely contributed to its longevity. This is exactly the kind of ethos children's publishing should be embracing and celebrating in 2022. Those wishing to check the issue out can buy it from the DC Thomson online store here.
Nigel Auchterlounie, Hugh Raine, Carl Anka, Ned Hartley, Danny Pearson, Andy Fanton, Jess Bradley, Alex Falase-Koya (W) Nigel Parkinson, Hugh Raine, Nigel Auchterlounie, Wayne Thompson, Leslie Stannage, George Gant, Nick Brennan, Emily McGorman-Bruce, Laura Howell, Rianne Rowlands, Barrie Appleby, The Sharp Bros., David Sutherland, Marta Kissi • DC Thomson, £2.99
Review by Andy Oliver