It's Pride Month which means it's a very good time to be sending us your LGBTQ+-related comics press releases. Coming around the Halloween season, Emmett Nahil and George Williams's Let Me Out will be published by Oni Press. Cover reveal and more details below.
Oni Press Unleashes LET ME OUT – A Queer Horror Debut from Emmett Nahil & George Williams in October!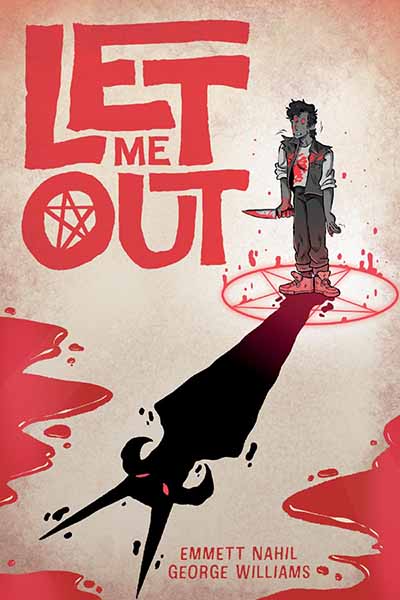 Oni Press, the multiple Eisner and Harvey award-winning publisher of comic books and graphic novels, is proud to announce the forthcoming debut of LET ME OUT –  a riveting queer horror story from Massachusetts-based writer Emmett Nahil (Leatherwood) and British illustrator George Williams (Croc and Roll). Set in the suburbs of New Jersey in 1979, Let Me Out deals with the early onset of "satanic panic" as religious fervor and conservatism sweeps their community and the nation. The graphic novel will be released on October 3, 2023, just in time for Halloween.
Let Me Out is a tribute to queer cinema and vintage revenge-exploitation films. When a corpse is discovered in the woods, a group of queer and trans misfits are falsely accused by the local police of devil worship and murder. With few options and no one to turn to, they decide that the best way to get revenge might just be to embrace the devil after all.
"Let Me Out turns classic horror tropes on their head, while showcasing how marginalized people are sacrificed on the altars of power," says writer Emmett Nahil, a narrative designer and game developer making his graphic novel debut. "This is a story about what happens when a group of queer and trans friends are given the supernatural means to fight back. It is also about found family and the joy one finds in one's friends, even amidst seemingly inescapable darkness."
"Mitch Sahadi and his friends are bunch a queer misfits stuck within the gates of small town life," said George Williams, a trans comic artist and colourist from the North West of England. "Let Me Out was such a blast to work on, and I hope new readers love Mitch and the gang and all the freaky chaos that ensues."
"Emmett Nahil and George Williams have created a riveting, timely tale of terror," said Oni Press Editor-in-Chief Sierra Hahn. "It's a stunning, supernatural graphic novel debut that will appeal to fans of classic revenge flicks and horror movies like Carrie and The Craft."
Let Me Out will be available in paperback, at both digital and physical retailers everywhere on October 3, 2023. For more updates on Oni Press, visit them on Twitter, Facebook, and Instagram.