Cosmic horror has discovered a brave new homeworld inhabited by Cullen Bunn & Andy MacDonald, the eerie––though imperfect––venture Rogue Planet from Oni Press.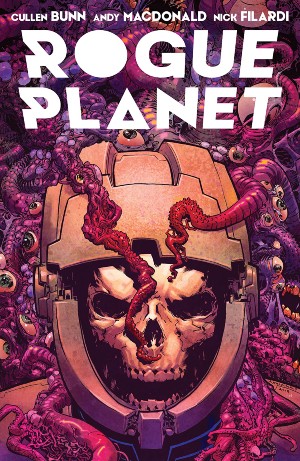 Through the vastness of space, a starship responds to a beacon on a mysterious planet with no star system to call its own. Upon touching down, strange things begin happening to the newly awakened crew of the salvage vessel Cortés, and it becomes quite apparent to some that this beacon may have been a siren's call luring them to their doom. The question quickly becomes clear: will any members of the fateful crew make it offworld with their very lives intact, or will they all become part of the terrifying nightmares that plague this planet with globulous million-eyed monstrosities? Or perhaps everything is not as it seems, for there may be more to this rogue planet than meets the mind.
Storywise, Rogue Planet is a knockout with its moody atmosphere that immediately conjures the best parts of Stanley Kubrick's 2001: A Space Odyssey and the granddaddy of all cosmic horror, Ridley Scott's Alien. Writer Cullen Bunn puts to use that same masterful talent for telling tales of terror which he employs in other creator-owned titles, most notably Harrow County, and brings them into the bleak, expansive void that imbues Rogue Planet with the makings of a classic campfire yarn. And Andy Macdonald's art feels like a journey unto itself. Dreamy and teeming with blood and savagery, some of the imagery glows with a wonderfully Lovecraftian vibe after being tossed into a blender with something Salvador Dalí might have whisked up. (An outtake from Alfred Hitchcock's Spellbound, perhaps.) Utterly fantastic.
However, for all of its excellence in storytelling and illustration, Rogue Planet is not without its subtle shortcomings. One aspect that keeps MacDonald's work from reaching the Ninth Circle of horror is Nick Filardi's use of bright and bold colors throughout the volume's 130 pages. Rogue Planet moves and breathes deep within the shadows of a darkening hell for the crew of the Cortés, and these crisp inks and particular color palette don't add to the sense of moodiness that a story like this deserves. This is, of course, not to discount Filardi's color work in general––it is gorgeous! It's just not quite right for accentuating the horrific and macabre story that Rogue Planet unfolds for us.
Perhaps the only other misfire Rogue Planet exhibits is that it moves much too quickly and would have benefited a great deal by the use of a more suspenseful pacing. It's no quick read by any means, but had the pacing been slowed down somewhat, more characterization would have helped round out the cast of eight characters to make them a little more than the standard fair of starship personas with the requisite stereotypes attached to them, giving them barely two dimensions of personality. The only exception is Gloria Enwright, who seems to be the story's main protagonist, and the one crew member we learn the most about amid the ordeal she endures on the rogue planet.
Despite these few shortcomings, and with its blend of classic horror and science-fiction, not to mention an ending that combines Ancient Aliens with a trippy mind-twist, Rogue Planet proves a sound stab at interstellar terror for Bunn and MacDonald.
Cullen Bunn (W), Andy MacDonald (A), Nick Filardi (C), Crank! (L), Jared K. Fletcher (D) • Oni Press, $19.99
Review by John T. Trigonis