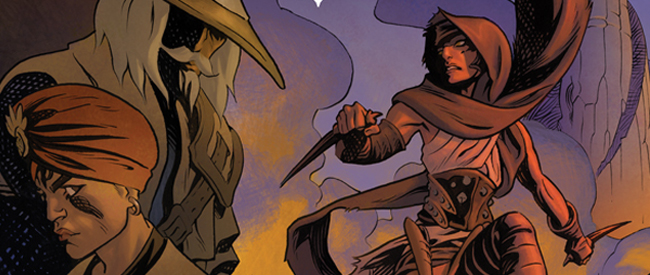 Ted Naifeh is no stranger to working across genres. He's already made the shift from pirates to gothic teens to barbarians. But up until this point, most of his main characters were young girls. No one can blame him for filling the void of comics for young female readers (not that boys and adults couldn't just as easily enjoy these titles), but for him, it was time to move on creatively.
At first glance, Night's Dominion may seem like typical sword & sorcery. Certainly, many of the characters fit the mold;  the Bard, the Acolyte, the Asp and the Magus. But it's with the story's main character, and only female of the group, that the originality of this tale surfaces. Emerane may work the day as a barmaid, but after hours, she wanders the rooftops of Umber as the costumed crusader known as "The Night."
With the series about to launch from Oni Press on September 7 (final order cut off is August 15, so there's still time to pre-order), Ted joins us for an interview to discuss his recent shift in tone with this mature series, why he took on an even larger creative role this time around, and how he plans to shake up classic tropes in both superhero and fantasy stories.
BROKEN FRONTIER: You've spent the last number of years working on creator-owned comics that star a young, female protagonist such as Polly and the Pirates, Courtney Crumrin and Princess Ugg. Why the shift to a darker story aimed at a more mature audience?
TED NAIFEH: Well, I'm not going to say I've run out of stories about tweens or girls. There are still plenty in the queue.  But this story grabbed me by the collar and demanded to be told.
But here's the thing. I don't see books like Courtney Crumrin as meant only for younger audiences. Plenty of mature adults enjoy the hell out of them, not specifically as children's stories, just as stories. My intention with Night's Dominion is to write a story about adult characters dealing with some complex adult concerns, yet with nothing particularly inappropriate or irrelevant, at least for teen readers. I read Watchmen when I was 13, and found it electrifying. I knew some of it was over my head, but that was part of the pleasure, to be challenged. So for me, this is just part of the continuum from Courtney and Polly to Princess Ugg, and on into mature subject matter.
The opening issue presents the meeting of this band of rogues and sets up their first caper. Will this heist be the crux of the storyline, or is it just a setup to a longer running adventure?
The heist is just the beginning. The story blossoms into a city-spanning epic, exploring each character and where their desperation leads them. It's really a love letter to the superhero concept, and what it means to me.
To me, the best superhero stories unpack modern society and its moral ideals. Even anti-heroes help us explore our relationship with civilization. What do we do when civilization fails us, or betrays us? When people violate the social contract to exploit or harm us? Superheroes become our avatars to navigate that moral landscape, to explore what civilization means. These questions go back to the dawn of civilization itself. They're the subject of our oldest stories, from Beowulf to Oedipus and earlier.
With Night's Dominion, I'm stripping away the modern veneer of these eternal questions. Can there be value and meaning in civilization, if corruption is ever present? Is it even possible for civilization to benefit everyone, or will it always fail some of us? And if it does fail, what do we do about it. I think superheroes are at their best when they're exploring these big concepts. Forget who's more powerful. That's a question for beasts. I'm concerned with the questions that define us as human beings.
How important are gender roles in this world? The main character, The Night, is female, but she's the only one in the group and often condescended to (at least upon their first meeting). Is this still a very male dominated world?
Yes, I wanted to dig into the marrow of that. One of the things I've noticed in superhero stories is that they often have one token female character, who always seems like the odd man out, as it were. Black Widow comes to mind. One has to wonder why she even gets involved in an epic battle to save the world from alien domination. By her own admission, regimes rise and fall, and nothing changes for her. So why risk everything to preserve a world that treats her as second class? Sure, the new regime may be even worse. But because she's never front and center, any issues she might have with society as it is are never really addressed. Instead, we root for Captain America, Iron Man, etc. defending a society that prioritizes them.
But when you put the so-called "token female" character front and center, the whole story shifts. Suddenly you begin to feel ambivalent about the society the heroes are protecting, and you have to ask yourself what is the difference between a hero and an oppressor, between a villain and a revolutionary. It's all too easy to lump anyone who questions society into the villain category, especially that condescending label "sympathetic villain." But I'm reminded of the movie Blade Runner, which I fell in love with around the same time as Watchmen.
What touched me most was a hero who's really a bad guy, enforcing a fundamentally unjust status quo, and a villain who's literally fighting for his life, taking revenge on those who doomed him to slavery and death. In a world where injustice is legally sanctioned, there is no justice, only revenge. A world that makes villains of everyone. It's essential to look at the world from the perspective of those who aren't the most privileged members of society, who aren't Bruce Wayne or Tony Stark. The world Bruce Wayne is trying to create leaves Selina Kyle working for pennies, unable to pay rent.
In Night's Dominion, the main character is Emerane, a barmaid who's secretly the city's most infamous thief, known as the Night. Her best protection from discovery is the very fact that everyone assumes the Night is a man. But her motivation is very different from the other characters. They all survive by exploiting others, and want only to maintain their status quo, while she's… well, you'll just have to read the comic.
We get a taste of some of the backstories for this band of rogues in the first issue. Is this something you're going to explore further or will the focus be mostly on their adventures moving forward?
I touch on most of the characters' backstories in the first arc. As the series goes on, I intend to expand on all of them and the city itself. This series has taken on a life of its own, and I have several more arcs and backstories ready to tell. In the previews I've released, you can see that the Night and the Furie already have history. But I really want to tell the story of their first meeting, to establish the relationship between hero and anti-hero.
What about the relationship between The Furie and The Night? Their confrontation really marks a point where this started to feel like a superhero story? Is this setting up a classic showdown between rival heroes?
Their relationship is less a rivalry than a moral dilemma. I want to challenge the stance of the traditional superhero, to ask, "What is justice in a society where the law must be bought?" The only way someone like Emerane ever sees justice is by stealing it. So if that's the case, what does that make the man who tries to stop her? Is he a hero, or just another oppressor? Will they ultimately face off? You'll just have read on to find out.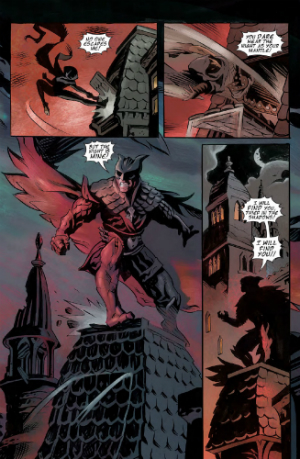 Moving over to the creative side of things, why did you decide to color this series yourself instead of collaborating with a colorist like you've done in previous titles?
I feel like, with this particular series, the color is a key part of the world, of the story. I wanted total control of the look and feel of the world, its flavor and texture. I think the results speak for themselves.
Does coloring it yourself effect the other parts of the creative process? Do you start thinking about your color approach while penciling or even writing?
Knowing that I can use atmospheric color to shift mood in the subtlest ways gives me a million times more flexibility.  I don't have to rely on light and shadow alone to set mood, and I don't have to hope that the colorist will recognize my intentions every time. Compared to color, light are shadow alone are crude tools. That can be a good thing, stripping down the options to just patterns of black and white. But I'm tired of that limit for now.
I can't say that I consciously consider color as I write. I write in full script, in order to let others read my scripts and give feedback. So if I describe a dank prison full of lost souls, the color mood is implied. But it's a real pleasure to choose which colors will get me there. And I know for sure it's not going to be done in shades of rose pink. I was pleased as hell with Warren Wucinich's colors on Courtney Crumrin and Princess Ugg. But he demonstrated how much storytelling the colors supply. So I wanted to take that on, to direct every aspect of the story. Collaboration is wonderful, but sometimes I just want to be the sole voice.
In terms of audience, are you hoping to appeal to a new set of readers with this series or do you feel there's enough overlap here for your loyal fanbase who've grown over the years and are maybe looking for something different from you, the next step in your creative evolution so to speak?
I certainly don't intend to alienate my current readers. I think for most of them, this is a logical next step. Kids that grew up on Courtney and came of age with Ugg will hopefully want to enter college with Night's Dominion. And I think most readers want a little variety, especially from creators they trust. I think I've earned enough leeway with my readers that I can proceed into this new territory.
Night's Dominion is unique among my works in that it's not remotely cute. It's got a wide range of characters, but none so far are adorable, fluffy, or sweet. It's a strong, dark, bitter cup of coffee. That's the biggest departure from my previous work, as far as I can tell. Does my work have value without cuteness? I guess we'll see.
For more on the work of Ted Nafeih visit his site here and follow him on Twitter here.