Last week saw the annual return of the #hourlycomicday hashtag to Twitter as comics artists spent the day capturing the events of their respective February 1sts in comic strips portraying each hour of their waking day. For sequential art-minded social media mavens the spontaneity of the day's output is always a treat.
Today at BF we're delighted to re-present the entirety of double British Comic Award-nominee Rachael Smith's #hourlycomicday strips. Rachael is a particular favourite here at BF with her comics featuring in the last three years of my annual 'Ten UK Small Press Comics You Need to Own!' round-ups including Avery Hill-published offering The Rabbit and her own self-published Wired Up Wrong. Her last full-length graphic novel was Artificial Flowers from AHP and she's also a contributor to Titan's Doctor Who line. You can visit her online store here and her Patreon here.
Join Rachael as she gives us an insight into her working day, teams up with a feline collaborator and says goodbye to 'Dry January' in style…
(Click on each strip below to enlarge)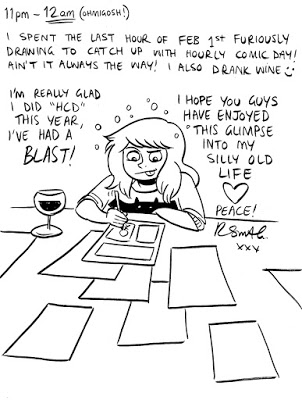 For more on Rachael Smith's work visit her site here and follow her on Twitter here.