"I am so proud to be included in the collective of women artists… a validation not only of my work but the status of the feminine voice in comic art. My montage of portraits from Vivacity reflects my interest in the dramatic and expressive qualities of character. No surprise as I am an actress myself. It was also a turning point in my art where I found confidence in keeping to my own personal and traditional style of highly rendered pencilling." – Jessica Martin
'The Inking Woman' – spotlighting 250 years of British women cartoonists – opened at London's Cartoon Museum in April to great acclaim. From household names to enthusiastic self-publishers through to historical figures from the medium's rich past, the exhibition has a truly celebratory zeal to it. It runs until July 23rd and you can get full details on admission, opening times and directions from the museum site here.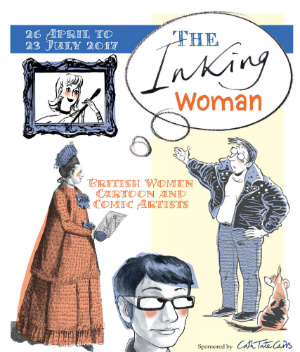 With so many of the exhibition's contemporary artists having been featured extensively here at Broken Frontier (and a number of them getting their very first coverage on this site) it seems only fitting that we support 'The Inking Woman' with a series of BF blog posts linking back to some of our key coverage of individual featured creators – with images selected by the artists themselves!
This time around it's the turn of a long-time featured artist on the site to get the spotlight treatment (in this case a most fitting term!). Jessica Martin is a star of stage and screen whose acting career has taken her from the worlds of Doctor Who to the West End in musicals like Me and My Girl and Elf.
Jessica began self-publishing comics work just a few years ago with short biographical stories that hearkened back to a classic age of the silver screen, including her focus on silent film star Clara Bow in It Girl and actress Vivien Leigh in Vivacity.
She was a finalist in the 2014 Myriad First Graphic Novel Competition and Elsie Harris Picture Palace – her work-in-progress in that competition – was eventually picked up by Miwk Publishing and published in a handsome hardcover edition in 2015. The book details the story of its titular heroine from the mid to late 1930s as she embarks on an adventure that takes her from teenage Lyons Corner House "Nippy" to success in the Hollywood film industry
Jessica has contributed to anthologies like the first Broken Frontier Small Press Yearbook, Soaring Penguin Press's To End All Wars, Tempo Lush Tales of the Tanoox, and the DC/Vertigo SFX anthology series. In 2015 Jessica was nominated for Breakout Talent in that year's Broken Frontier Awards. Her graphic memoir Life Drawing: A Life Under Lights is currently crowdfunding via Unbound.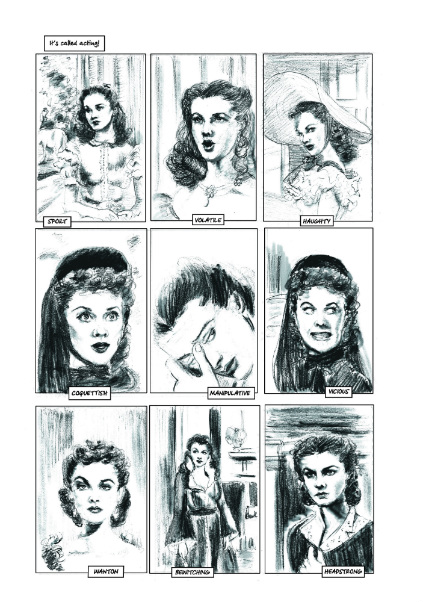 Jessica's page from Vivacity currently on show in the exhibition
You can find out about Jessica's comics in the links below.
Key Broken Frontier Reviews
It Girl (2013) – "A memorable tribute to one of cinema's forgotten stars, It Girl is both a vivid recreation of a decades gone era of cinema and a welcome introduction to the stylish and elegant art of Jessica Martin."
Vivacity (2014) – "Where this comic truly shines, though, is in that gorgeous retro artwork that so effectively evokes an era of Hollywood splendour, the like of which we will never see again. In Vivacity Martin's fully pencilled art gives a dreamy vintage air to the proceedings; her delicate use of light and shadow bringing period life to a story that positively exudes wistful nostalgia."
Elsie Harris Picture Palace (2016) – "Elsie Harris Picture Palace is a triumphant testament to Jessica Martin's keen understanding of the dynamics of sequential art."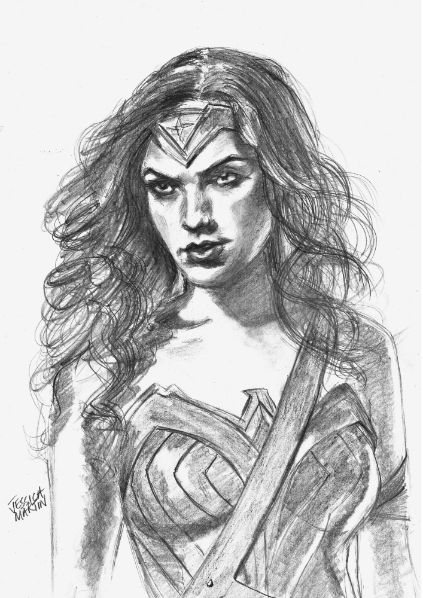 Jessica captures Gal Gadot as Wonder Woman above
Key Broken Frontier Features
Interview with Jessica Martin (2014) – "I think a combination of intuition and conscious technique have informed my comic storytelling technique. But to be honest, as in straightforward fiction writing there's an element of surprise no matter how meticulously you plan. Ideas can emerge when you've drawn something, look at it and the image offers up an alternative route to the one you were on before. It's good to keep the door open for the Ideas visitor to drop in."
Interview with Jessica Martin (2017) – "I think comics and graphic novels act as a form of poetry. They can access emotion and convey layers of information in just a few words and the appropriate imagery."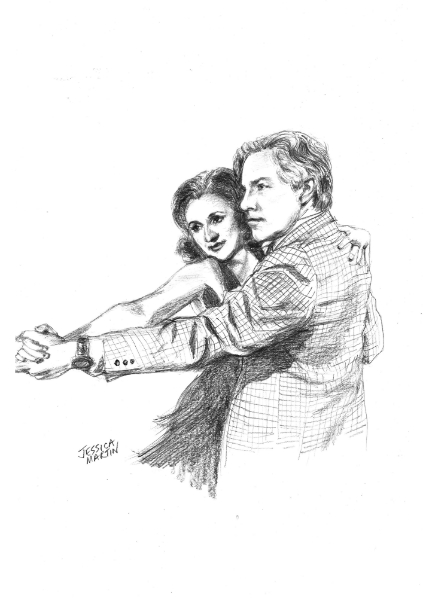 Above – Jessica recaptures her recent performance in Ballroom at the Waterloo East Theatre for Life Drawing: A Life Under Lights
For more on 'The Inking Woman' visit the Cartoon Museum site here and follow them on Twitter here. 
You can back Life Drawing: A Life Under Lights on the Unbound site here. For more on the work of Jessica Martin visit her site here and follow her on Twitter here.