Verity Hall's Like a Shark in a Swimming Pool is part coming-of-age story, part study of youthful intolerance and cruelty, and part social commentary on the opportunities available to the practising bully to ply their malicious craft in a post-internet world.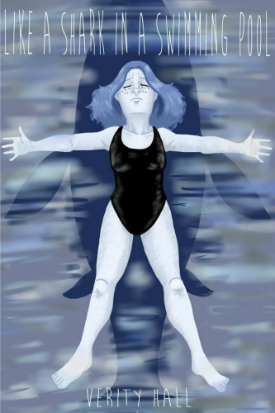 This 60-ish page self-published drama focuses on two young school friends – Rae and her best pal Nydia – and the fractures in their relationship that appear and grow after Rae expresses the depth of her feelings for her best mate in a moment of drunken abandon at a raucous teenage house party.
Nydia's reaction to this development is not an understanding one and, while Rae initially cannot recall the events of that night, she is aware of being coldly frozen out by her social circle.
When, with horror, she does remember what occurred she finds her attempted apologies to be largely irrelevant to her former group of chums. As the weeks go by she is bullied, blanked, excluded and subjected to homophobic taunts (the comic's title come from comments accusing her of predatory behaviour) by those who were once her friends.
Questioning her self-worth, and slowly retreating into herself, it will take a supportive family unit and a sympathetic teacher to finally allow Rae to come to terms with her identity…
What's immediately obvious about Like a Shark in a Swimming Pool is the emotional immediacy to this comic that ensures an intimate empathic connection between Rae and the reader from the outset. It's a relatable piece of storytelling not necessarily because of the specifics of the main character's confusion over her sexuality but because there's something instantly recognisable about the sense of alienation and ostracisation she endures at the hands of her schoolmates. It's a reminder of the cruelty of the classroom, of the fragility of friendships in our formative years, and of the torment of being on the wrong side of the prevailing social clique.
What Rae is subjected to is heartbreaking to observe and it's Hall's ability to leave her audience feeling as overwhelmed by events on the page as her main character is that makes this such a vital piece of issue-led comics. Indeed every member of the cast, however limited their role in proceedings, feels like a fully-formed and realised player in their own right, and all have crucial roles in pushing the narrative further.
While Hall's art can be a little awkward in places, and perspective is somewhat skewed at times, she nevertheless has a firm grip on panel-to-panel storytelling and a keen understanding of how to pace scenes to ensure their maximum emotive potential. The devastating moment when Rae finally recollects what happened at the party (above centre), for example, or the sequence where she lashes out unfairly at her mother – excruciatingly painful but also a beautifully sensitive representation of the extremity of her inner turmoil. The subdued blue hues add a haunting quality to the story throughout.
Like a Shark in a Swimming Pool is a powerful account of self-discovery and embracing one's individuality in a hostile heteronormative social structure. It's also a thoughtful piece on the nature of friendship, our need for the validation of others, and that world-shattering moment when you realise you valued someone far, far more than they ever valued you. Not everything is tied up neatly at the comic's end but that lack of pat resolution feels entirely appropriate to a story that is based on the vagaries of teenage unkindness.
I would wholeheartedly recommend keeping an eye out for Verity Hall's name on future projects. Few comics have made me care about their protagonists this year quite as much as Like a Shark in a Swimming Pool did.
You can order copies of Like a Shark in a Swimming Pool here priced £6.00 for print or £2.50 for digital download. Find out more about Verity Hall's work here and follow her on Twitter here.
For regular updates on all things small press follow Andy Oliver on Twitter here.