In his book Parklife, journalist Nick Varley traced the relationship between football and the British working classes, from the inception of the professional game to the then-present day of 1999. The big split between the sport and its principal supporter base occured ten years prior to that. After years of (mostly Tory) governments using the bad behaviour of a minority of hooligans as a cudgel with which to beat all football fans (who were mostly working class), this changed following the Hillsborough disaster in 1989. Investment started pouring in. The Premier League was founded and, suddenly, the working classes had been entirely priced out of the sport thanks to extortionate season tickets and television rights sold to premium satellite services.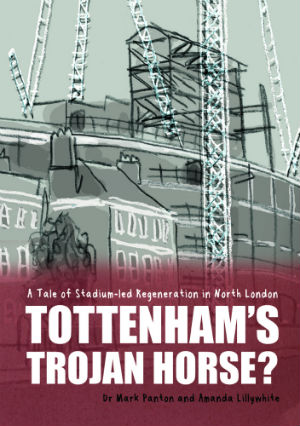 Tottenham's Trojan Horse? acts almost as the missing final chapter of Varley's book. In the intervening twenty years since Parklife was published, football's status as an economic force to be reckoned with has only grown, and its utility as a means for creating class division has increased along with it. Adapted from Mark Panton's doctoral thesis with art by Melbourne-born, London-based Amanda Lillywhite, it's a comic case study of football stadium regeneration being used as a "trojan horse" with which to smuggle gentrification and social cleansing. With Lillywhite putting faces to names and sensitively illustrating the activists fighting against the destruction of property, mooted as part of a projected new stadium for Spurs FC, it's a powerful, blood-boiling work of sequential art.
Comics have proven a malleable enough medium to encompass fiction of all genres – journalism, autobiography, literary and film adaptation, history, pornography, even critical theory and copyright law. I'm hard pressed to think of a precedent for an adaptation of an academic thesis, but you can understand the impulse. Where Panton's original thesis — of which the Tottenham Stadium was only one illustrative example of a wider trend — was clearly aimed at an academic audience, its translation into a more accessible form is pitched at a wider readership. The gentrification of areas surrounding football stadiums/the gentrification of football is a topic that can be appreciated by those outside of both the traditional academic publication and comics-reading audiences.
The current state of Spurs, who have been playing at Wembley this season after their former home at White Hart Lane was demolished in anticipation of this new stadium, is known to many. The state of Tottenham the area, less so. Like many parts of the city outside Central London, the district of Haringey is largely underfunded, underemployed, undeveloped. Following events including the 2011 riots and devastating budget cuts made under the auspices of "austerity" by the coalition government, it's in an even more desperate state than ever before. Which is where the regeneration/gentrification plan comes in.
Back in 2010, Haringey Council gave Spurs planning permission to build a new stadium. A couple of years later the council announced "regeneration" plans which included the demolition of local homes and businesses to make room for a "fans walkway" from the relocated local train station entrance to the new stadium. Those most affected by the proposed changes — the homes and business owners who would soon lose their properties to demolition — were not once consulted during the decision-making process. Lillywhite evocatively illustrates the scale of these changes with a bird's-eye-view of the proposed new stadium, in the blue of the Spurs cockerel, and a huge raft of homes marked for demolition in red.
Lillywhite's artwork is similar in style and effect to the comics journalism of Sophie Yanow, Kazimir Lee and others published on The Nib. There is a looseness to her linework that has the appearance of being a sketch, something produced on the fly in the field. Her style, however, is resolutely Angophile in its inspirations — I got shades of Posy Simmonds and Janet Ahlberg in her portraits of locals, Spurs board members and councillors. Putting a face to the quotations from Panton's thesis humanises them considerably. All it takes is the addition of a soft caricature and a speech bubble to remind you these are real human beings, authentically furious and heartbroken about what it being done to their community. It makes them far less easy than dismiss than if they were treated as mere statistics, as one suspects Haringey Council and Spurs find it easy to do.
There may be a disclaimer up top that there are "no intentional resemblances to real people" in this comic, but the wild-haired Boris Johnson and chinless David Cameron that make cameo appearances are inspired works of caricature. The quotations from the Eton-educated pair, as well as from Nick Clegg and a handful of Haringey councillors, are where the mask slips. Despite public proclamations about the regeneration of Spurs stadium heralding a flood of investment into an area that sorely needs it, it quickly becomes clear that predatory new planning laws, housing legislation and a focus on money over people is what is really spurring (pardon the pun) this whole thing.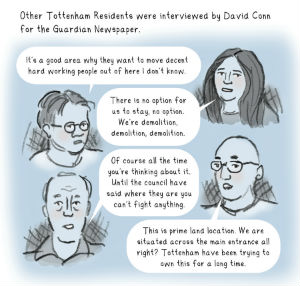 Never didactic, there is nonetheless something of the polemic about Tottenham's Trojan Horse?. A book with an extended quotation from Engles is never going to be on the side of the wealthy. Panton and Lillywhite lay out the facts of the matter with a calm and collected confidence, going chronologically through events from the initial announcement of the new stadium, and allowing both sides to say their piece. When one side is families, business owners and locals who have lived in the area for years, and the other is Spurs executives attempting to shirk responsibility or unsympathetic "fans" who watch the team from a sofa in Dubai, though, it's not hard to ascertain where your own sympathies lie.
It's a frustrating story, but by no means an uncommon one. The legendary Liverpool manager Bill Shankly once said "Some people think football is a matter of life and death. I assure you, it's much more serious than that." However, Shankly was also a committed socialist, describing his political leanings as a belief in "everyone working for each other, everyone having a share of the rewards. It's the way I see football, the way I see life." One has to wonder how he would feel about a version of football that is very much for the few, not the many, where it is considered more important than people's lives, the sort of football that is presiding over gentrification not only in Tottenham but also his beloved Anfield, and further afield in Brazil and Qatar.
Dr Mark Panton (W), Amanda Lillywhite (A) • Crazy Panda Publishing, £4.99
Tottenham's Trojan Horse? can be ordered online here
Review by Tom Baker