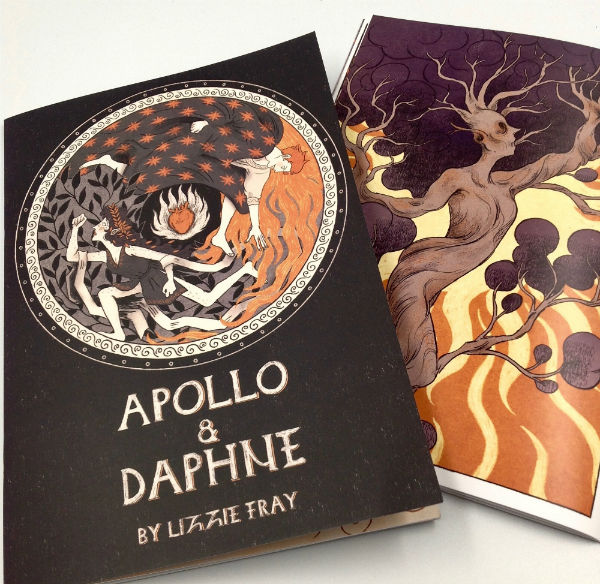 One of a number of self-published comics I discovered this year on Small Press Day at London's Mega City Comics, Lizzie Fray's Apollo & Daphne retells the Greek myth in pure visual storytelling form. For those unfamiliar with the original story it follows the gods Apollo and Eros after the former's mockery of the latter's skill with a bow and arrow escalates into a feud that has serious repercussions. Eros shoots an arrow of desire into Apollo that instils in him a passionate love for the nymph Daphne. He also does the same to Daphne but with an arrow that instead gives her a hatred of Apollo. The ramifications of this manipulated, unrequited love will transform the lives of both deities forever… in one case quite literally.
Told without words, Apollo & Daphne is a very promising piece of early work from Fray that revels in its subdued but highly charged autumnal colour palette. Fray has an energetic cartooning style and an intuitive knack for page construction that mirrors the emotional beat of each key sequence in the story. Panel layouts shift from the conventional to the more asymmetrical to evoke both the rhythms of events and also a sense of frantic action where appropriate. Neat storytelling tricks specific to comics, like an overlap between the key moment for both Apollo and Daphne, underline Fray's understanding of the unique opportunities available to her.
Beautifully rendered, with a deeply poignant finale that is made all the more resonant for its quiet understatement, Apollo & Daphne is brimming with potential from a newer voice in the small press world. If there's one smaller critique to be made it's that there are elements of the original story that are less distinct if the reader is not already aware of the source material; the task of recreating this myth without narration or dialogue would always prove a challenge in that regard. But in terms of panel-to-panel storytelling this is a notably confident comic from a name to keep your eyes on in the coming months.
For more on the work of Lizzie Fray visit her site here and follow her on Instagram here. You can buy Apollo & Daphne online here.
Review by Andy Oliver