With 31 registered events over 33 venues, Small Press Day 2019 was our biggest and best annual celebration of all things self and micropublished in comics to date! A huge thank you to everyone across the UK and Ireland from the Small Press Day team of David Ziggy Greene, Amneet Johal and myself for all your efforts in making this year's event such a blockbuster.
On previous years I've written a post-SPD overview of the day here at BF but, given that we already ran a preview piece last week where so many organisers spoke about what Small Press Day meant to them, I'm going to opt to let the pictures do the talking this year, starting with the events I attended in London.
Here's what we'll do on this page this year… Either send me a couple of pictures from your Small Press Day event directly by e-mail or let me know that you're happy for us to lift a couple of images from your social media. We'll keep adding to this online "scrapbook" here and relinking via updates on social media. Don't forget you can also read the collaborative Orbital/Gosh! Comics Small Press Day anthology created by their participating artists here at BF.
Let's share some small press memories!
Orbital Comics, London
Broken Frontier's Andy Oliver with 2017 BF 'Six to Watch' artist Peony Gent (left) and creators Andy W. Clift and Dan White (right) 
More signings at Orbital. Left – Joe Stone, Amy Browne, Knifeson Yu and Ellie Egleton. Right – 2019 Laydeez do Comics Prize winner Niki Bañados
Visit Orbital Comics online here
Gosh! Comics, London
The Broken Frontier Workshop at Gosh! with Lucy Sullivan, Holly St Clair, Molley May and Olivia Sualdea (left). Plus Janine Shroff and Akhila Krishnan on the Kadak Collective Workshop.
From the first generation of the Broken Frontier 'Six to Watch' to the latest intake! With BF's Andy Oliver are Alice Urbino (Class of 2015, left) and Olivia Sualdea (Class of 2019, right)
Visit Gosh! Comics online here
Mega City Comics, London
Jack Kirtley, Barry Flynn, Shane Melisse and Jenika Ioffreda at Mega City's first ever SPD!
Visit Mega City Comics online here
Forbidden Planet Sheffield
Richard Smith (Red Fox) introducing a  new generation of readers to the small press! 
Visit Forbidden Planet International online here
Forbidden Planet Manchester
Volcano Comics with Mancunian, Mr. Picto, Pig Dog Press and McKool Collectables at FP Manchester
Visit Forbidden Planet International online here
BAM! Comic, Art and Zine Fair, Bath
2018 Broken Frontier Breakout Talent Award winner Jayde Perkin and David McMillan (left) and BF columnist Nick Prolix (right)
More BF faves tabling at BAM – Ed Cheverton (left) and UK small press pioneer (!) Paul B. Rainey (right)
Find out more about BAM online here
Dark Side Comics, Chelmsford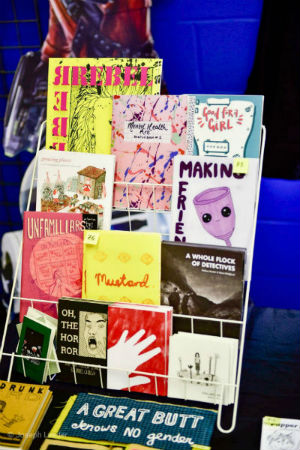 Organiser Hayley Wells ensured that Small Press Day in Chelmsford was a true community affair with workshops and self-published comics. Photos by Joseph Leeder Photography.
Find out more about Dark Side Comics online here
Travelling Man, Leeds
In Leeds this year there was an amazing line-up of events at Travelling Man, Geek Retreat and the Hi Fi Club that included not just the opportunity to buy self-published work but to attend workshops and talks. Above at Travelling Man – Nick Gonzo, Robert Luckett and Sophie Heywood.
Find out more about Travelling Man online here
If you'd like your Small Press Day immortalised here let us know and we'll add a couple of pictures to the mix.