There's less than a fortnight to go until the inaugural Small Press Day on July 9th. This celebratory day showcasing the amazing wealth of talent on show in the allied comics worlds of self-publishing, DIY culture and micropublishing sees events taking places across the UK and Ireland. With shop signings, workshops and associated small press promotion taking place on the 9th it looks set to provide a wonderful spotlight on those exciting new voices self-publishing their work, and to underline the sense of democracy that the scene embodies.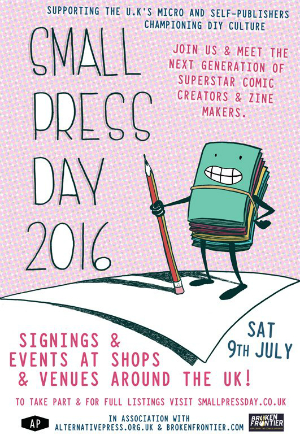 Small Press Day was set in motion a few months ago through an idea posted on Twitter by Save Our Souls showrunner David Ziggy Greene. The enthusiasm for the idea was tangible and, shortly after an official date was announced, shops and activists up and down the country quickly began planning their own series of programming. With the informal Small Press Day team of Greene, Amneet Johal of the Alternative Press and myself very loosely co-ordinating the day it has taken on a life of its own.
Below we have a fraction of the Small Press Day posters giving an idea of just a tiny part of what's taking place on the day. Check out the official Small Press Day site here for more details on what's happening in your local area. The website is constantly being added to in the run-up to the big day. So if you have recently organised something and it has yet to be added then do get in touch with the Small Press Day team via the 'Contact Us' section.
Broken Frontier will be represented at London's Orbital Comics (poster below by Cliodhna Ztoical) with representation from both generations of our 'Six Small Press Creators to Watch' initiatives including Rozi Hathaway, Emma Raby, Kim Clements and Jey Levang. You can also meet many other favourites from our 'Small Pressganged' column at Orbital on the day including Andy Poyiadgi, John Riordan & Dan Cox (Hitsville UK), Dan White and Sean Azzopardi. Full details here.
Expect to see lots of tie-in coverage here at BF as we get closer to the day…
For more on Small Press Day you can also follow the Twitter account here.
For regular updates on all things small press follow Andy Oliver on Twitter here.