The Lobster's pulp-era adventures continue in a miniseries that is entertaining, if not quite standout Mignola fare.
The year is 1934, and naturally, that means we're in for the noir/pulp stylings of Mike Mignola. Joined by co-writer John Arcudi and now-third-time Lobster Johnson artist Tonci Zonjic, Mignola takes another look at the Lobster, pulp hero of 1930s Manhattan, during his mortal life.
This time around, Lobster Johnson winds up caught in the middle of a citywide rampage when two professional wrestling champions—Kiril "The Russian Bear" Lukyan and the enigmatic, masked Devil Dwarf—wreak havoc on Madison Square Garden during a match. Meanwhile, Lobster's close ally Harry McTell, witness to the botched wrestling match, is brought into the hero's inner circle with a trip to his underground hideout. And above ground, reporter Cindy Tynan's article revealing the existence of the Lobster outside the pulp pages has just gone to press, significantly complicating things for the vigilante and his crew.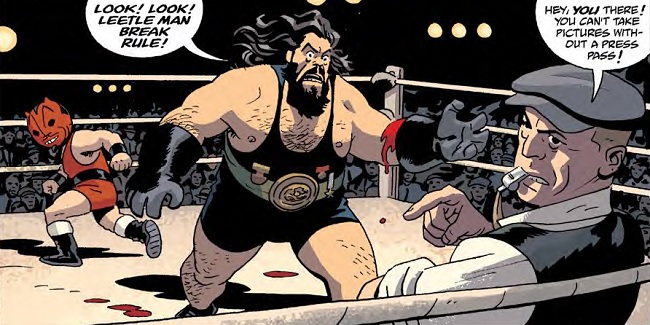 Tonci Zonjic's art, by now probably familiar to most fans of Hellboy and his cohorts, is in top form with this issue. His artwork is minimalist without being overly stylized, allowing the characters and the action to shine through at all points in the story. Zonjic's understated style, in combination with the muted (and mostly flat) colors provided by Dave Stewart, evokes the kind of feel conveyed by Mignola in his own work, even if it doesn't exactly duplicate it. Visually, there's no mistaking the Lobster's newest outing as part of the larger Mignolaverse.
Overall, this first issue is quite well done, and there's nothing to complain about on either the art or writing fronts. Arcudi's dialogue strikes a nice balance between what sounds natural to modern ears and the sort of "retro" style that is easily overdone in books like this. While the details of the threat Lobster Johnson is up against this time aren't fully laid out, and the book may perhaps have benefited from delving deeper into this, what clues we do have are certainly intriguing enough to get fans back for the next issue.
Mike Mignola, John Arcudi (W), Tonci Zonjic (A) – Dark Horse Comics, $3.99, February 5, 2014