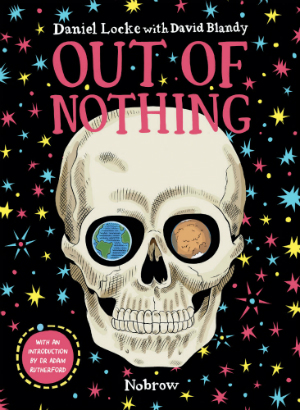 A graphic novel that – from the Big Bang to a far-flung future – is essentially a history of ideas, a chronicle of the birth of creativity and an exploration of how the evolution of our very imaginations would in turn shape and change our environments, sounds an impossibly ambitious idea. And yet Daniel Locke and David Blandy's Out of Nothing achieves all of that and more with an accessible elegance and visual eloquence that captivates its audience from the very outset.
Presented from the point of view of an observing time-traveller – effectively the reader's on-page avatar as we journey through the millennia with Locke and Blandy – Out of Time begins with the birth of the universe; the majesty of creation only further emphasised by Locke's kaleidoscopically coloured reductionist panels. Indeed Locke's art throughout embraces a welcome clarity that eschews the overly elaborate in order to more clearly communicate the book's themes with an expressive visual fluency. There's a quiet sophistication to his layouts and panel-to-panel storytelling throughout, which gently manipulates the reader's interaction with the page to emphasise theme and evoke an intuitive response in the audience.
Humanity's imagination is first depicted in its crude attempts to make sense of the world around it through proto-myths around the communal fireside. It's the emergence of this "dreaming mind" that Locke and Blandy mark out as the defining point in our growth as a species – the moment when we were able to transcend the boundaries of our own experience and allow our minds to reach for something more. The first piece of basic figurative art tens of thousands of years ago setting us on a path that will eventually lead us to discovering the very building blocks of life.
As our time-travelling semi-protagonist continues to jump through the centuries we visit many crucial points in humankind's development and become aware of how the natural world itself has evolved around us. Out of Nothing is a book that reminds us of how we have continued to make the most astonishing leaps of perception through recorded time. Agriculture leads to civilisation which leads to communication and documentation. In time, printing leads to the sharing and dissemination of thoughts and theories, and abstract concepts in art and philosophy become matters of epistemological debate. One idea can become the catalyst for so many others as we traverse these crucial points in time and examine their legacies – a path that will take in the theory of relativity, DNA,, the internet and space travel along the way.
What's truly fascinating are the cross-disciplinary parallels that are drawn – how our approaches to creation and innovation are linked – from art to music to genetics and beyond. Regardless of the line of enquiry there's a certain symmetry and connectivity to be revealed in every journey of discovery from DJ Kool Herc and the birth of hip hop to Tim Berners-Lee and the origins of the internet. It's a revelation that is echoed in the book's cyclical denouement as we are reminded that the wonder of our "dreaming minds" eventually pales into insignificance in the context of a wider universe brimming with the potential of similar evolutionary tracks.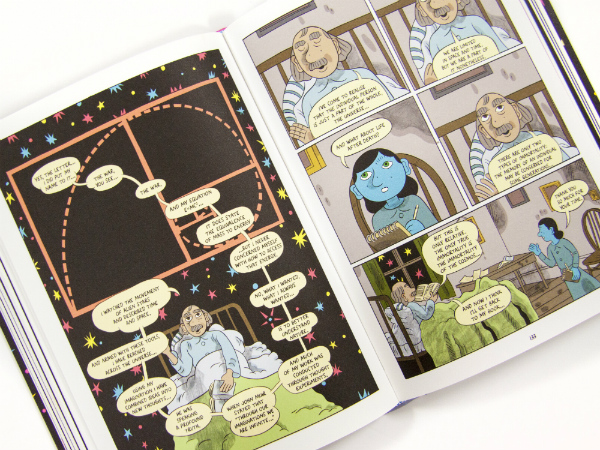 Such is the sheer accessibility of Out of Nothing that we come away from its pages feeling like we have experienced the awakening of a set of unconscious truths rather than had a series of complex ideas communicated to us. This is one of the most fascinating books Nobrow have published to date and one that underlines just how effective the form is in breaking down and exploring profoundly layered ideas with clarity and immediacy. This is graphic science at its very best.
Daniel Locke and David Blandy (W), Daniel Locke (A) Nobrow Press, £16.99/$22.99