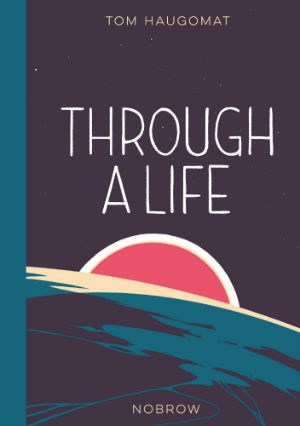 In Through a Life from Nobrow Press Tom Haugomat exploits comics' distinctive relationship with the passing of time to poignantly encapsulate an entire lifetime in less than 200 pages. Beginning in the mid-1950s, it follows the life of Rodney from birth to death, encompassing the many rites of passage in between. From an early age Rodney dreams of what lies beyond our immediate frame of experience, and of journeying to the stars himself.
His early years see him throw himself into this passion, from his love of astronomy to sci-fi pop culture, as his goal of becoming an astronaut becomes ever more attainable and nearer. But having achieved his dreams his world is turned upside down after the 2003 Columbia Space Shuttle tragedy, leading him to finding a new perspective and philosophy on life.
Through a Life is a story of discovery and exploration but perhaps not simply the celestial one that the premise suggests. Interweaved with Rodney's own ambitions to reach the stars are stories far more terrestrial in foundation; the relationships we have with our parents, our partners and our children and the rites of passage which are universal in their scope. It's about dreams and aspirations but also about the ties that root and anchor us and, in their own way, are just as awe-inspiring and magical as our wildest hopes.
What makes Through a Life such a distinctive book is the way in which it expands that "between the panels" comprehension of comics in a unique twofold manner. Each wordless double-page entry depicts a moment in a new year from the mid-1950s through to the mid-2020s. It gives us a picture of Rodney's life and familial relationships through the most momentary shards of time that nonetheless build up into something insightful and telling in their annual increments. It's a focus on the key events in Rodney's world that puts a greater emphasis on the reader to fill in the gaps between images and, as a result, ensures heightened interactivity with the page and a far stronger connection with the central character.
Further to this each right-hand page depicts what Rodney is viewing on the preceding left-hand page from his own perspective, whether that be through the bars of his cot as a baby, through the lens of a viewfinder, peeking through library stacks or from the window of a NASA space centre. Given its silent presentation it's a clever storytelling technique that with its considered use of colour and stripped back pages ensures that the audience feel like both detached observers and also intimately involved in events at the same time. Every so often the book opens up into a brief but longer run of sequential art that brings a particularly pivotal moment into the starkest of focus.
As much a beautiful piece of design as evocative comics narrative this is a story that has a cyclical honesty that feels both fitting and familiar. Juxtaposing the epic and the very human, Through a Life is perhaps the hidden gem graphic novel of 2018.
Tom Haugomat • Nobrow Press, £16.99
Review by Andy Oliver