It's Wednesday, and you know what that means: a fresh load of comics and graphic novels! With so many publications hitting your local comics store or digital storefront, the BF staff is here to lead you through the woods with our weekly staff picks. Satisfaction guaranteed!
Comic of the Week
Love & Rockets Vol. 4 #1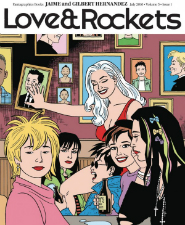 The series that led the underground comic movement in the early '80s is back with its fourth volume and an all-new ongoing series. The Brothers Hernandez continue the storylines they've been delivering for decades with the characters we've all come to love.
On Jaime's side: What do you do when none of your old punk friends want to be punk any more? And just who does the evil Princess Animus think she is? (Hint: She doesn't know, she has amnesia.)
On Gilbert's side: Family drama takes center stage when Fritz discovers a grandchild she didn't know existed!
Jaime & Gilbert Hernandez (W/A) • Fantagraphics, $4.99
– Tyler Chin-Tanner
Cowboys and Insects

David Hine and Shaky Kane first struck gold as collaborators on the fan-favourite The Bulletproof Coffin, a mind-blowing superhero farce celebrating everything weird, wacky, and downright disturbing about the cape-and-spandex set. The pair return this week for another absurdist tribute to pop culture with a send-up of classic sci-fi B-movies with a new Floating World-produced one-shot from Alternative Comics.
Set in an alternate America of the 1950s, where gigantic radioactive bugs run rampant, this self-described tale of "troubled romance" chronicles the efforts of the brave bug-wranglers trying to protect their homes. Bizarre, paranoid, and delightfully askew, Hine and Kane's parable of love in a radioactive time is a uncompromisingly brazen throwback to a world whose popular culture was experienced through the frightening and chilly lens of the Cold War.
There's also a Cowboys and Insects signing at London's Gosh! Comics on Wednesday October 19th. Full details here.
David Hine (W), Shaky Kane (A) • Alternative Comics, $4.99
– Jason Wilkins
23 Skidoo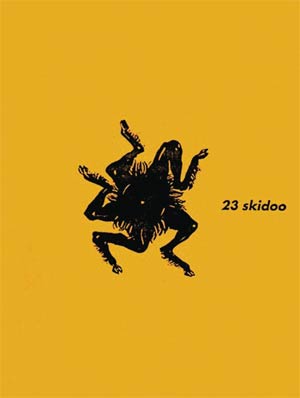 Underground provocateur Al Columbia's 1994 minicomic is back on shelves thanks to the fine folks at Alternative Comics. Fans of The Biologic Show or Pim & Francie know what to expect: an uncompromisingly transgressive take on modern anxieties as funneled through a nightmarish blend of paranoiac horror and dark comedy.
The uninitiated may want to have a warm compress or a soothing glass of milk handy before cracking open this slender volume, which is populated by all manner of horrific beings from toads to vacuum cleaner salesmen.
Al Columbia (W/A) • Alternative Comics, $3.99
– Paul Mirek
Die Kitty Die! #1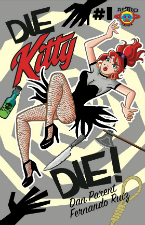 The perfect comic for those of us who feel nostalgic for those classic Archie and Harvey characters but still want to read more mature storylines now that we're older.
Imagine if these characters (for example: Sabrina the Teenage Witch and Casper but now they're called Kitty and Dippy) really existed and lived everyday lives behind-the-scenes of their scripted storylines in the comic.
Now imagine if their greedy publisher decides it would be great for sales, as publishers tend to do these days, if he killed off their main character. And what if, in this reality, he thought it might spike sales even further if Kitty died in real life as well as in the comic?
This edgy take on classic comics was originally funded through Kickstarter last year and released as digital issue, but you can now get them in print thanks to Chapter House Publishing. And if you want to get an early jump on the next series, the creators are running a Kickstarter campaign for it right now.
Fernando Ruiz & Dan Parent (W/A) • Chapter House Publishing, $3.99
– Tyler Chin-Tanner

Cave Carson Has a Cybernetic Eye #1
Cave Carson has always inhabited the margins of the DC Universe, his adventures under the planet's surface overshadowed by the epic bombast of his super-powered contemporaries. He originally worked with a close-knit team of fellow underground adventurers but most recent appearances depict him working alone or alongside other heroes. Somewhere along the way – no one knows when or why – Cave's right eye was swapped with a cybernetic replacement.
This makes him the perfect candidate for Gerard Way's Young Animal imprint, which re-imagines some of DC's more quirky or marginalized properties, while pushing a more than a few boundaries along the way. Under the influence of Way and his collaborators Jonathan Rivera (Heartbreak) and Michael Avon Oeming (Powers), Cave finds himself a recent widow experiencing vivid hallucinations caused by his mysterious cybernetic eye. When he finds himself dragged back into the chaotic world of underground adventuring, he must delve deep into his own past for the answers to his current predicament.
Already heralded as a refreshing and much-needed injection of unbridled creativity to DC's publishing line, after the positive launches of Shade, the Changing Girl and Doom Patrol, the Young Animal imprint seems to have tapped into a widespread desire for new ideas and fresh POVs in the DCU.
Gerard Way & Jonathan Rivera (W), Michael Avon Oeming (A) • DC Comics, $3.99 
 – Jason Wilkins
Son of Satan Classic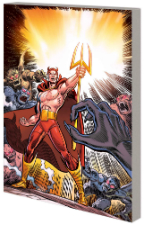 With Halloween just around the corner what could be more welcome for those with a nostalgic taste for things that go bump in the night than another trade paperback collection of classic Marvel 1970s horror comics? Daimon Hellstrom – the titular son of the devil – was a product of an era when Marvel were reflecting the boom of the horror craze with a vast array of supernaturally-themed titles.
Traversing the Marvel Universe as its highest profile super-heroic exorcist, the Son of Satan was never more intriguing a character than he was as a man fighting the good fight against his demonic heritage. His latter day incarnation may have devolved into a far more obvious and less layered anti-hero but these tales from Son of Satan, Marvel Spotlight, Ghost Rider and other books give us an opportunity to enjoy the original conception of the Devil's offspring once again. Includes work from John Warner, Steve Gerber, Jim Mooney and Sal Buscema.
Various creators (W/A) • Marvel Comics, $39.99
– Andy Oliver