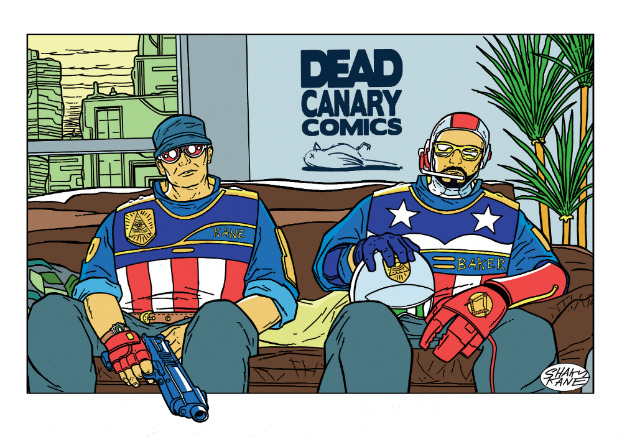 Dead Canary Comics have always had an off-kilter approach to genre comics storytelling – think weird western Reddin, the bizarre escapades of Frog Man or the alt-history of The Fitzroy for examples of that. But DCC outdid themselves in that arena last year when their C.S. Baker teamed up with the legendary Shaky Kane (Deadline, Escape) to give us Last Driver – a distinctive, rapid-paced, post-apocalyptic helter skelter of a story.
I reviewed that book pre-Thought Bubble here noting that this tale of Frank Sudden, a man who finds his calling in a world overrun by giant monsters, was "a riotous, raucous road movie of a comic." Today, in our latest 'Small Press Inside Look' at Broken Frontier, Baker talks about the book's origins, his collaborative process with Kane and gives us some exclusive insights into their working relationship…
Don't forget you can buy Last Driver online here.
Last Driver – Behind the writing process
Originally Dead Canary had not been so keen on the Last Driver project I had proposed. It was a simple four-page short about a guy in a car killing a dinosaur. Shaping it into the final book was a long painstaking process.
At Dead Canary Comics we take a great deal of pride in the editorial process of each project. We all come from a world of advertising so we are used to ripping ideas apart and sticking them back together until we feel its as good as it can be. My writing partner Matt Fitch would say we "interrogate the idea". Last Driver began life as a zany short story. After we completed The Fitzroy two years ago we had decided to build an anthology of clever science fiction, so short 4-5- page tales were being pumped out of a fortnightly writing room.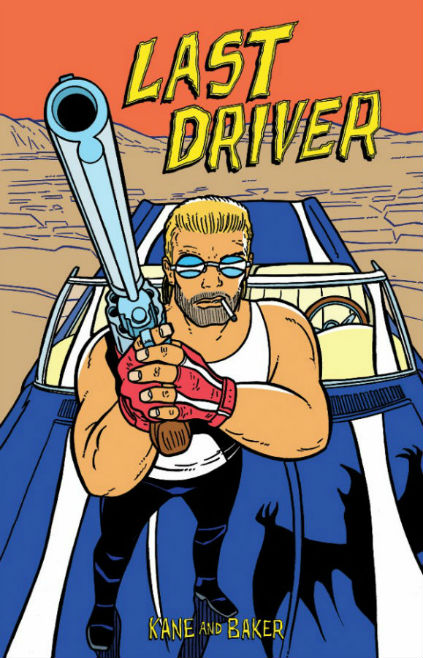 I had written a fun story about a robot running for president in the year 2079. I approached Shaky Kane with the script. He had been on my mind to do Frogman #3 but the feeling was that Kane's style just didn't suit the tone of the book. We paid him for the work and upon completion Shaky asked me what else I was working on. We had enjoyed collaborating on the short and formed a friendship.
I told Shaky about my character Frank Sudden, the person I saw him as and the scrapes I imaged he would get into. He immediately asked to read what I had. After hearing he liked it I frantically began to write the first draft of a full adventure. I was, back then, a full time commuter heading in to London early and coming back home to Andover in Hampshire very late. It was on this journey I did my work. Fun fact, Last Driver was written almost entirely in transit.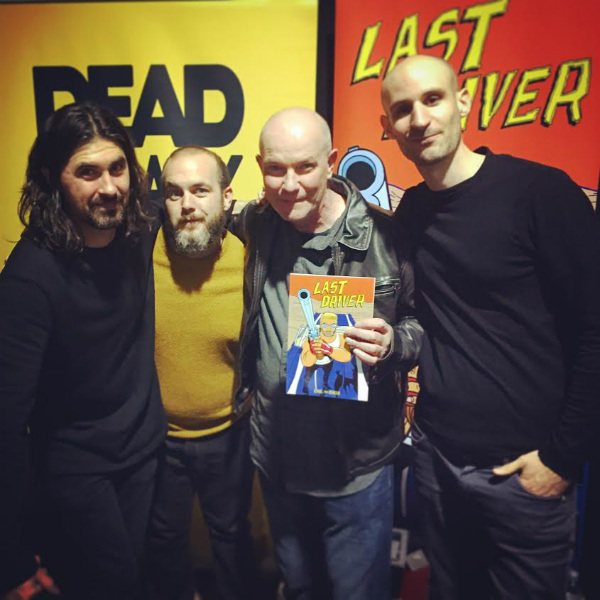 C.S. Baker,  Paul Clark-Force, Shaky Kane and Matt Fitch. Photo courtesy of David Hine
Last Driver isn't a complex and deep story. It was never meant to be. Last Driver's story is a vehicle for a character. Frank Sudden. I was deeply depressed in my working life and fantasised about escaping to some bohemian alternative to what I was living. Frank became a sort of imaginary best friend to me.
Having a bad day? What would Frank do? Frank is positive, he's fair and he takes no crap. Frank is living life the way I think most people want to, not a bully shooting his way through problems, Frank is logical. He's straight-talking and most important, he's fun. I like to even think he's funny. After finishing Reddin I think my state of mind was more than a little dark. Frank allowed me to say fun things instead of deeply miserable things (even if those things were in cowboy speak!).
In terms of structure, Frank's path clearly follows that Hero's Journey arc to the letter all be it in a very loose and tongue-in-cheek way. I used the first thing I ever wrote to form a clear bond with the reader. Here is Frank Sudden, see him drive in his shiny car, all is well and then… Bam, giant creature hellbent on eating him. Turmoil, resolution and then on to a moment of depth.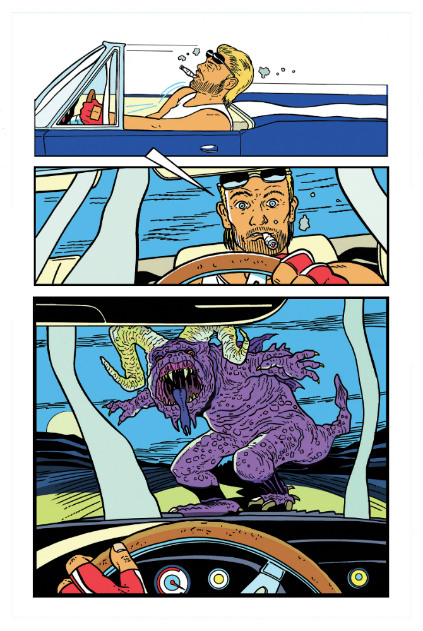 Once the exposition was out of the way we can all have lots of fun. The next moment of growth for the character was the dream scene. A homoerotic buddy cop porno movie Sudden Impact. I liked this moment very much, so did the DCC team too apparently, we commissioned Shaky to do a second page as it originally was only one page. The moment helps to tighten the macho tone of voice and also raise questions around Frank's sexuality. Again, any depth to Frank is easily dismissable.
The first draft of Last Driver was put to the DCC writing review we have in place. Many believed it was too long. At the time it was around 90 pages. Back then, Matt Fitch and I had completed Reddin, a supernatural cowboy adventure. Matt was the brain behind it and turned out nearly 150 page collection of ideas in to a workable story with a visible narrative. He took the first draft of Last Driver and worked the same magic. He made it feel like a story worth reading. I suppose Last Driver was the project that really showed me the power and necessity of an editor.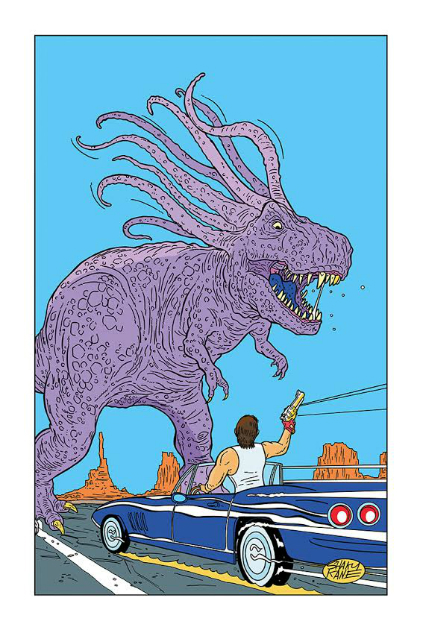 Once the Dead Canary Team signalled a green light I began briefing Shaky. I made many mood boards of what things should look and feel like (samples below). The note was something between nostalgia and the Americana-weird. I wanted it to feel like something you've seen a hundred times but also fresh and with an originality, at least an attempt at it. We regularly spoke online and via Skype. Some of those calls got pretty weird. Shaky Kane is an artist living his vision, you only have to visit him at home to see that.
The first bit of art I received was like a bolt of wonderful to the chest. There it was… Monster Squid Rex (T-Rex meets Squid) facing down Frank driving his Corvette, electric blue just as we discussed! Continuing my name dropping theme, Matt Fitch has a major thumb print on the book. We were also writing a biographical/historical script about the moon landing, now in production as Apollo with SelfMadeHero. Apollo 12's astronauts all went out and brought the exact same Corvette and their was to feature in our book. Matt insisted Frank should have this same car and even added Frank's dialogue "…the astronaut's choice!" . This image of Frank driving towards the squid rex was beautiful but it had issues. The team all believed that Frank should be way more blond. His gun should be bigger and the rex needed work.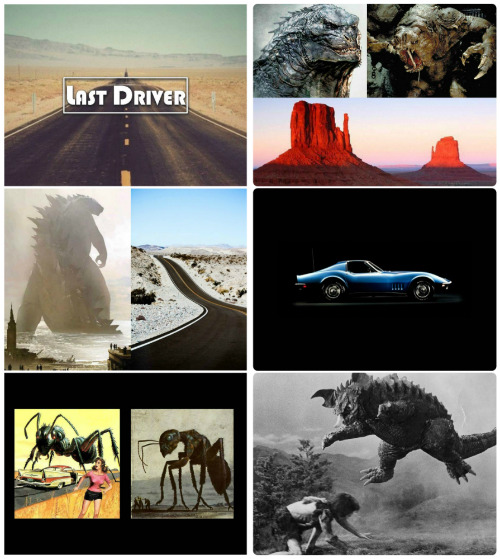 This nit-picking at the visuals early on made it possible for a style guide to evolve between myself and Shaky. We both had a grasp of the rules. Its here that I guess i should pay a little attention to what fans would call the Shakyverse. You cant really pin down what Lynchian is but you certainly know it when you see it. This is how I feel about the Shakyverse.
Random characters who appear important but hold no role in the story, some cop waving you away from a dramatic scene, a school bus and maybe some references to Disney or Marvel. All these classic visual motives and still there is another element you cant quite put your finger on. I never tried to write these things in for Kane. I just gave him space to breath. "Its in a post-apocalyptic desert, Shaky" He would fill in the blanks. My only specifics where the monsters. I would give them a mild description and some kooky name.
Shaky works in a very fluid way. One that I recommend to artists if my word is worth anything. He will draw out his panels as big as possible on A3. Scan them in and arrange the page to suit. He then colours digitally and the end result is a fine detail pop culture wonderland. We would review each page as they came in and feed back to Shaky. Many talks on Skype and back and forth on emails would result in a completed page hitting the production team. We fed in and prepped pages.
After what could probably be clocked in at eight months, Last Driver was complete. We then began to test the readability. Over a late night burger in Soho, we moved two scenes and dropped one page (a favourite page of mine) and the book really popped. Shaky even added two need pages to give it a more rounded off glow. This was then given to fresh eyes for a final honest opinion.
I'm lucky as a writer to be surrounded by the very best production eyes in the indie world (my opinion) The final product looks beautiful and sits alongside the best books on the market. After months of work we had our product. Our baby.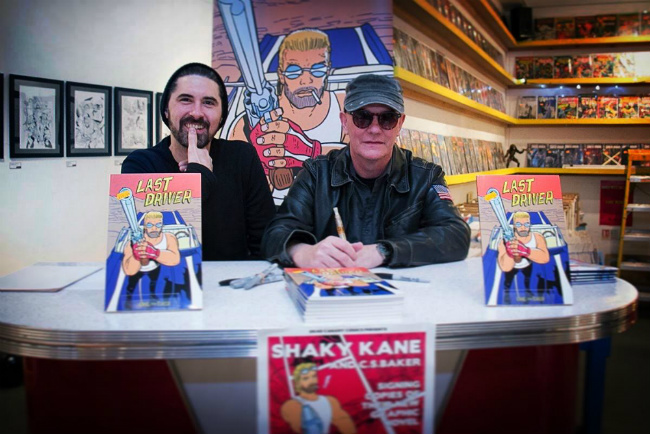 C.S.Baker and Shaky Kane at Orbital Comics. Photo courtesy of Camila Barboza
When Shaky Kane and I turned up to do our first signing at Orbital a very memorable thing happened. We had settled down behind our desk, early and with store bought premium blend coffee, Kane had opted for a pastry I wasn't hungry. With our numerous pens at the ready to sign books we waited. After a rather boring hour or so the punters began to trickle in for their signed copies. As I'm sure you've guessed most had come for Shaky Kane.
His fans feel almost religious devotion (at least those I've seen) sporting Deadline magazines from way back, issues of 2000 AD and some with that most beautiful book The Bulletproof Coffin. Then the conversations. Many wishes to speak to Shaky about his past, his art and so on. One conversation stuck with me and frankly thought me a fantastic lesson as a comic writer.
The young man turned the page to Frank Sudden in his flash back office scene. I dare not bore you with the scene's brilliant and lyrical moments but the end result was that Frank hated his life, his job and wanted to make changes, he wanted to live the life he had imagined when he was young. Yes friends, I too made this very same judgement of my situation. The line which resonated most for the fan was This wasn't me, I went to art school…
"Yes, totally all you, Shaky!" said the fan with a finality which couldn't be reasoned with "This book is you breaking out, mate. You were corporate and then you left. I love this." He added.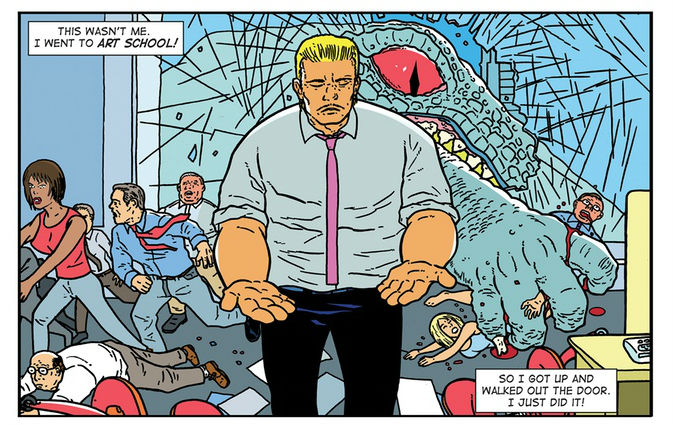 It was the biographical smoking gun and there was no convincing him. I was like the tracer.
The ego, like some family member bitten by a zombie and locked in the basement, needs feeding and this was probably the worst moment to equate to the artist. A deeply personal segment of what might be called a 'romp' or 'comfort read'. The only autobiographical moment in the book.
Frank Sudden's depth, if any, comes from these pages and I wasn't about to play out some scene from Chasing Amy in my favourite comic shop! I was just happy that I had stirred a feeling in a fan.
The truth is, as a writer of indie comics you have to work damn hard because when you do your job wrong you will hear about it and when you do your job correctly the artist will hear about it. It just stands to reason. The very gifted Zakk Saam who lettered LD hears little about the wonderful quirks he added nor does DCC Partner Orlando Wood get his dues for the extended chase scene he wrote on a napkin for me!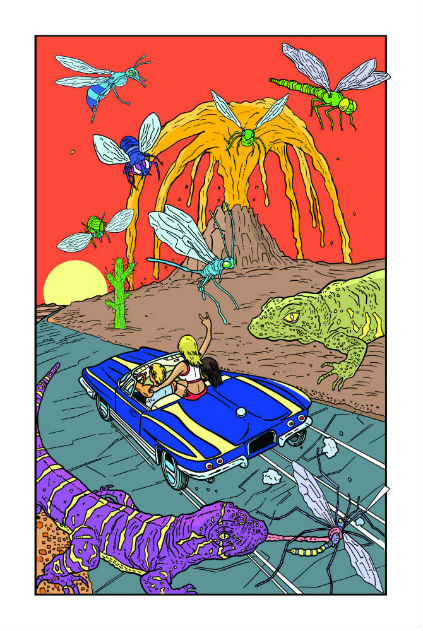 Good writing is very much as a great man once said, like 'magic' – the creation of something out of nothing, and a good comic book is the combination of many skilled people working towards a goal. Last Driver was a beautiful collaboration of many different skilled people. Dead Canary Comics has and always will operate this way. Like a craft beer brewer growing the hops and blowing the glass bottles too.
For more on Dead Canary Comics visit their website here and follow them on Twitter here. For more on the work of Shaky Kane visit his website here. You can buy Last Driver online here.