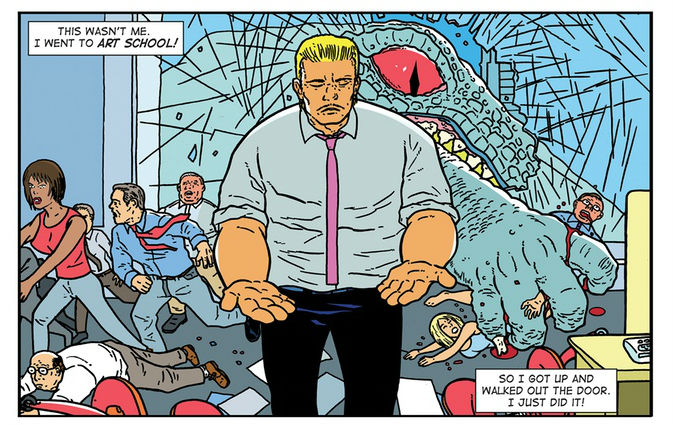 Debuting at Thought Bubble!
To date, the output of UK micropublisher Dead Canary Comics has perhaps veered more towards the genre fiction end of the market with super-hero parody like The Frogman Trilogy, western horror in Reddin and the alternative history of The Fitzroy. Their latest successfully Kickstarted-comic Last Driver sees DCC's C.S. Baker teaming up with legendary artist Shaky Kane on a tale of monster mayhem, big guns and all-out action that is a perfect fit for Kane's flamboyantly kinetic visuals.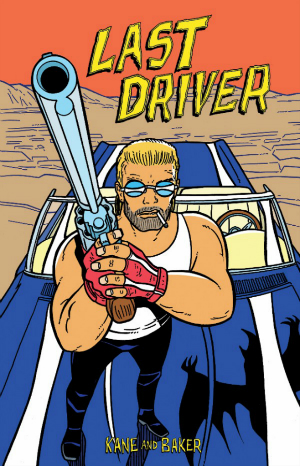 Civilisation has collapsed after a strange incursion of gigantically mutated creatures brought society as we know it to its knees. In this bold new era, former art student and office worker Frank Sudden embraces the opportunities that environmental ruin has brought to become the man he always wanted to be. Because when disaster strikes all you really need is a groovy set of wheels, some cold beers and a can-do attitude.
On his travels through this shattered landscape Sudden will encounter some of the towering behemoths who have overrun the land, the bandits and ne'er-do-wells who roam its highways, and becomes a prisoner of an arena where man and creature are pitted against each other to the death…
With its satirical macho posturing and sending-up of the tough guy stereotype Last Driver never pretends to be particularly profound or anything other than a frenetically paced comfort read. But that's also its appeal. Baker is a canny enough writer to know that when you have a visual storyteller of the calibre of Shaky Kane you play to that strength and give him every opportunity to let his fertile and fevered imagination run loose.
To that end the book is filled with ultra-violent confrontations with giant sauropods, towering insect creatures and barbaric communities… all great fodder for Kane's frenzied layouts and the boisterous rhythm of his panel-to-panel pacing. We're thrown straight into events with little or no explanation for why this plague of weirdness descended upon the planet but narrative is sensibly a secondary concern in Last Driver in comparison to allowing Kane free rein on the page.
That's not to say that Baker is merely a passenger on this rowdy ride. He's clearly having a lot of fun playing with the B-movie clichés and camping up the narration with a richly ludicrous vein of OTT testosterone-charged dialogue. This is a comic that both plays it straight and yet also never takes itself too seriously, being equal parts high-energy spoof and fantasy thriller.
With its pulpy, post-apocalyptic appeal Last Driver is a riotous, raucous road movie of a comic from Baker and Kane. The end of the world never looked so cool!
For more on Dead Canary Comics visit their website here and follow them on Twitter here. For more on the work of Shaky Kane visit his website here. 
Shaky Kane and C.S. Baker will be signing Last Driver in London's Orbital Comics at 1pm on Saturday November 19th. Full details here.
For regular updates on all things small press follow Andy Oliver on Twitter here.